Last summer, my husband and I visited the Waterfront District of Thunder Bay on our way to Sleeping Giant Provincial Park. Before our trip, I was volunteering at the Grand Marais Arts Festival and had the opportunity to ask several Thunder Bay residents if they had a restaurant recommendation. Three out of three recommended a new restaurant we hadn't tried yet and was of great interest to my barbecue-loving spouse—the Red Lion Smokehouse.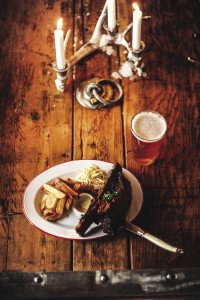 As was apparent with my mini-survey, the Red Lion Smokehouse has become the hot spot, whether you are visiting Thunder Bay for the day or live around the corner. This restaurant has smoked meats (barbecue) as a mainstay on the menu, yet I was pleasantly surprised to find a variety of options for veggie lovers, too. And to top off your meal, they have a stellar assortment of craft beers, some from local breweries like Sleeping Giant Brewing Company and others from across the world.
You may wonder how this gem opened up in Thunder Bay in late 2014. It started with a chef named John Murray. A classically trained chef and sommelier, John worked in London for eight years in fine dining establishments, including Michelin-starred restaurants. At the end of his time in London, he helped start a barbecue restaurant called the Blind Pig. Thankfully for us, John is originally from Thunder Bay. He and his wife, Alex Bono, decided that they wanted to come back home and open a restaurant.
During their time in England, John and Alex also discovered the world of craft beer. At the time, microbreweries were opening in southeast London and even their friends were home-brewing, introducing them to a range of great beer. With local ingredients, a background in fine dining and barbecue, and a newfound appreciation for craft beer, Red Lion Smokehouse found its inspiration. And with Red Lion being the most common pub name in the UK, it also found its name.
As co-owner Alex shares, "It seemed fitting for us since we wanted to bring a bit of the U.K. to Thunder Bay."
While serious about the food and drink, the Red Lion Smokehouse also has a fun side. A stack of board games sits on one wall à la British pub, inviting you to enjoy not only your meal but also the company of your dining companions. Whether you are a fan of Cards Against Humanity or the classic cribbage, you'll find a game to your liking.
Their menu, printed each day to reflect the ingredient focused options, also includes a fun fact. In November, one of the amusing tidbits was that they had sold 15,473 sandwiches over the past year. That's a lot of sandwiches! And when asked what the most popular menu item is, the maple bacon and smoked cheddar burger with homemade bacon was the definite winner.
Red Lion hosts events and themed nights throughout each month. In addition to their Pub Quiz on the last Wednesday of the month, they host an adult spelling bee on the second Wednesday, called 'Spelling Bee(r).' Chef John's mother is a regular with the spelling bee, although she has not yet won.
Every other month they also host a yoga class in the bar on a Sunday morning. 'Pints and Poses' includes beer tasting, afterwards, of course. As co-owner Alex explained, "A little downward dog followed by a beer." Other themed nights include Wing Night every Thursday and Taco Night every Tuesday.
On a normal day or evening, you'll find a few regulars on the Red Lion's menu and a few rotating items that are local ingredient driven. Burgers, ribs and pulled pork are mainstays served with coleslaw, chips (known as fries in the U.S.), and aioli garlic sauce. My much-enjoyed meal was their three bean burger, topped with aioli and homemade ketchup for the fries, which is available upon request. I paired it with a Muskoka Cream Ale, which happened to be their beer of the day and my new favorite. They also have a beer sampler available, so you can taste a variety of local beers. Their rotating items reflect the seasonal ingredients available and even clientele requests. The carrot salad, with pickled carrots, deep fried goat cheese, and carrot gnocchi, was off the menu but is back by the request of a few regulars. In addition, it happens to be the Chef's current favorite item on the menu.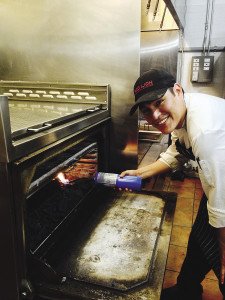 Red Lion Smokehouse runs their smoker every day, smoking whole carcasses. They finish each meal using a special oven to seal in the flavor while keeping the meat moist and tender. This oven, called a Josper Oven, is originally from Spain and is one of only three in Canada. It is a charcoal grill that can reach up to 900F. This oven is more commonly used in Europe and is an ideal match for barbecue. While I'm no expert in restaurant kitchens, I'm a fan of any item that helps the chef create delicious food.
Looking for an excuse to check out the Barbecue? This February Red Lion will be joining other Thunder Bay Waterfront District restaurants and shops for a special winter festival. Restaurants will be offering a prix fixe 2-course meal for $25 from Feb. 1 until Valentine's Day, in hopes that people will come out and treat themselves to a dinner out on a wintery night. In addition, retailers in the Waterfront area will also be offering shoppers a chance to win $200 Waterfront Dollars when they spend $25 or more during the festival. For more information, check out their website www.redlionsmokehouse.ca or give them a call at (807)286-0045. Over the past two years, the Waterfront District has been undergoing a revitalization with many new places opening up and new reasons to check it out. I really loved being able to stay at the Prince Arthur Hotel down the street and reach restaurants, shops and galleries on foot.
For those of you, like me, that live on the American side of the border, Red Lion has something new coming out that may be of interest. As we likely can't get to the restaurant as often, they will soon be selling some retail items including mini beer candles ($7 CAD), pint glasses ($8 CAD), and their barbecue rub ($8 CAD). More items, including their barbecue sauce and liquid smoke, will be available soon. While I don't have a 900F oven at home, their barbecue rub would surely help me attain some of those great flavors!