Minneapolis—Four backpackers, three men and one woman, successfully completed a four-day backpacking trip over the Pow Wow Trail, which burned five years ago in the Pagami Creek Fire, according to the Boundary Waters Advisory Committee (BWAC).
Four backpackers stepped over more than 4,658 treefalls in four days while they retraced the favorite backpacking trail in the BWCAW, only a week after the snow melted. They followed the trail much of the time and bushwhacked through areas damaged by fire.
"The Pow Wow Trail is an incredible hiking trail," said Martin Kubik of the BWAC. "The Pow Wow Trail is prized by hikers for its solitude and campsites that are away from canoe routes. We are thankful for the many man hours of work on this trail by the Kekekabic Trail Chapter of the North Country Trail and the Fournier Outdoor Services. Their hard work is keeping this trail open to hikers."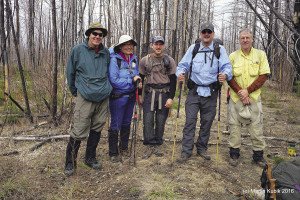 Though the US Forest Service (USFS) has allowed volunteers to maintain only six miles of the 32 mile loop trail five years after the fire, hikers hope to open the rest of the trail. Presently, there are more than 4,000 treefalls blocking the trail, making backpacking a challenge, but Kubik is optimistic. About 26 years ago, Kubik organized volunteers to clear and reopen the 42 mile long Kekekabic Trail that was abandoned by USFS for more than 10 years.
"It is important that the Forest Service provide leadership and cooperate with volunteers to secure grants for full restoration," said Kubik. "To date, only one campsite had been restored five years after the fire. There is much more work to be done to conserve this trail popular with hikers before the Pagami Creek Fire. Pow Wow Trail had twice as may overnight permits as a similar Sioux Hustler Trail in the BWCAW, but after the fire, this number of overnight permits dropped by 90 percent," Kubik added.
According to Kubik, most of the treefalls are small and can be easily cut with a camping saw and carried away. It is the sheer number of the treefalls that makes it taxing of hikers who have to cross them at a rate of one a minute.
The BWAC will use the information from the trip to write a Pow Wow Trail guide for backpackers. In the meantime, a free map and educational brochure is available to the public with financial help of Lake Superior Trading Post of Grand Marais.