Cook County—A group of local artists and gallery owners joined with Visit Cook County to revive and re-imagine the Crossing Borders Studio Tour, which retired last year after 20 successful years.
The new event, Art Along the Lake: Fall Studio Tour, will feature 14 stops and more than 40 artists along one of the most scenic fall color drives in Minnesota. The event will give visitors an opportunity to meet with artists in their home studios, as well as visit with guest artists at local art galleries. The dates for the Fall Studio Tour are Sept. 29–Oct. 8.
Artists on the fall tour include Betsy Bowen Gallery & Studios in Grand Marais, Dan and Lee Ross of Hovland, who helped start the Crossing Borders event 20 years ago, and painter Hazel Belvo and other artists at Frykman Art Studio in Grand Marais.
For many of the featured artists, these 10 days will be the only time they open their studios to the public all year.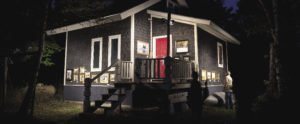 "We have had customers fly in from around the country to come to the Studio Tour," said Dan and Lee Ross, who are sculpture and print artists. "When it comes to the new tour, there is an added sense of discovery this year with 11 new stops and 35 new artists. Painters are joining the tour for the first time. The tour is moving forward, and we are excited about it.
"Lake Superior is the backdrop, the boreal forest is the setting and the artwork is the centerpiece. This fall come and experience new sculpture, prints, wood turning, paintings, weavings, and more in the setting that inspired them."
To see a full list of artists, visit: visitcookcounty.com/arts.