International Falls—The Arrowhead 135 is often listed among the toughest endurance races in the world. This human-powered ultra-marathon covers 135 miles along the Arrowhead State Trail from International Falls to Tower.
Competitors can choose to compete in three different categories: bike, foot or ski. Racers must carry a long list of survival gear, including camp stoves and sleeping bags. There are only three checkpoints along the way where racers can stop to warm up. They can't accept aid from anybody but other competitors and volunteers at the checkpoints. The race is capped at 150 athletes and already full for this year's race. You can't just sign up, though. You have to finish a qualifying race to prove you're up to it. The 13th edition of this race takes place from
Jan. 30-Feb. 1.
Ken and Jackie Krueger are the race directors. Ken Kreuger described what's new for this year's race.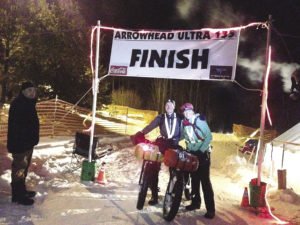 "One of the things that makes the Arrowhead Ultra 135 so hard is there is very little support offered for racers," said Krueger. "There are three checkpoints where you can get help; one of the checkpoints offers only water. The biggest change for the 2017 Arrowhead is that we are offering a totally unsupported option, for which 40 racers have signed up. These racers will not get food, water, or the chance to warm up for the duration of the race."
It seems the race wasn't quite tough enough.
Krueger is a seven-time finisher of the race himself and noted another new part of this year's race. Kicksleds (think dogsled without the dogs) have increased in popularity in recent years.
"Starting this year, kicksleds will be in a separate division," Krueger said. "They will continue to count as a "foot" finish."
Anne Flueckiger of Duluth has volunteered at race checkpoints and raced. She didn't finish her one attempt on skis due to fatigue, but still had good things to say. Flueckiger's favorite parts of the race was "the beauty of the woods in winter. Meeting people from all over. Just skiing for hours and hours." For her, the toughest part of the race was lack of sleep.
Leah Gruhn of Duluth has started the Arrowhead six times (five bike, one ski) and finished four times (all bike). This veteran had a lot to say about her races. Tendonitis forced her to withdraw in 2011. Deep snow in 2013 forced her to push her bike instead of ride it, leading to a DNF (did not finish).
"While a DNF is exceptionally frustrating, it is always a fantastic learning opportunity. It gnaws on you, perhaps eternally," said Gruhn.
Gruhn had advice for the rookies:
• Test all of your gear/food/bike/etc., no matter how seemingly minor.
• Take every opportunity possible to learn. Don't stop gathering info.
• For everything, have a Plan A. Have a Plan B. Think through it all ahead of time so that you're prepared.
• Don't carry too much stuff, as the extras will weigh you down and slow you down. Knowing what to leave behind takes experience.
The way the race punishes people seems to draw them back for more. Tony Stensland of Duluth will race on foot this year. Last year, in the bike category, he withdrew halfway through the race. He's raced many different events over the years but says, "The Arrowhead 135 is unlike any of them."
"I got my butt kicked. Still, I loved it and despite pushing my bike probably at least half of my ride, I was still enjoying it," said Stensland; a typical Arrowhead 135 athlete attitude.
Patrick Susnik of Duluth is another example of someone who keeps coming back for more. He DNF'd three times in the foot division before finally finishing on the fourth try.
"Guess I had to please the Arrowhead gods first," Susnik said. His advice to rookie racers: "Train! A lot! You need to get yourself in those uncomfortable places and suffer. I love the training as much as the race."
There was a common theme among the racers about the best part of the ultramarathon. Everybody mentioned the people: their fellow racers, the volunteers and the race directors. They also praised the challenge of 135 winter miles.
"The coolest thing ever is to take an impossible task and actually do it," said Gruhn.
Stensland commented on "the great sense of adventure that comes with it." He said, "It's so unlike any other event that I've ever done and probably the closest I will ever come to a true wilderness adventure. Arrowhead is a great opportunity to tap into the explorer in a person. Most of us don't get to have that sense in our modern lives…"
A line in the Arrowhead 135 race rules sums it all up: Arrowhead is about you, the wilderness, your inner dogged spirit and self-sufficiency.
If you think you have what it takes to sign up for this adventure in the Northern Wilds, visit the race website for more details: arrowheadultra.com.—Eric Chandler