April is an odd month for the angler in northwestern Ontario. It is the tail end of winter, yet there is the promise of spring in the air. Some Aprils are more like winter, with cold temperatures and ice still hanging on. Other Aprils are warm and spring-like, with open lakes and rivers beckoning you long before normal. In April, the angler needs to be flexible and smart. Here is a look at some ice and open water angling options during the fourth month of the year.
I will say right up front that safety is paramount in April if you want to ice fish. Use common sense. If the ice is punky, black, pulling away from the shore or overly wet, you should avoid it. Stay clear of currents. Don't take chances. Yet in years when it is cold, early to mid-April ice can be hard as rock. Wear a pfd or floater snowmobile suit and never fish alone.
Pike
One of the top fish to catch in April is pike. The longer days trigger pike to move into bays and river mouths and they are the first fish to spawn. If it is a cold late winter, you can have a field day catching pike through the ice. They will greedily take a herring or sucker minnow that is suspended under a tip up. The pike are usually in 10 feet of water or less and are ornery.
 If the ice has gone out early, or there is fishable open water, you can still target pike from shore or boat. A dead herring suspended under a large float is a deadly presentation. Use just enough weight to cock the float and get the bait hanging off bottom. Another great technique is to throw 4- or 5-inch rubber worms or shads. Texas-rig the plastic with a single #1 or #2 worm hook. Some of the real super tanker sized pike caught each year are taken in the period when pike are just about to spawn and the females are egg-laden. Make sure you take a pic and then let these big fish go.
 Stocked Speckled Trout
There are literally dozens of lakes throughout northwestern Ontario that are stocked with speckled trout. They provide year-round action, so you can pursue them through the ice or open water in April. There have been months I started on the ice and ended casting shorelines. The transition can be that quick. Ice fishing for late winter brookies is generally done close to shore in less than 10 feet of water. Often the fishing spot is just a few strides away from the shore. Jigging spoons like a Little Cleo or Williams Whitefish gets the aggressive fish. A minnow or worm on a hook with a split shot is another go to. Strikes will be hard and fights generally short. When the ice pulls away and the open water appears, the specs will be ready. The same lures that catch specs being jigged vertically catch them horizontally. Small crankbaits such as the Rapala Countdown or Husky Jerk are also deadly. Remember the fish will generally be close to shore and near cover. Fallen trees, beaver dams and boulders are all fish holding spots. I remember one April driving with my Dad through foot-deep snow in April. The ice was just going out and large tracts of the lake were still ice covered. Yet we cast the open water and found specs ready to bang out spoons. A great way to welcome the spring.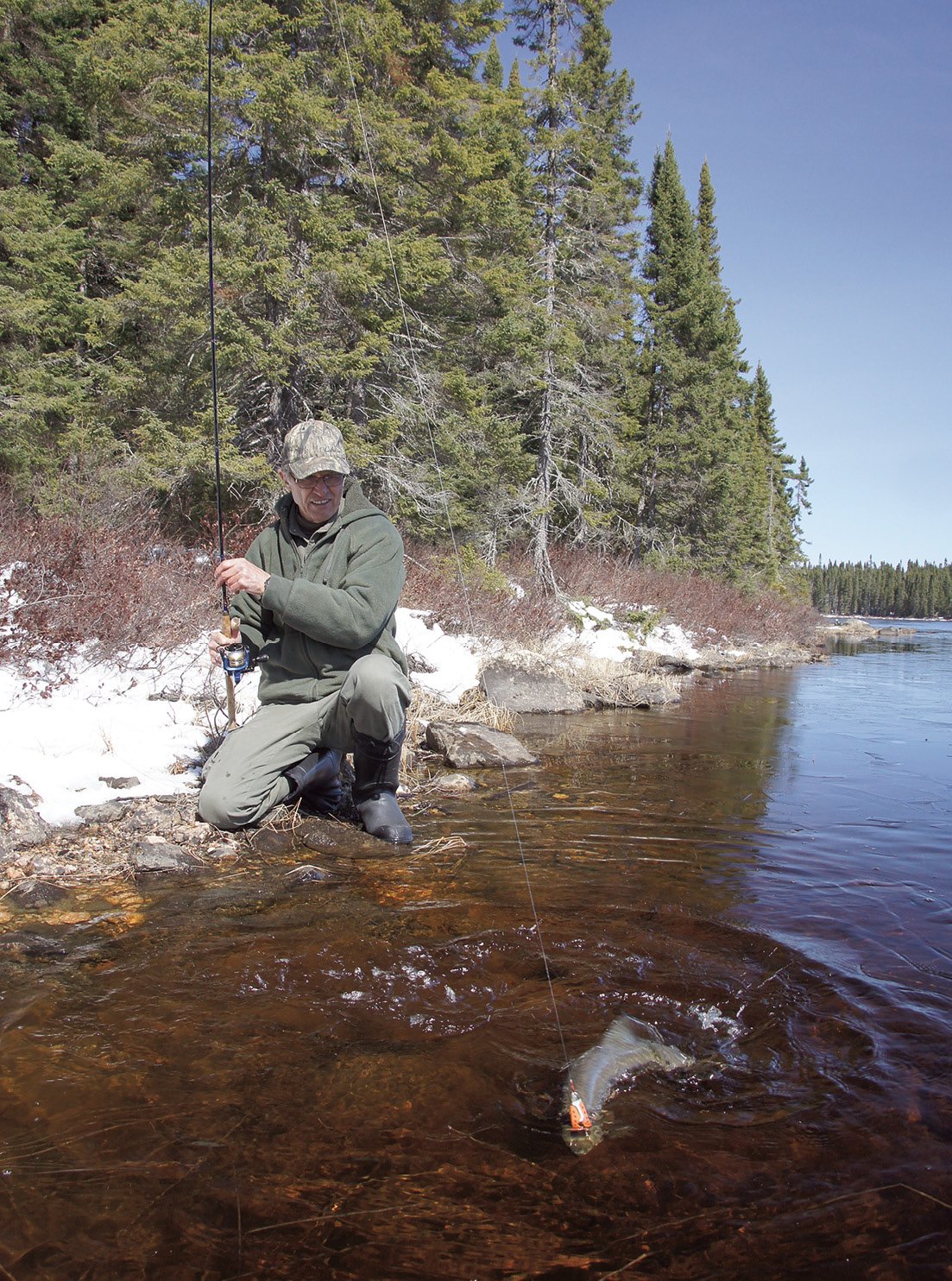 Shore-Cast/Boat-Fish Superior
Not all of the North Shore of Superior is open in April and some of the bays—notably Black and Nipigon Bay can be ice-covered well into May. Yet there are lots of areas of the big lake that are wide open in April. So if you don't mind the feel of a cold spray on your face, or potentially wading around ice floes, then shore-casting may be for you. The species you could potentially catch are many, but the primary target is generally steelhead that are preparing to head upstream local creeks and rivers to spawn.
Casting off points or beaches with long rods and braided line allows you to cover water. Despite the frigid water temperatures, steelhead will crack a spoon or bucktail jig like a bull seeing a red flag. Fights aren't usually as acrobatic in 32.1-degree F water, but I've still had fish jump free.
If you can get a boat in the water in April there are even more options. On Superior, in-shore trollers and casters can get Pacific salmon such as coho and chinook, as well as steelhead. In the Nipigon River, I've caught salmon that were spawning in April. I've also caught splake that are strays from the south shore of Superior in the Nipigon in the early season. For some reason, the majority of brown trout that are caught on the north side of the lake are taken in April. These are also strays from the south side and are amazing looking creatures.
That is just a taste of what April can offer the northwestern Ontario angler. Be safe and get outside.