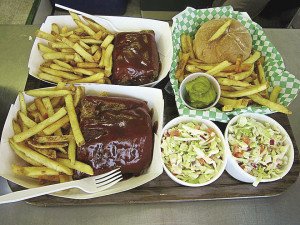 There's an unexpected eating establishment tucked away behind 8 Broadway Art Gallery and the Beaver House building in downtown Grand Marais. If you're caught in conversation while walking by, you're likely to miss the white food truck parked in the back lot. It has a bright pink, smiling pig on the side and is surrounded by two-top and four-top tables.
You may not catch a visual, but you certainly won't miss the smell.
"The Squealer is a slow-roasted pork sandwich, with an amazing dry rub, sliced, on a soft Kaiser roll with fresh lettuce, tomatoes and onions and with the most amazing sauce. And they are huge."
That's Brooke Youngdahl. The Grand Marais mother, event planner and student has treated herself to the delightful-smelling "Squealer" for years. She gets it at Alyce's Gourmet Concessions and Catering, or as the locals call it, "Alyce's Food Truck," run by Rebecca Thompson.
"She has got a good personality. She is always happy. She is an awesome cook. Plus, she is fun, she knows her customers, and it's nice to go around and joke with her," said Youngdahl.
There is a lot of buzz going around Grand Marais for Thompson and her famous food truck.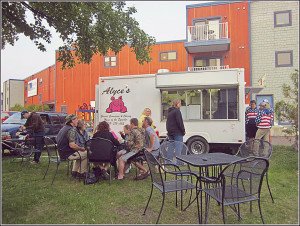 "I heard people raving about it and I had a sarcastic mood and thought 'how good could it be?' But it was just as good as people said!" exclaimed Kelsey Kennedy, a Grand Marais resident and local educator.
On Kennedy's first trip to Alyce's a year and a half ago, "I had the best burger in town. It was the bacon cheeseburger. I don't know what makes it so special. Maybe it's her touch. It's delicious!" she said.
Kennedy and her husband pop by Alyce's once every few weeks to indulge in, what they call, the "best fries in town" and enjoy Thompson's inventive new recipes.
The woman behind the desired dishes has lived in Grand Marais since the 1970s. Thompson left to attend a state-of-the-art culinary program, and subsequently lived in the southeast U.S. for a while, working with a few of the country's top chefs.
About 18 years ago, Thompson longed for family and her home state. She returned to Grand Marais and worked around town, even owning the old soda fountain for a while. Being a business owner came with significant perks, but Thompson sought more freedom than a stationary establishment could provide.
"I wanted the mobility to go and do other things," said Thompson. "When I first decided that I wanted a food truck, basically no one was catering."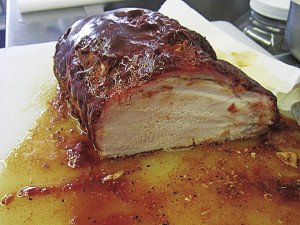 Thompson purchased a custom-order trailer that contains a full-size commercial kitchen. With all that equipment, "you name it, I can make it," said Thompson. The small food truck fits stainless steel counters, a four-model deep fryer, a four burner stove, an oven that fits full-size sheet pans, a flat top and more.
"The idea was to be able to crank out catered meals for at least two hundred people. It's all about how you use your space," said Thompson.
The chef caters in the winter with her mobile business. From about late May to mid-October, Thompson parks the food truck into the parking lot behind the gallery and only moves it when catering opportunities call. She has been operating for about five seasons and is growing a loyal fan base.
The draw to Alyce's could be the unique, made-to-order daily specials and seasonal favorites. "If wild blueberries are ready to pick, I take time off to pick those and will make a lemon curd blueberry cake with homemade buttercream," said Thompson.
Perhaps it's the aforementioned Squealer. "It's what I'm known for," said Thompson, who has been perfecting the recipe for about 17 years. "As far as my regulars go, several of them come back often for the Squealer."
Or, maybe it's simply the variety of fresh-made menu items like the lemon carrot cake, deep fried fish and chips, or the grilled veggie sandwich, which is topped with fresh market vegetables, an avocado spread (the avocados are shipped straight from California) and cheddar cheese. It's served on homemade raisin rye bread.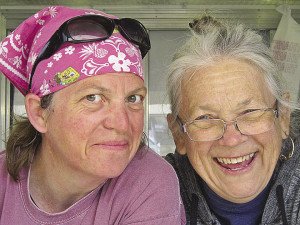 "It's the best sandwich you can get in Grand Marais," said Thompson. "It's big. And it's messy."
Managing a mobile dining establishment comes with a unique set of challenges. "It goes from one extreme to the next," said Thompson, describing the effect that weather patterns have on her business.
"The tin box gets extremely hot or extremely cold. Recently I was wearing wool socks and long underwear," she said. The truck has no insulation, so Thompson packs it with spare socks and shirts, so she is prepared to handle the worst weather.
Another challenge that Thompson has conquered is space. You'd think the tiny food truck would get pretty cramped with just one person preparing meals. However, Alyce's is a family affair. Oftentimes, Thompson's teenage son, Colton, helps cook, and her mother Arvis works as the "Head Window Girl," said Thompson. "There is no room for error. You really have to know each other's routines."
Thompson works hard, and has mastered the art of running a food truck. "I'm actually happy," she said. "It's nice to see people, meet new people, and introduce them to something different. I am the only true food truck locally owned and operated in Grand Marais. I'm hoping to be able to do it for many more years."