THUNDER BAY—A year ago in June, the former Canadian Coast Guard icebreaker the Alexander Henry arrived back in her hometown of Thunder Bay to be the museum ship of the Lakehead Transportation Museum Society (LTMS) and a major tourist attraction. And this June, the Henry was opened to the public.
"The Alexander Henry's journey has finally come to an end with her permanent mooring spot at the Pool 6 dock at Marina Park in Thunder Bay. She's had a remarkable life so far and we're excited to see her next transformation as Thunder Bay's first museum ship," said Charlie Brown, president of the non-profit Lakehead Transportation Museum Society.
The LTMS board first heard in September 2016 that the Alexander Henry was going to be scrapped or sunk by the Marine Museum of the Great Lakes in Kingston, after they lost their leased waterfront property to a developer and had no place to relocate Henry. So, LTMS set the goal to save her.
Launched on July 18, 1958 at the former Port Arthur Shipbuilding Co. Ltd in Thunder Bay, she entered service in 1959 as an icebreaker and buoy tender for the Canadian Government's Department of Transport Marine Service and transferred in 1962 to the newly-created Canadian Coast Guard. The Henry is 197.8 feet (60.29 m) in length with a beam of 43.6 feet (13.29 m), draught 17.9 feet (5.46 m), and has a massive derrick for lifting five-tonne buoys in and out of the water.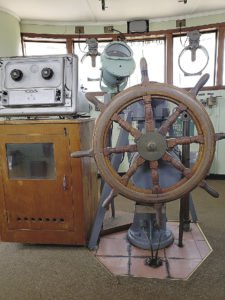 After 26 years of service, she was de-commissioned in 1984 and became a museum ship in Kingston a year later. When the museum's leased property was sold in 2016, the museum had to move out and Henry was towed to a temporary docking site to await her fate.
LTMS reached a deal with the Marine Museum to purchase the Henry for a few dollars as long as LTMS paid for the towing costs for the approximately 1,000-mile journey through the Great Lakes to Thunder Bay. After a year of discussions, negotiations for a docking site and fundraising, the Henry arrived back on June 27 last year and temporarily docked at a private facility.
Then, on November 23, the Alexander Henry was towed to her permanent waterfront site at Marina Park. Restoration to the 1954 era, cleaning, electrical power hookup (thanks to IBEW 402 volunteers), minor repair work and painting has been ongoing by members and volunteers since spring, including preparing mini-museum display rooms to showcase the area's transportation history. Saving the Henry is phase one of the LTMS's larger long-term goal of establishing a transportation museum in Thunder Bay.
"Beginning this summer, visitors will be able to experience the rich transportation heritage of Thunder Bay," said Brown, adding, "The Henry is just first of many transportation artifacts that the Lakehead Transportation Museum Society will be opening over the next several years at our Pool 6 site."
A special dockside ceremony will happen on July 18, the 60th anniversary of her launch: an official rededication and re-christening of the Alexander Henry—the first time in Canada for a retired Canadian Coast guard vessel.