Dealing with the invasive buckthorn plant
What's loved by birds and hated by foresters?
Buckthorn, specifically the non-native common and glossy species (we do have a harmless native buckthorn, the alder-leafed). They are loved by birds because they produce large amounts of berries to consume (the seeds of which are spread in their droppings). And they are hated by foresters because they spread rapidly, crowding out native shrubs, shading out wildflowers, and stifling young tree growth. They also diminish wildlife habitat, so you can add wildlife managers to the "not a fan" list.
According to the Minnesota DNR, these buckthorn species were first brought here from Europe as a popular hedging material. They became a nuisance plant, forming dense thickets in forests, yards, parks and roadsides. Glossy buckthorn has been sold by the nursery trade in three different forms, so its appearance can vary. Today it is illegal to sell or transport buckthorn plants.
Of the two, the common (also known as European) buckthorn grows the tallest, up to 10 feet in height. Glossy tends to be under 3 feet in height. Since they are similar in appearance to some native shrubs, such as chokecherry and dogwoods, it takes a bit of study to tell shrubby species apart. Thankfully, the Midwest Invasive Species Information Network has a great online tutorial which can be viewed at: bit.ly/misincommonbuckthorn.
Perhaps the easiest way to determine if you have buckthorn on your property is to wait until late autumn. Buckthorn holds green leaves into winter, long after our native shrubs have shed theirs. If you spot a bush or small tree with green leaves in November or December, you're almost certainly looking at buckthorn.
So, is buckthorn a problem in the Northern Wilds region? According to Cassandra Baysal, the Minnesota DNR NE region invasive species specialist, so far, we're lucky.
"Lake and Cook counties seem to be the leading edge of buckthorn, both glossy and European, in Northeast Minnesota. We have treated several forested stands in the last couple of years, and more seem to appear on the landscape every year. These infestations typically have a moderate density of buckthorn presence where we assume the infestation started, then moves towards lower densities the further we get from the epicenter. They require multiple years of treatments because they typically have a pretty abundant seedbed. The North Shore hasn't really seen the super dense buckthorn understories that many parts of Minnesota have. For example, in Aitkin County there are stands where literally nothing else is growing in the understory as buckthorn densities have blocked all sunlight, and it's pretty tough to walk through these stands because of these high densities."
So far, buckthorn has not impacted the forest product industry here, wildlife habitat or recreation, and the DNR would like to keep it that way. Bushwhacking to your favorite brook trout stream is tough enough through alder. It would be all but impossible through buckthorn, which is where private property owners come in—halting the spread.
"Buckthorn is typically more of a problem in and around towns in Northeast Minnesota," said Baysal, "but it is definitely spreading. Some of the buckthorn population centers are located where a landowner planted buckthorn as a hedge 30-some years ago."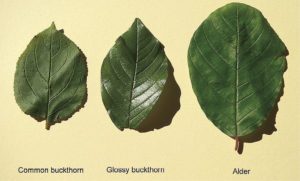 Getting rid of it isn't easy, though, containing its spread is somewhat more manageable.
"There is no law on the books that says you need to eradicate a population on your property, and buckthorn removal is relatively expensive, thus cost prohibitive for many folks. My advice is to remove small populations and seed producers first," prompted Baysal. "They are the easiest to remove and prevents further spread. Then tackle the larger populations."
"Smaller shrubs can typically be hand-pulled," continues Baysal. "As you get into older and larger buckthorn shrubs, they will need to be cut down and the stumps treated with an herbicide. Garlon4 and Pathfinder are typically what we use on forested stands (active ingredient for both is triclopyr). Pathfinder is a ready-to-use herbicide, whereas Garlon4 needs to be mixed prior to use. The best times to treat are late summer to early fall, as the shrubs are actively taking resources to the roots in anticipation of winter."
There is a wealth of information on identifying and managing buckthorn on the Minnesota DNR website. If you suspect you have this invasive species on your property, or might have spotted it in the forest, a bit of time on their website will be a great help. View it at: bit.ly/buckthornmndnr.
Northern Wilds country may be at the leading edge of the spread of buckthorn, but it isn't immune. To avoid the catastrophic problems experienced in parts of nearby Aitkin County, a lot of watchful eyes and willing hands will be needed, or it could become a real thorn in our side.