John Montagu, the 4th Earl of Sandwich, loved to gamble. One day he was on a hot streak and instructed a cook to prepare him something that would not interfere with his gambling. To his delight, he was presented with sliced meat between two pieces of bread, and the sandwich was born. It was some time before the sandwich became of staple of lunch boxes. Sandwiches also became a popular item at restaurants, where of course innovation was inevitable. As I began to develop my palate, I learned that sandwiches can provide a lot of information about what to expect from a restaurant. And besides, they make for great comfort food.
The three restaurants featured in this article are very different from one another, and all have their own take on the sandwiches they offer. The Bean Fiend Café and Sandwich Bar in Thunder Bay is a coffee café, McQuade's Pub in Two Harbors offers fine dining in a casual atmosphere, and South of the Border Café in Grand Marais is primarily known as a purveyor of hearty breakfasts.
Brian Hamilton, who at the time owned Red Earth Imports, became interested in coffee and in 2010 opened The Bean Fiend featuring Oso Negro coffee from Nelson, British Columbia. Over time it morphed into a café, and in keeping with his values, utilized responsibly-sourced ingredients and house-made dressings, sauces, soups and baked goods. Front and center on their menu are grilled sandwiches.
According to manager and cook Lori Bociurko, they work hard to source ingredients locally whenever possible. They offer vegetarian, vegan and gluten-free options for their sandwiches, as well as sandwiches with chicken, turkey and egg.
One of their more popular sandwiches is their chicken and brie. It features, in addition to creamy brie, spinach, apricot jam and their house-made garlic aioli. Another popular sandwich is the turkey pesto. Their house-made pesto is created from basil, asiago cheese, and garlic—they do not include pine nuts. This sandwich also contains their garlic aioli, mozzarella cheese, turkey, and is served grilled on ciabatta bread. For those who prefer a bit more heat, their Diablo sandwich combines capicola, genoa, dill Havarti, banana peppers, and their red pepper aioli on rye bread. Grilled cheese lovers may wish to check out their Cheese Encounter sandwich, which changes monthly and is designed in collaboration with their neighboring retailer of the same name.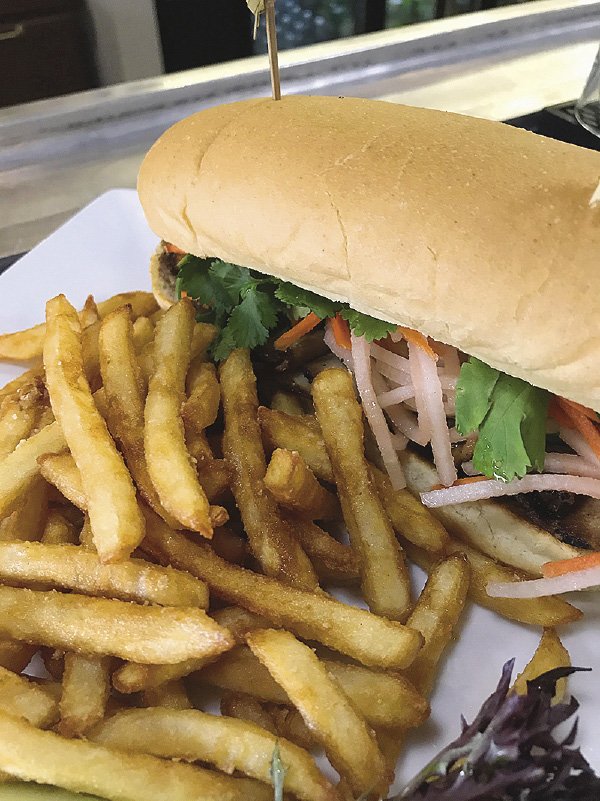 Of course soups and sandwiches go hand in hand, and all their soups are made in-house. They are all vegan and gluten free. Their selection of soups varies daily. Some of the more popular items are their creamy potato dill, their lentil soup, and the ever-popular tomato basil. The creamy soups are made with a coconut milk base. Their baked goods are made in-house as well, using locally-produced Brule Farms flour. There are vegan options available. Their iced teas are made in-house, and they offer a full range of coffee, as well as Silk Road teas.
Frank McQuade has spent his adult life sharpening his culinary skills. In 2016 he returned to his hometown of Two Harbors and opened McQuade's Herbs, Spices and More. Then in 2018 he got back into the restaurant business by creating McQuade's Pub and Grill, where their motto is, "fine dining and cocktails with a casual atmosphere." His vision was to open a restaurant with great consistent food of a high quality. They source their food locally whenever possible. Their diverse and innovative menu features entrees such as pan-seared duck, pork belly with caramelized garlic risotto cake, and a limited but intriguing selection of pasta dishes. They have also been offering seafood specials including jumbo scallops, shrimp, fresh oysters, octopus, and have even featured alligator.
As for sandwiches, their selection is limited, but true to their motto; the quality is high. They have a delicious Banh Mi sandwich with house-roasted pork. The sandwich includes their house-pickled carrots and daikon radishes, fresh cilantro, and their own white truffle aioli. They also serve a walleye sandwich. Their House Burger features a half-pound of house-pattied beef, their own bacon and jalapeño jam, and pepper jack cheese. If one can truly measure the quality of a restaurant by their sandwiches, then their Banh Mi certainly made a believer out of me.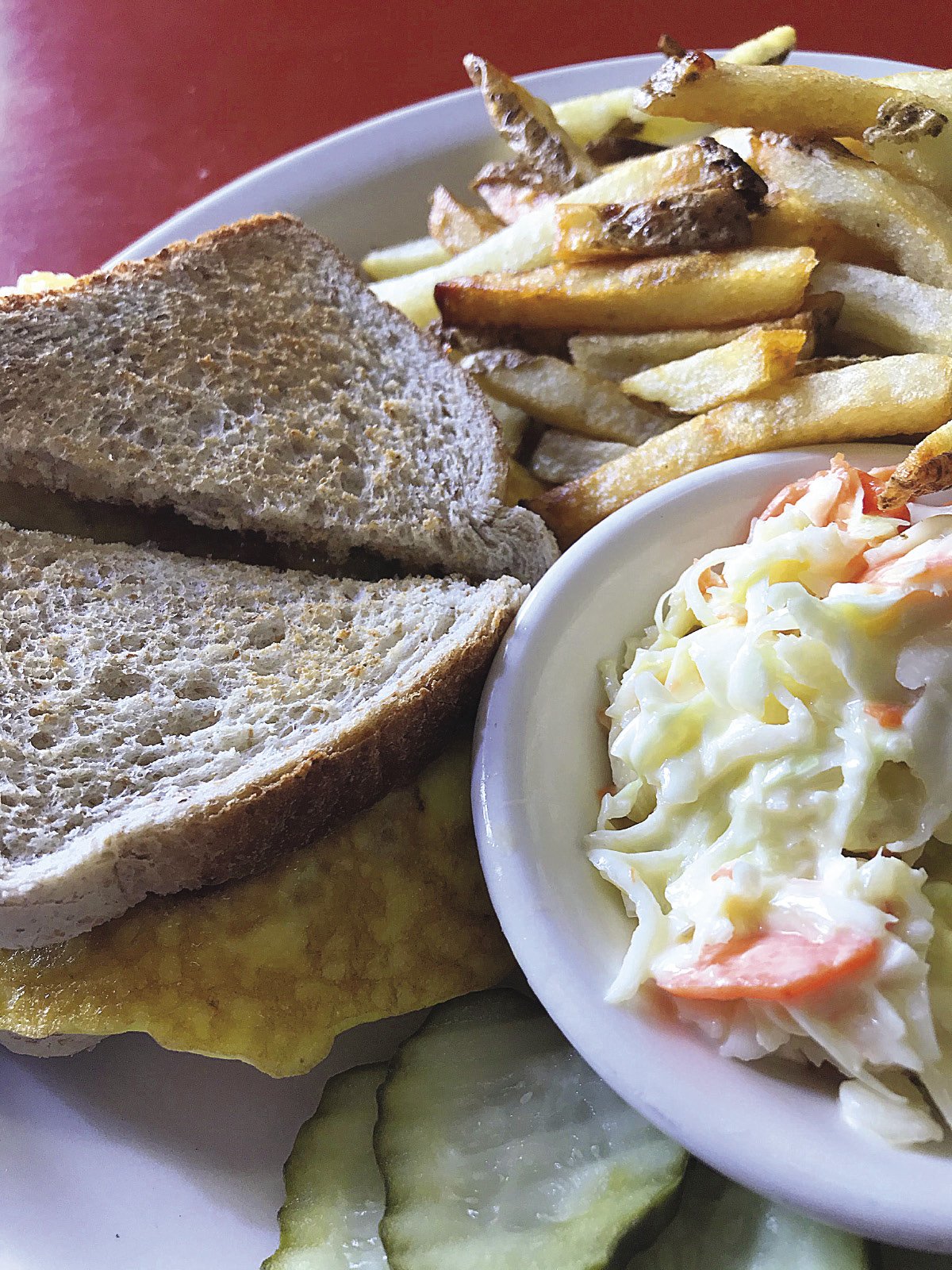 By the time McQuade's opens in the afternoon, South of the Border Café in Grand Marais will already have closed. In 1982, Troy Ford, Steve Ford and Shannon Hicks bought the building that had housed the Kentucky Fried Chicken. They started up serving breakfast, lunch and dinner but later switched their hours and are now open from 5 a.m. to 2 p.m. Still in the family, the restaurant is run by James "Sporto" Ford and his son Danny.
Mornings usually find their parking lot full and semis or logging trucks parked along the highway near the restaurant. South of the Border Café is a popular destination for early rising fishermen and tradesmen, and a local favorite for breakfast. However, it is also a good place to find a sandwich in keeping with their breakfast fare. They offer most of the classics: grilled cheese, grilled ham and cheese, BLT, and their popular bacon or ham club. In addition, one can order a fried egg or a Denver sandwich. The Denver features all the classic Denver ingredients—green pepper, onion and ham scrambled with eggs—served on the toast of your choice. From early spring to late fall they break out their popular fresh Lake Superior herring sandwich. Their burgers are offered all day. Another specialty is their rotating selection of house-made soups. The soup offerings vary daily. Popular soups include their creamy potato, chicken noodle, and split pea.
Whether for breakfast, lunch, or dinner, sandwiches are comforting, familiar, and evidently, good at the gambling table.