By Casey Fitchett
I anxiously await my assignments for Northern Wilds each month. This place, its culture and people, are so vastly different from the world in which I grew up. I relish the opportunity to use journalism as a means through which to learn more about the North Shore, and this month was no exception.
To preface: I'm from the East Coast, near Virginia Beach. It's a city called Chesapeake, which is the furthest southeast you can go before you hit North Carolina.
I moved up here to lead kayak tours and hikes at Lutsen Resort. I had never spent significant time in the Midwest before I hopped in my car with my mom after graduating from university in 2012.
If there is a significant Scandinavian population to speak of in the Hampton Roads area of Virginia, I never knew it growing up. Just about everything I now know about Sweden, Norway, and Finland I have learned since moving here.
Four years since my departure from the land of peanuts and ham and I'm opening the front door of the Zoar Lutheran Church in Tofte for their annual lutefisk dinner. I'm ready for another lesson in my Scandinavian education.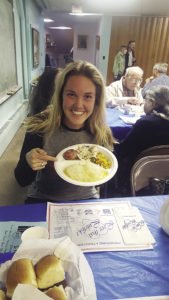 The truest statement I will likely make in this article is that the reputation of the dish preceded it. After getting the assignment at the beginning of October, I immediately started asking questions. Coworkers, friends, people I hardly know, neighbors—everyone had something to say about this food. Most hadn't tried it, but of course knew about it, and some offered a vehement "never again." I was completely unaware that there was a food that could be quite so polarizing and elicit such visceral reactions. Rather than deterring, this intrigued me.
After paying my entry fee, I bounded down the steps into the great unknown. The last words of one of the greeters loomed ominously.
"Good luck, and remember—butter and cream sauce!"
My placemat, produced by the Olsen Fish Company out of Minneapolis, served as reliable and quick research before I chowed down. Lutefisk (lut – lye, fisk – fish) is a traditional dish in Norway, Sweden and parts of Finland. The name comes from the "early process of soaking, where a lye solution made of birch ashes was used in the luting process."
It is said that today, more lutefisk is consumed in the U.S. than in Scandinavia. One of my table mates, Glenn Benson, has had the lye-soaked fish in both places.
"I have friends in Sweden and ate it when I visited," he told me. "There's a lot of Swedes who don't like it, either."
Further prompting led to an even more intricate story of Benson's history and current obsession (his family's word, not mine) with lutefisk. Despite what his last name might suggest, his heritage is actually German.
"My wife and I go to about eight or nine different dinners every year. They are typically about a week and a half apart, though there was one last night that we went to. She is pretty sick and tired of meatballs by the time the end of the season comes," he laughed.
Swedish meatballs is the typical alternative dish for those playing the supportive role for their lutefisk-loving friends or family members. His uncle Roger Gale was one of those people.
"The consistency is different from the head end of the fish to the tail. The head end of the fish is more solid, it's more palatable. The tail end is more soupy and that turns some people off," he explained.
At this point, I was surprised this was a conversation I was actually having.
"I can have it if it's all that's on the menu. Since they have ham, I prefer the ham. I do think it would be really interesting to have a lutefisk food fight," he chuckled.
While I definitely agreed, this conversation was quickly getting off topic. I had to track down someone else with a connection to the food who would share her lutefisk story with me.
The lucky (for me) lady I sat down beside was Sherri Lindskog. A brief introduction later and she began sharing one of her memories.
"I married a full-blooded Swede and lutefisk was a very important family tradition. It was the Christmas of 1962 when I was going to eat lutefisk for the first time. Beforehand I was thinking, 'How am I going to do this? I don't want to hurt anybody's feelings,'" she said as she relived that moment. "I loved my mother-in-law and I was going to have to do it, but I knew it smelled bad and there was so much of it. At that time I wasn't even eating mushrooms because they were a little bit slippery."
Texture was one of the biggest concerns I heard from people before the event, so I was very curious as to how she was able to bypass that reality.
"I had the littlest bit of lutefisk I could put on my plate politely and I covered it with melted butter and gravy. I don't know if I swallowed it or not but it was the last time I felt I had to be polite and put it on my plate!"
Both Swedes and Norwegians claim lutefisk was invented in their respective countries. Scandinavians have been eating it for centuries, as the long winter months necessitated preserving the cod for a source of protein. Dry cod, or stockfish, is probably one of the oldest trading commodities in Norway. After being caught, the cod is dried until it has the feel of leather and the firmness of cardboard. To reconstitute the fish, it is then soaked in lye. After repeated rinsing, in our modern day it is shipped to the consumer to be cooked and eaten.
The long tradition of fishing in that part of the world combined with the accessibility of lye made the dish easy to come by. It first appeared in Norwegian literature in 1555 in the writings of Olaus Magus, a Swedish writer and archbishop who described how to prepare and eat lutefisk.
The next interview during my quest for Viking understanding was with Karen Vogl. Growing up in a very Swedish community kept her family's heritage alive during her youth in Iowa.
"My dad is from Sweden and so he always bought lutefisk. It has been soaked in lye water," she remembers. "Then to get the lye taste out we always had dish pans full of fresh water that we would soak the lutefisk in. I was probably four or five when I had my first memory of that."
Though her adult children aren't fans of the food, she still cooks lutefisk at least once a year.
"I love it! It doesn't take that long to make. Some people boil it, some people microwave it and some cook it in the oven," said Vogl.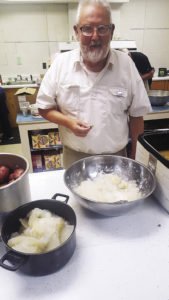 As the dinner was winding down, I snuck back in the kitchen for a quick conversation with the main chef and organizer, Gary Hansen. He described a small bit of the process of preparing the food for these hungry attendees.
"I don't do much, I just happen to head it up," he said humbly. "I get the fish two days ahead of this. All I do is cut it up, put it in sacks and cook it. Then you've got it on your plate."
At this point in the article I'm sure the reader is immensely curious about this easterner's stomach before, during, and after the consumption.
Because I was not very secretive about using this dinner as article research, the lovely volunteer servers graciously gave me a double helping of the lutefisk. I heeded the earlier advice from the greeter upstairs and happily accepted probably a very unhealthy amount of both the butter and the cream sauce. Salt and pepper were also added based on recommendations from a loyal friend at a nearby table.
While yes, the texture was bizarre and definitely unorthodox, I don't have a "thing" about the way a food feels in my mouth. While initially skeptical because of the color (yellowish-white) and overall gelatinous appearance, the butter and cream sauce definitely helped.
Though I don't believe I have any Scandinavian heritage, feeling a deeper connection to this place through an exposure to one of its people's traditions was more valuable than I ever could have hoped.
Plus, according to Hansen, "Now you can say you are part Norwegian, if you're careful you don't say it to the wrong people!"