Post Beargrease, we prepared for the UP200, which I planned to run. The weather turned warmer and warmer, melting snow off the trails all around the Great Lake. Finally, a rainstorm deteriorated the trail too much, and the race was canceled.
Friends from Canada told us about another race that was allowing mushers to register last minute, called Abitibi. When perusing the website, which was mostly in French as the race would take place in Quebec near La Sarre, I found it difficult to understand much, but after going back and forth on the pros and cons of a 12-hour drive for a 100-mile race, my husband Matt signed me up.
Unfortunately, I misunderstood where the race was located and had reserved a hotel room in Timmins, which Matt informed me was two hours from the race. Oops.
At the race, it was me (from the U.S.) and another 14 mushers from Canada, all of whom spoke French. Those who knew English translated the required gear list and the logistics of the race. I left as the last musher in the 100-mile race, bib 15.
The trail was put in for mushing, winding its way out of town, onto a river and then into the woods. I passed a few teams in the woods and about 35 miles into the first 50-mile leg, I popped out onto Abitibi Lake and there ahead of me into the distance as far as I could see were eight teams spread out. We began passing them one-by-one, passing all but one before going back in the woods. At each road crossing, volunteers and spectators shouted at me in French. Not knowing what they were saying, I just smiled and waved. By the time we reached the checkpoint, I had passed all but one team, and I had the fastest run time for the first leg, meaning after our 3.5-hour rest, my team would leave first.
We held our five-minute lead until Abitibi Lake, and there in the gray light of dusk, I could see Martin was catching us. Now in the dark, his headlamp encroached. Then, a split in the trail caused me to stop. I couldn't see which way to go. We simply waited a minute for Martin who called his team to gee, and we followed. Not too much further he stopped to snack his team and we passed. I thought, 'that's a good idea,' so I stopped my team to snack and he passed. We followed Martin's team at a respectable distance for almost 30 miles. I could see two other teams were catching us. In a narrow section of trail that wound back and forth for several miles, I was on Martin's tail. Another team was on mine. Finally, when we spat out of the woods, I called trail and we passed. I had about 5 miles until the finish. I called up the dogs, encouraging them every minute. We put some space between us and the team behind, and we finished first.
On to Can-Am 10 days later while Sylvia stayed home with Grandma. Matt and I took 22 dogs and a U-Haul trailer to Maine. Matt ran the 10-dog, 100-mile race. I ran the 12-dog, 250-mile race. Both are unassisted. Matt and his team placed sixth out of 20 teams. Major Tom ran lead. He broke his metacarpals in a freak accident last year, so this was a big comeback for him. He led with 2-year-old superstar Chicken.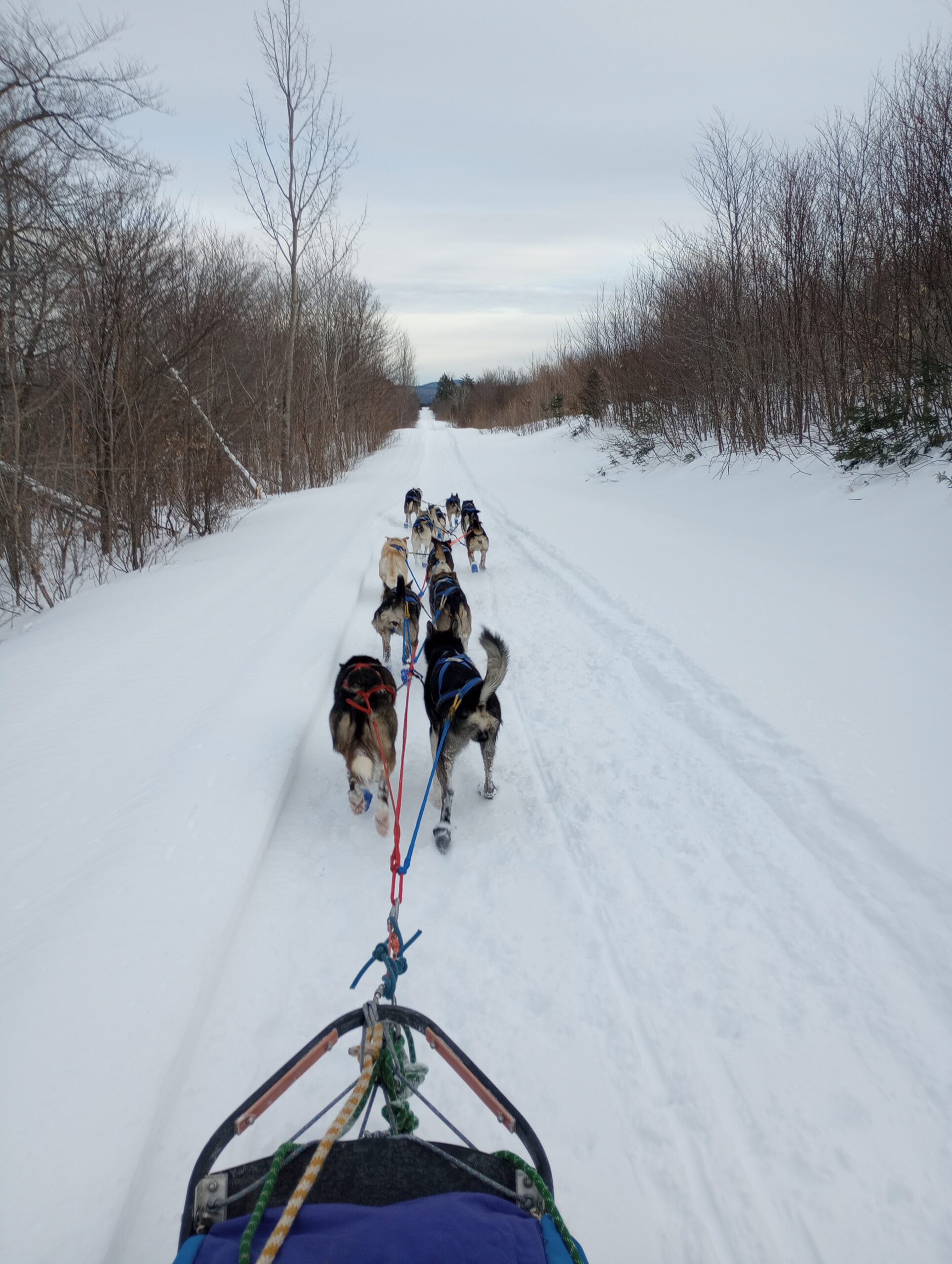 Matt's team left the chute at 8 a.m. and after helping him, I had two hours to prep my dogs. I had no helper but given the amount of time, it was no issue to harness and bootie the dogs by myself. We ran down the main street of Fort Kent Maine, alongside the Allagash River and then turned inland, south, toward Portage. The first leg was 67 miles. Most years we run down Portage Lake at the end of the leg to the checkpoint, but this year the slush was apparently so deep they had to reroute us, making the leg extra-long, with more hills. I had a horrendous pass of another team, where my leader Temper stopped outright to smell one of the females. Then they all became interested in that team's snacks. Finally, after I ran back and forth to the front of the team to drag them forward several times, we went on. One team passed me, New Brunswick musher Kat Langlais. "Don't be first to Portage" I yelled as she went by. We had both scratched from the race in previous years after getting to Portage checkpoint first.
At the checkpoint, teams were parked extremely close to each other. My dogs ate well and I went inside for food and a nap. I awoke after a brief 20-minute nap to dogs barking. It turns out there had been some skirmishes in the yard. Upon leaving, my team became bunched up and two females started a fight. I straightened them out and found one to have a paw injury. At this point, my team was screaming to go so we left, but 30 miles later, Georgia was riding in the sled, her paw now too swollen to run on.
Georgia stayed at Rocky Brook. The rest of the team wasn't eating very well here. I left with 11 dogs for a 4.5-hour, 31-mile run to Sylver in the heat of day. How such a short leg can take so long remains a mystery, but the hills go on and on and on. Turn a corner or crest a hill and up we went.
Checkpoint Sylver was so hot in the full sun I took off my snowpants and trudged around in my long johns for four hours. I spent considerable time trying to coax dogs into eating. I could tell Itsy was dehydrated by looking at her pee and finally got her to drink some water and eat kibble. I dropped another dog, Wallaby, here and we left toward Allagash 10 dogs strong. Several miles out of the checkpoint we were moving awkwardly, and a bit slow. I stopped and put Deedee in lead and off we went. This was the highlight of my race, a nice team moving well, watching the sun set on the mountains around me, listening to music, feeling good… except I wasn't feeling that good. I had come down with a bad cold and with no meds or even a tissue, I sneezed my way to Allagash, blowing my nose in my gloves.
At Allagash we took our five-hour required rest and left solidly in fourth place, at least 40 minutes behind third, and fifth place 40 minutes behind me. It was almost 4 a.m. I found myself barely able to stay awake, and as the sun just began to rise, I saw a woman on the trail telling me to "gee!" I didn't really comprehend the dog command and we veered to a road crossing around a berm, so I couldn't see where to go. The dogs suddenly swung left onto the road and I couldn't stop them. Down the pavement we went, me trying to brake in total futility, tossing the snowhook off the sled where it merely bounced along the road. I gee'd them into a closed gas station hoping the snow on the parking lot would help stop us, but they careened on through and out onto a highway. Finally, I threw my sled on its side to stop the team. A race volunteer pulled his truck in front of the team, also stopping traffic and together we turned the team around, tied off the truck and made our way back to the trail.
That took the oomph out of my team and my runners felt like they were coated in sand. We made our way slowly to the finish, crossing open fields where the wind nearly blew us sideways. After this road trip fiasco, I worried that Denis Tremblay in fifth place would catch me, but that was not the case. A solid fourth-place finish rounded out our season. A bigger deal was that my Canadian friend Kat Langlais won the 250-mile race, the first time the race was won by a woman. In fact, the 250, 100, and 30-mile races at Can-Am were all won by women. 
Now we look toward training the next batch of puppies, nine months old and full of puppy vigor. We have some big ambitions for next year having to do with a certain 1,000-mile race in Alaska—stay tuned.