Finland—Located in the Sawtooth Mountains overlooking Lake Superior, Wolf Ridge Environmental Learning Center (ELC) has taken on a new challenge in their mission of inspiring visitors to appreciate the natural world. Building on their focus of promoting environmental awareness, Wolf Ridge is constructing a "net-zero" dormitory, with hopes it will be a teaching tool in sustainable building practices and ongoing conservation efforts.
On June 3, work began on the Margaret A. Cargill Lodge with the intention of registering the building with the Living Building Challenge (LBC), a green building certification program.
Once completed, the new Margaret A. Cargill Lodge will be a "net-zero" energy building. The term "net-zero" refers to zero net energy consumption, meaning the total amount of energy used by the building nearly equals the amount of renewable energy created.
Formerly known as the West Dorm, the Margaret A. Cargill Lodge is located on Wolf Ridge's 2,000-acre campus near Finland. Founded in 1971, Wolf Ridge has more than 15,000 children and adults visit annually with a focus on outdoor learning.
In 2012, while plans to upgrade housing were being discussed by executive director, Peter Smerud, and several board members, the idea was posed to recreate the West Dorm into a teaching tool in green building design and living more sustainably. Smerud felt that learning at Wolf Ridge had been primarily centered in the outdoors, and the Living Building Challenge was a chance to "inspire people from that moment of awaking. We set thematic goals for the building…it should be a 'Teaching Tool of Sustainability.'"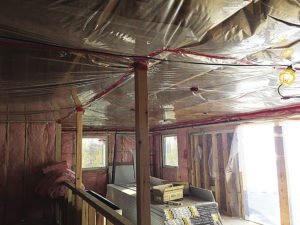 The decision was made to register the former West Dorm in the LBC program. Created in 2006, the LBC is considered the most stringent green building standard in the world. It requires building owners to reach standards in seven areas: site, water, energy, health, materials, equity and beauty. Wolf Ridge ELC will be the first in the region, and the northernmost in the country, to attempt full LBC certification.
The Margaret A. Cargill Lodge is designed to minimize electric use, and will utilize solar electricity, solar hot water and biomass heating. Annual rainfall will provide the budget for annual water consumption, with low flow fixtures keeping usage within that budget. Additionally, the building is equipped with technology that will allow visitors to monitor their personal energy and water consumption.
Smerud states many design features were added for human enjoyment, providing access to the beauty of the Margaret A. Cargill Lodge's setting. The upgraded dorm design includes large windows that look out onto bird feeding areas, in addition to the use of earth tone colors and unpainted wood to create a sense of harmony with the building's natural surroundings.
The northern location of Wolf Ridge ELC and its relative remoteness have posed extra challenges in complying with LBC criteria. These include issues such as distance to manufacturers of certified sustainable products, as well as disposal of recyclable construction waste. That construction waste—which is around 90 percent of the total amount created—needs to be transported to the Twin Cities, currently the closest recycling center.
The climate and geography of Wolf Ridge are also considerations. Much of the landscape has only a thin layer of gravel soil over bedrock, creating difficulty in building structural foundations. The area's Lake Superior micro-climate of cold, dry conditions in winter, followed by relatively high humidity and warm temperatures in summer, add to the complexity of heating and cooling systems.
Additionally, Smerud says that locating sources of sustainable certified materials has been more challenging than anticipated. Care was taken to ensure that the products installed contained no chemicals known to be hazardous to human or environmental health, even in the paint on the walls. Additionally, all lumber used in the project came from within 300 miles of Wolf Ridge.
"They don't call it a challenge for no reason," said Smerud.
Smerud hopes visitors to Wolf Ridge's Margaret A. Cargill Lodge will learn what is possible in sustainability, adding that it is "critically important to humans and the planet that we show our future generations and educators how to make the world a better place."
Learn more about Wolf Ridge Environmental Learning Center and the Living Building Challenge at: wolfridgelivingbuildingchallenge.org.—Martha Marnocha