Recycling or reusing products is one of the simplest ways to help the environment. For most of us, the habit of recycling is little more than an everyday chore. But for others, finding creative ways to reuse old products is nothing short of an art form. Upcycling is a form of recycling in which old items are used to create something even better. Several artists along the North Shore create upcycled art, and their work shows how artwork can be a part of the effort to go green.
Brandon Thompson from Duluth is one such artist. A mechanic by trade, Thompson creates scrap metal art from extra parts in his shop. A spare piece might spark an idea for a sculpture, and he gets to work seeing what he can make out of it. By using old pieces for his sculptures, Thompson breathes new life into materials that would otherwise be considered junk.
"I've been working with metal since high school, and just started doing art in the last couple of years," said Thompson. "It's my hobby, and I have an itch to create."
Thompson has made a wide array of scrap-metal art, from lamps and clocks to figurines and sculptures. He's also used a wide variety of materials for his art, from gears and old gauges to chainsaw engines. The materials he uses gives his work a steampunk style, though he's done many different kinds of sculptures.
"I just get an idea for something and go with it," he said. "I do it mostly for myself, but most of it ends up for sale. Usually I'll sell my art to people I meet who have a connection to something I've made. It's neat because I get connected with people through my art that I wouldn't normally meet or get to know."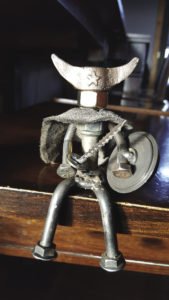 While he doesn't run an official shop for his art, Thompson attends several art festivals every year, where people find out about his work. And as word has spread about his art, other mechanics have offered old pieces for him to use.
"I work out of my shop at home, and I get parts from shops around the area," said Thompson. "People know me and let me dig around for things that I can use."
With a growing movement toward sustainable and locally made products, upcycled art continues to draw intrigue from people looking to make environmentally conscious purchases. It can also be a way for a community to work together.
Jill Terrill is the owner of Joy and Company, a shop in Grand Marais that sells a wide variety of upcycled art, some of which she creates herself.
"I've always loved recycling art," said Terrill. "Since I was a kid I've always wondered what I can turn things into. I had a drawer where I'd collect materials to work with, to the point where my mother made me limit what I could keep in there."
A walk through Joy and Company reflects Terrill's love for upcycled art: one can find art made of old records, wind chimes created from silverware, candle holders made from old wine barrels, and even a coffee table that was once an incubator. The building itself has undergone transformation, from a garage where cars were serviced to the art shop it is today.
A neat aspect of upcycled art is how it can represent the different businesses and artists in a single community. Some artists at Joy and Company use materials from the Cook County Recycling Center for their art, and Terrill has made ornaments out of woodworking scraps from Knotty Dawgs Woodworking in Grand Portage. She's also received sample pieces from 1010 Interiors in Grand Marais and has made them into signs and trivets so they wouldn't end up in a dumpster. By using materials that a local business would otherwise throw out, artists can help a community's sustainability efforts.
One artist who uses materials from local businesses is Tofte fiber artist Julie Arthur. Many of her projects utilize old materials, and she finds creative ways to turn old fabric into new products.
"I weave rag rugs, which is something that goes back to our ancestors," said Arthur. "Nowadays, when a garment gets old or gets a tear, we throw it away. But our ancestors saved everything and made sure it got reused."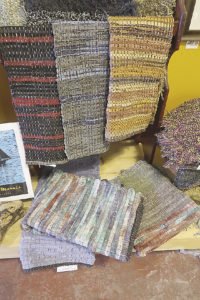 Arthur makes a habit out of looking for materials that can be reused instead of buying new ones. Some of her rugs are made from old blue jeans, and she's even hoping to make rugs from a collection of old tents, as tent material is very durable and could be used for outdoor or camping rugs.
One of the main materials Julie Arthur uses for her rugs are hotel bed sheets and towels.
"My son works at Bluefin Bay, and he realized that they threw away any sheet or towel with a stain or rip. That adds up to a lot of linens being thrown away. I could use them in some of my weaving, so I started taking the old sheets and towels to use in my rugs."
Once Arthur gets the linens, she colors them with a method called snow dyeing. The snow dyeing process starts with laying out the warp, or the long threads of material, on a screen. She then covers the screen with snow and sprinkles the snow with dye. As the snow melts, the color comes out and blends to make different colors in the fabric.
"People are fascinated to learn about the snow dyeing process," Arthur said. "It's so much faster than painting or other kinds of dye, and it's fun to look once the snow has melted and to see how it's turned out."
To not waste any dye, she even reuses some of it by collecting the dye water after the snow has melted, using the hotel bed sheets to soak it up, and then using the dyed sheets as filler.
"So much of weaving is utilitarian," Arthur said. "And reusing materials is a centuries-old practice."
There are limitless options for using old materials to create new art. As these artists show, building a sustainable life doesn't have to be a chore.