There was a time when most fishing lures were made in a garage or basement. They were then sold in local sporting goods stores. But since the sport fishing boom of the 1970s and 1980s, angling has become big business. The majority of popular fishing lures are now made in huge factories and mass-marketed by the thousands.
Yet there is a father and son team from Terrace Bay, Ontario, who have bucked that trend and are producing lures the old fashioned way. Their company name is Mighty Mitch and Jungle Joe's Jig Flies, and over the past 12 years or so, they have made quite a name for themselves in Northern Ontario and across North America.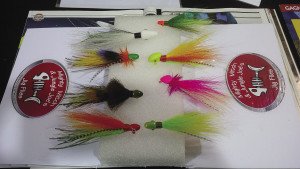 The lure they make is called a jig fly. It's a multi-colored bucktail jig that's a popular lure for catching brook trout in the Nipigon River. Bucktail jigs have been around forever and they really catch all species of fish. Walleye, bass, lake trout and pike will all eat a jig fly. Smaller jigs will take panfish like perch and crappie. The prettier jigs, with multi-colored hair and feathers, are hard to find. Most of the commercially made bucktail jigs are pretty plain. So this is the niche market that Joe and Mitch Kostecki have tapped into.
"We used to buy the jig flies, from D&R Sporting Goods and Lorne's Cameras, in Thunder Bay," said Joe Kostecki. "There was a guy by the name of Dan Klatt, from Nipigon, Ontario, who used to make them. But then you couldn't get them anymore."
Since Kostecki was a jig fly fan, he did what he had to do. He found somebody who could teach him how to tie flies and make his own jig flies.
"To be honest with you, they didn't start out all that great," said Kostecki. "Compared to what they are now, there is a big difference. It started out as just a hobby and was introduced on (the website) Thunder Bay Fishing and went from there."
Kostecki says he didn't want to copy the exact jig fly he used to buy, but his first stabs were pretty similar, and crude. Over time, he started to find his own style and then expanded out into other patterns. The patterns today are not only well put together, but they are finished in a way that makes them almost too pretty to use.
Almost.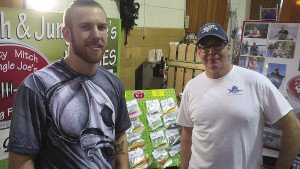 From the start, Kostecki wanted to get his son Mitch involved in his fledgling business. So when Mitch Kostecki was just seven years old, he was already tying his first jigs and selling them.
"Yes, I was very young," said Mitch. "And it was an interesting thing for me to do. I've tied jigs for the past 10 to 12 years and now I'm in the last year of university and I'm still tying. I'm still doing it."
Mitch says he enjoys working with his father and has no plans to pull out of the partnership any time soon. "When you have a father/son team, with just the two people doing it, the quality stays up," he said.
Although jigs are the primary focus, the pair have also been doing some brightly colored fashion earrings, just to mix it up.
"We started making pink jig flie in support of breast cancer research," said Joe Kostecki. "Some girls would see them and say 'whoa, are those ever nice. You should make those into earrings.' And I said to my wife I should! So I gave it a try and it's worked. They are a good seller."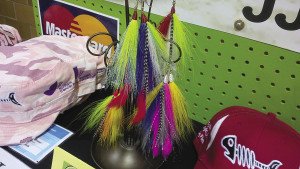 Today, the Mighty Mitch and Jungle Joe business is a growing concern. They have products in shops across northern and southern Ontario, in Quebec, British Columbia, Saskatchewan and northern Minnesota. The increasing demand has lead Joe and Mitch to look for some outside help.
"I actually have people that work for me and help me out pouring the lead and painting the heads," said Kostecki. Yet he and his son are still the main workers. "Mitch tied 300 jigs for me in the last month and a half. That's a lot of tying," he said.
Kostecki says it takes the average person 15 minutes to a half an hour to tie a good jig fly. Whereas he and Mitch have it down to a science and can tie a jig in 5 to 10 minutes. Despite the temptation to keep expanding, for now the duo are keeping it home-based.
"I'm going to keep the company where it is," said Kostecki. "I've got a few years left at the mill. Then, when I retire, I can put 100 percent of my concentration into this and who knows, maybe it will get bigger."