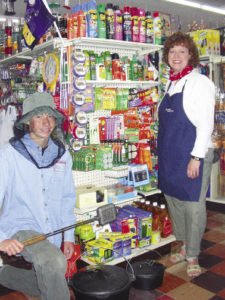 Outdoor entertaining is all about getting together with friends and family. Whether you spend the day cooking, eating, chatting or pitching a game of horseshoes, there are some basic items needed for a successful outing.
Shelter: If you're fortunate enough to have a gazebo or 4-season enclosed porch, you've got all the bases covered. Essentially, you want to be protected from the sun, rain and wind. A large patio umbrella or awning will take care of the sun and rain, but the wind poses a bit of a problem. A screen tent can be staked down to make it sturdier, and for large groups there are party tents available for rent at Isak Hansen's in Lutsen. They have two white tents; both are weather resistant and come with removable side-flaps. The 20×20 rents for $240 and the 20×30 goes for $409 for a 24-hour period, picked up at their store. They also rent tables and chairs as well as offer delivery and set up of the tents for a fee, which varies by location.
Pest Control: Nothing will drive your guests inside faster than biting bugs. The screen tent is a great solution, but there are several other methods of controlling unwanted pests. Julie Carlson, owner of Joynes Department Store in downtown Grand Marais, has been selling the new insect control bands and getting rave reviews. The waterproof bands are sold individually packaged for under $3, can be worn on the ankle or wrist, and can last up to 120 hours. Joynes also carries an insect shield bandana that sells for $5.99 and can be laundered up to 70 times as well as personal repellent wipes & sprays, citronella candles, and yard sprays.
Fire: There are many different fire sources to choose from, and you can decide what will work best for you by considering how you will use it. If you own your home, building a permanent stone and mortar fire pit will give you years of enjoyment with very little maintenance. Incorporate a flat area for counter space and a grate for cooking and you've got a great rustic kitchen. If you are renting, you will need something a little more mobile. You can put out a metal fire ring for campfires or buy a portable fire pit that is perfect for roasting hot dogs and making s'mores, yet small and safe enough to use on a patio.
Refreshments: Your food can be anything from chips and dips to a gourmet barbecue. Any party will do well if you follow the "something sweet, something salty and something chocolate" rule. For a memorable party, try something unusual with your food preparation. Make a fresh, homemade pizza right on the grill, deep-fry a turkey or for a fun Sunday brunch, boil up some individual baggie omelets. Thirst quenching iced tea and lemonade are beverages that are always a hit. With simple ingredients and easy techniques; you'll have more time to visit with your guests.
Entertainment: Be sure to have some simple games on hand for those guests who like to move. Traditional horseshoes are great, but for a portable substitute you can find a game of yard golf which will test your skills just as well. Croquet and bocce ball are timeless lawn games that are fun for all ages.
Story and Photo by Billi Carlson
This story was originally published in the July 2010 issue of North Shore Hwy 61 & Northern Wilds Magazine.