The era of the lighthouse keepers tending isolated U.S. and Canadian stations on Lake Superior may be gone—the last keeper was taken off Superior in 1991—but their stories continue to make fascinating reading.
So, what is it like being on an island lighthouse in a storm? First assistant keeper C. A. McKay at Rock of Ages Lighthouse—located about five miles off Isle Royale – was asked that question by Detroit reporter Stella Champney during a 1931 interview. He replied, "You can't see anything but water. You can't hear anything but its roar. See that pier around the tower? It looks pretty high up and safe. Well, in a real storm, heavy green water sweeps over it. You can't even see it sometimes. You can't get away from the water even at the top of the tower. Spray sweeps over the tower windows and, when it's very cold, freezes on the glass. You can't hear anything but boom! boom! of the seas as they sweep over the rocks, or the crack like gunfire as they hit the tower." The 130-foot Rock of Ages light went into service in 1908 and had keepers until 1977. It was manned by a keeper and three assistants, and was considered too dangerous for families.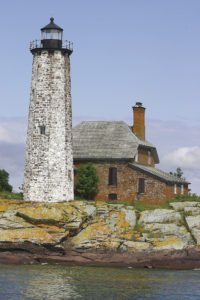 Keepers were tough, courageous and dedicated to giving ships safe passage. During a 1932 blizzard at Passage Island Lighthouse, keeper John Gagnon's face and ear froze while he kept sounding the fog signal for four days and three nights.
Most keepers stayed at their stations only during the navigation season, usually late April/early May to late November/early December. Some brought their families with them, including John H. Malone, the keeper of Menagerie Island Lighthouse; a small barren outcropping of rock about 2.5 miles offshore at the entrance to Isle Royale's Siskiwit Bay. Appointed to the station in 1878, he and his wife Julia had 12 children born (one died at birth) and lived on the island for 32 years, spending winters in Duluth.
One of the many interesting things Malone recorded in his keeper logs was collecting seagull eggs in the spring as an important source of food for the family. In 1887, he reported they had collected 1,478 eggs by first week in June. He also often commented on the weather. On October 28, 1884 he wrote that the island "looked like an iceberg." A year later on November 4, 1885, he lamented, "This must be the North Pole."
One Canadian keeper who lived year-round at his remote lighthouse was Andrew Dick at Point Porphyry Lighthouse on the southwestern tip of Porphyry Island, about 26 miles (42 km) east of Thunder Bay. Appointed in 1880 at $400/year, he stayed for the next 30 years, retiring in 1910 at age 78. He and his First Nations wife Caroline had 10 children; five boys and five girls. When his wife died in 1884, Dick was left to raise their children, ages four months to 19 years, on the island with the kids all pitching in to help.
Another long-tenure keeper was Canada's Charles McKay, the keeper of Battle Island Lighthouse for 36 years, from 1877 to 1913. Known as a "man of fine physique" and legendary fearless mariner, MacKay rowed-sailed almost 300 miles (482 km) one year, in his 18-foot sailboat from Battle Island to Sault Ste Marie to spend Christmas Eve at his family home.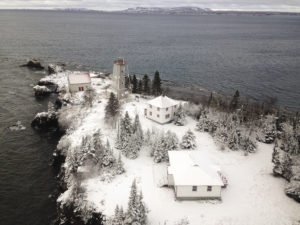 In the 1950s, Battle Island keepers had to deal with a "moose on the loose," when a young, lone moose decided to make its home on the island. It became a "pet" of the keepers. However, as the moose grew, he created some havoc in the garden and ruined equipment, earning the name Obnoxious. Things turned ugly when Obnoxious became a dangerous nuisance, snorting and charging keeper George Brady anytime he went outside, at times, cornering him in the light tower. The keeper's plight caught the attention of media, resulting in Brady receiving letters from across Canada and the U.S. By the fall of 1954, Brady had had enough of Obnoxious. After one failed attempt by the game warden to get Obnoxious, the warden successfully got the moose into the water and directed him to another island. To everyone's relief, Obnoxious never returned.
Living on isolated islands without family could be lonely for keepers, and sometimes the mind played tricks. Passage Island keeper James Gagnon told Detroit reporter Stella Campney during her 1931 lighthouse tour, "Live around these isolated lighthouse stations long enough and you'll be seeing mermaids. Like John Whelan down at Sand Hills. He says he sees mermaids on the rocks and hears them singing." And then there was the keeper on Porphyry Island Light that broadcast on marine radio that UFOs were landing on the island.
One keeper tale may be unparalleled to this day. According to a July 15, 1875, log book entry by James Corgan, keeper at Manitou Island Lighthouse, located about three miles off the eastern tip of Keweenaw Peninsula, he and his wife Mary left the station at 8 p.m. on his steam launch "Little Will." They were headed for nearby Copper Harbor, where Mary would give birth to their second child. But when they were 1.5 miles east of Horsehoe Harbor, Mary went into labour and gave birth to a baby boy right on the boat. James's log entry finished with, "Soon made all things lovely. I had everything aboard in the way of bed, etc. etc. Sea a dead calm."