GUNFLINT TRAIL—The first time I hiked on the South Lake Trail, I saw a moose and caught an 18-inch lake trout. It's no wonder I continue to make this six-mile round-trip journey a frequent location to place my boots on solid ground.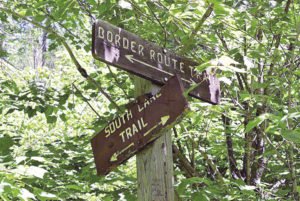 The South Lake Trail (SLT) is one of the pathways not classified as a portage into the Boundary Waters Canoe Area Wilderness (BWCAW). The trail is easy to moderate and passes though old growth red and white pines, while weaving from the Gunflint Trail to the Canadian border.
Because the trail enters the BWCAW, that means you will need a permit to hike, either a day permit or an overnight (entry point #59), if you're opting to spend the night. Two excellent campsites are located on the SLT, one on Partridge Lake (where I caught the lake trout) and another at the trail's end on the shores of South Lake.
The SLT crosses both the Moss Lake Trail and the Border Route Trail on its way north. Both provide great options for extended hiking if the six-mile trek doesn't satisfy your outdoor desires. Though for my purposes, any trail that offers lake trout fishing from shore and outstanding views to the Canadian wilderness is one that's tough to beat.