Despite an unusual start to the winter, ski resorts all along the shore are open and determined to provide guests with safe, socially distanced adventure throughout the 2021 season. The following are some of the world-class local ski resorts that we are blessed to have on the North Shore.
Spirit Mountain
Located in Duluth, Spirit Mountain is a classic North Shore ski resort that has been in operation since 1974.
In addition to the 22 runs that are currently open and ready to ride, Spirit Mountain offers opportunities in snow tubing and fat tire biking for those looking to experience winter in a less traditional way.
"Spirit Mountain has numerous runs that give it a feeling above your typical Midwest ski area," says Jon Regenold, co-director of resort services at Spirit Mountain.
"Plus," continues Regenold, "each of those runs has an impressive vista overlooking the Saint Louis estuary and the city of Duluth—you just can't beat that view!"
There are plenty of great runs for skiers and boarders of all skill levels at Spirit Mountain. Four Pipe is long and wide and perfect for beginners looking for their first full run experience, Timber Cruiser is a "crowd favorite" with its multiple rolls and turns, and then Gandy Dancer, which is often used "by race teams and high-level racing events" according to Regenold, is ideal for those looking for advanced turns and good speed.
"People should know," adds Regenold, "that we are continuing to offer lessons through our Snowsports Center, both private and group, this winter which are available for anyone ages 3 and up."
Spirit Mountain also plans to cater to the fat tire biking crowd this winter, holding three Sundays for fat tire bike lift service and hosting their annual Frosted Fatty event on February 20.
And then, of course, there is the snowtubing.
"Snowtubing is an opportunity for entire families to recreate in the winter regardless of their abilities on snow," says Regenold. "We also offer Glow Tubing, which is when we light up the hill with multi-colored lights to give the experience a more magical feel."
For more information on happenings at Spirit Mountain, visit their website at: spiritmt.com.
Mont Du Lac
Just 15 minutes south of Duluth in neighboring Superior, Mont Du Lac Resort is another excellent North Shore ski hill that is open for adventure during the 2021 season.
Mont Du Lac is set in a beautiful cedar forest on a hill that was once sculpted by glaciers. In addition to their 10 runs, double chairlift, highspeed towrope, and conveyor carpet for the beginner's area, Mont Du Lac offers skiers and boarders the opportunity to challenge themselves on a 10-acre "western-style" back bowl as well as on a terrain park with more than 20 features in rotation.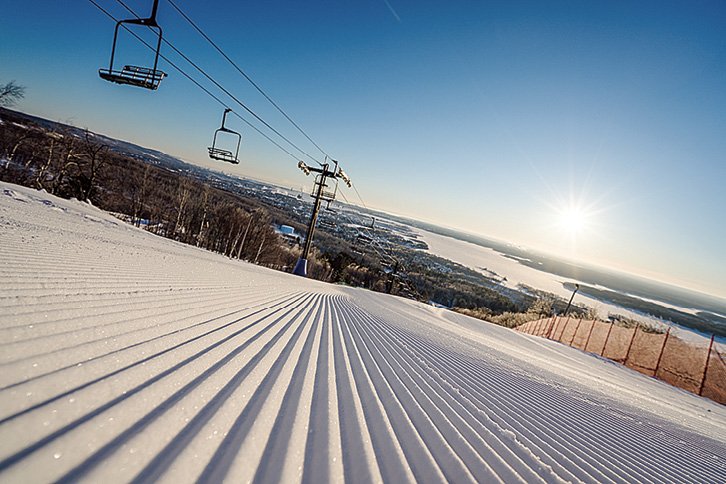 Outside of its regular downhill offerings, winter enthusiasts can also have a blast cruising down the hill in Mont Du Lac's "Outta Bounds" tubbing park, which is open Friday-Sunday each week this winter.
Mont Du Lac offers great opportunities for skiers and boarders alike to develop their skills by taking lessons or by participating in one of their clubs or camps. Their alpine club and ski team, for instance, is perfect for youths ages 5-18 looking to "hone their skills, build self-esteem, and learn proper mountain etiquette in a team environment."
For more information on Mont Du Lac Resort, visit their website at: mdlresort.com.
Lutsen Mountains
Lutsen Mountains is the largest ski resort in the Midwest. With 95 runs spread over four mountains that boast an impressive 825 feet of vertical, Lutsen Mountains is the perfect destination this winter to find adventure in a safe, socially distanced setting.
"Things have been going remarkably well this year," says Jim Vick, director of sales and marketing at Lutsen Mountains, "especially given all of the hurtles we've had to navigate so far."
According to Vick, the season as a whole has been pacing ahead of previous years, in large part because of increased demand on weekdays.
"With slightly freer schedules because of things like working from home and remote learning for kids," says Vick, "more people are finding ways to take advantage of the mountains during the week, which is really great to see."
"Weekday vacations really allow somebody to follow all of the guidelines and stay safely in their 'pod,'" continues Vick. "There's plenty of space with virtually no lift lines, and, thanks to the efforts of local resorts to offer contactless check-in, now more than ever it's possible to have a ski vacation without once having to leave your family bubble."
As is the case every year, Lutsen Mountains offers a variety of runs that cater to skiers and boarders of all skill levels.
Ullr Mountain is a great place for beginners to stretch themselves after mastering the magic carpet, while Moose Mountain—with its high-speed chairlift and plethora of challenging blue and black runs—is always a favorite for the more experienced skier or boarder.
There are also plans in the works this winter to bring back some of the music events that Lutsen Mountains has become famous for over the years.
"The music festival and Saturday night 'late' scene is just a no go this winter, we won't get there," says Vick, "but we're hoping to bring back some of our smaller events like the Monday night songwriter series depending on what is allowable within the current executive order."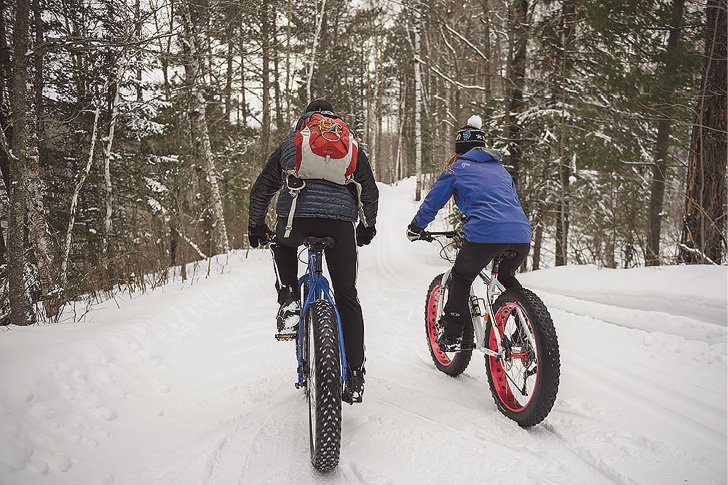 "Given the size and lay-out of our venue and the general 'vibe' of our events," continues Vick, "we have the potential to be one of the unique music venues in the state that can successfully operate and host safe weekday shows."
For updated information on COVID-19 procedures, special events, and snow conditions on the mountains, visit: lutsen.com.
Giants Ridge
Giants Ridge is best known as a downhill ski resort with excellent on-site lodging, but winter outdoor enthusiasts will find lots more to explore beyond the hill while staying at "the Ridge."
"We have 35 runs with five chairlifts—one of which is a highspeed quad—and a beginner's area, but we offer much more than just downhill," says Benji Neff, director of mountain sports at Giants Ridge.
"In addition to the ski hill," continues Neff, "we have a tubing park, over 60 kilometers of cross-country ski trails that abut or are in the Superior National Forest, lift-service and cross-country fat tire biking routes, and lots of snowshoeing."
Staying in accordance with Minnesota's COVID-19 executive orders, Giants Ridge has kept numbers of people in the chalet at a time to a minimum by only allowing folks inside to purchase tickets, use the restrooms, and pick up to-go food orders. They are also asking guests to book online in advance to speed up transactions and limit time spent indoors.
Obviously, limiting chalet usage is less than ideal in a place that can experience low temps well below zero. However, in true northern Minnesotan fashion the ski community has been adapting in some pretty awesome ways.
"Since people haven't been able to come inside the chalet to warm up," says Neff, "we've been encouraging them to bring their own ice houses to set up at the base of the hill."
"I don't know that six months ago any of us would have foresaw an ice house village popping up at the base of the hill," continues Neff, "but that's exactly what's happened. It's been really great to see something so uniquely Minnesotan come about in response to this pandemic."
For more information on "the Ridge" and it's various COVID-19 adaptions, visit their website at: giantsridge.com.
Mount Baldy
and Loch Lomond
Farther north, there are two fantastic ski resorts in the Thunder Bay area that have plans to continue operating through the winter once they are again allowed to do so. At the time that this article was written, all Ontario ski hills were shut down as a result of a recent provincial COVID-19 order.
Mount Baldy has been in operation on the North Shore for over 60 years, and with an average annual snowfall of 187.6 cm (74 in) it is a great place to get out and ski all winter long.
Though not as large as some of the other ski hills along the shore, Mount Baldy still offers skiers and boarders a variety of runs—ranging from beginner to expert—with a vertical rise of 475 feet. They offer great lesson packages too, for anyone new to the sport looking to develop as a skier or snowboarder.
In addition to its 10 runs, Mount Baldy also boasts a full terrain park, an excellent "All Ages Beginner Area," and night skiing every Friday and Saturday from 5-9 p.m.
More information on Mount Baldy can be found by visiting their website: skimountbaldy.ca.
On the south side of Thunder Bay, Loch Lomond is another excellent option for North Shore skiers and snowboarders.
Three chairlifts give riders access to some of the "best terrain in Central Canada," with plenty of runs for people of all skill levels.
The South Side of the mountain is a great place for beginners to explore, while the North Side with its longer, more demanding black and double black runs is better suited for those looking to challenge themselves. There is even an opportunity for "a little backcountry experience" on the top of the North Side with the run Old Joe's.
The ski hill's park crew is usually busy updating rails and snow features to keep things interesting for frequent visitors, and moguls are always maintained somewhere on the mountain each season.
Information with hours of operation is available on their website: lochlomond.ca.