TWO HARBORS—Drivers on Hwy. 61 along Superior's North Shore are sure to see a lot of dead and dying birch and aspen. Hikers following the Superior Hiking Trail are also traveling through these aging forests. Insects, old-age and a lack of new growth, absence of forest fire or logging disturbances and even drought are all reasons that the forests have been in decline.
In St. Louis County, foresters hope to regenerate the forests for better timber production and wildlife habitat. One of the tools for doing this is logging.
"The county is doing a lot of timber sales," said Gayle­ Coyer, Executive Director of the Superior Hiking Trail Association (SHTA).
When the SHTA began building trails through St. Louis County lands, they were encouraged and even required by the county to educate hikers about what they were seeing.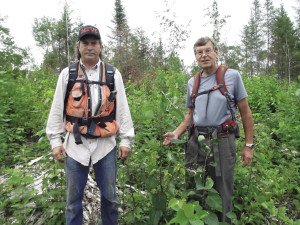 Now, when a hiker leaves the Sucker River trailhead, they will see an interpretive panel, paid for by a grant from the National Park Service, that explains what a "working forest" looks like.
The SHTA plans to educate hikers about what they are seeing in that area, but also to document what species grow back, how the forest views change and whether invasive species make their way into the area.
According to Coyer, there haven't been many comments from hikers about the logging.
"We've had problems with hikers not being able to stay on the trail," Coyer said. "Blue is used to mark the trail and its also been used to mark trees in the logging areas."
Coyer said they try not to close the trail during logging operations, but the SHTA puts up signs for the safety of the hikers and for the logging operators, so they know where the trail is located.
Last year the SHTA organized a group hike through one of these recently logged areas. Two foresters joined 35 hikers and explained to those interested what they were seeing as far as re-growth and different aspects about the forest.
Coyer said the unhealthy forests are different than what some hikers are anticipating, but the situation provides an educational opportunity.