Each year, Northern Wilds asks you, our readers, about your favorite restaurants and places to eat. From kid-friendly to fine dining, many of you voted for your top choices online or via mail. I am always interested to see which restaurants rise to the top. Who has stayed the classic favorite? Where is the new "it" place? And most of all, what have I missed out on? This month, I looked to you for inspiration on where to spend the next date night out. With friends or a significant other, here are three winners from the Reader's Choice Restaurant Awards that should be in the running for your next date night.
Fine dining and special date nights go hand-in-hand. Anniversaries, celebrations of accomplishments, or the desire for a great meal are all occasions to dine at this year's "Best Fine Dining" winner: the Crooked Spoon Café in Grand Marais. For over 10 years, the husband and wife team, Nathan and Sara Hingos, have been offering a rich, dining experience, from the seasonal menu to the art adorning the walls to the professional staff. Fine dining is more than the food: it's the whole experience from the moment you walk in the door.
"We use high-quality ingredients, we have a menu that changes and keeps people interested, and we provide excellent service. Our customers are like family. When they walk in the door I feel like I'm welcoming them into my home," said Sara.
A home with excellent food and you don't need to do the dishes after you are done eating; that's my kind of date night.
The Crooked Spoon is a double winner in this year's contest, also bringing home the award for "Best Artistic Flare from the Chef." With Chef Nathan at the helm, he crafts menus seasonally, often featuring local and regional ingredients, but in ways that you won't often see on other local menus. Foie gras butter, warm Yker Acres bacon vinaigrette, and fennel pollen are some of the unique components you'll find as part of their dinner entrees. One popular locally-harvested menu item is the fresh Lake Superior fish from Dockside Fish Market, complete with roasted baby potatoes, "Superior Gold" caviar butter, lemon and capers.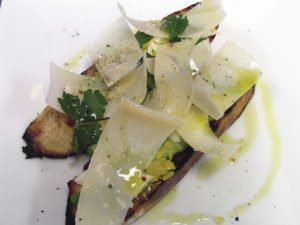 When I asked Sara and Nathan what they like to do for a date night, they said, "We love trying new restaurants when we go to Minneapolis/St. Paul. We usually do small plates and try as many things as we can."
The past two years, the Crooked Spoon has expanded their offerings with the addition of the Crooked Lookout, a rooftop bar with a panoramic view of the harbor and Grand Marais. It is a great spot to start or finish your night. It's also a great alternative to the fine dining experience downstairs, with small plates, drinks and desserts available. Small plate options include their take on a shrimp cocktail, chilled wild gulf shrimp with spicy horseradish and lemon serrano hot sauces and a radish dill salad (in photo above); and bruschetta, including the asparagus pesto bruschetta with chopped egg, Parmigiano-Reggiano and parsley. Their full wine list and tap beers are also available, including several new rose options by the glass or bottle.
The Crooked Spoon (17 W. Wisconsin Street) does not take reservations, unless the group is six people or larger. Spring hours for the main dining room are Thursday through Monday, 11 a.m.-3 p.m. for lunch, and Thursday through Sunday, 4:30-8 p.m. for dinner. The Crooked Lookout is open Fridays and Saturdays, 4 p.m. to close. Summer hours begin June 5, when the Crooked Spoon will be open every day for lunch and dinner.
If you are looking for a different kind of date night, maybe a picnic or take-out with a movie at home, this year's "Take-Out" and "Speedy Service" winner fits the bill: Hughie's Taco House in Grand Marais. Since 2008, Hughie's has been the home of the puff taco and has become known for its speedy, warm service and good food. Named for the owner's father, Hugh, Hughie's brings southwestern food to northeastern Minnesota.
Hughie's makes their own fry bread-like taco shells to order, filled with your choice of meats, beans, cheese and lettuce, with extra add-ons including jalapenos, chipotle sour cream and onions. Don't skip the chipotle sour cream—it's Hughie's number one sauce.
"It makes the fish taco, and everything else for that matter," said owner Anna Hamilton.
Tacos, chimichangas, burritos, taco salad, nachos and even a pulled pork sandwich are on the menu, alongside chips, beans and rice, guacamole, queso and hot taters. A nice menu to mix and match for a date night.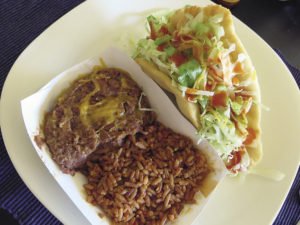 In addition to the wins in take-out and speedy service, Hughie's also brought home the award for "Ethnic Fare" this year. At Hughie's you will find not only southwestern flavors, but also some melding of ethnic fare with the sauerkraut taco. In Chicago I came across a kimchi taco at a Korean-owned taqueria, so I guess combining the classic Mexican taco with fermented condiments must be a fun mixing of flavors.
Hughie's Taco House (15 W. Highway 61) is open Tuesday through Saturday 11 a.m.-7 p.m. (May through October).
Some date nights don't require a full meal, but rather a nice drink to sip with a beautiful view and good company. This year's winner of both "Best Cocktails" and "Beer Selection" is a perfect option: Gun Flint Tavern in Grand Marais. Located right across from the Grand Marais Harbor, the Tavern offers views from both the main restaurant and rooftop deck.
When the Gun Flint Tavern opened 19 years ago, it was the owner's dream to be the North Shore's first brewpub. In late 2014, this dream became a reality when they poured their first house-made beer. Today, they have a rotating selection of their own brews, as well as a large selection of other local and regional beers and imports. The Tavern-brewed options currently include the Sawtooth Mountain Pale Ale, Northern Exposure IPA, Jasper Brown Ale, Hungry Jack Porter and Steelhead Session Ale. Brewing is done on site, with a five barrel system from New Zealand, just down the hall from the main dining room and bar. Between the house-made beer and the many other beer selections, it would be hard for a beer-lover to not find something to enjoy.
The Gun Flint Tavern also serves a variety of cocktails. Their Bloody Mary is well-known, with their own spicy mix, garnished with a jumbo shrimp, pickle, lime and olive. This is one of those drinks that could pass as a drink and a meal, or at least an appetizer. They also have a nice selection of martinis and cocktails.
During the summer season, the Gun Flint Tavern opens up its rooftop bar on the weekends. This is the perfect spot for your date night drink, especially when live music is playing.
The Gun Flint Tavern (111 W. Wisconsin Street) is open daily from 11 a.m.-1 a.m.
This summer, enjoy a few fun date nights; choose a nice sit-down meal, order take-out, or try a fun drink at one of the winning Reader's Choice Restaurant Awards locations. Thank you to all that voted in the contest this year and congratulations to all the winning restaurants and establishments.