It has been more than 115 years now since tales of the superhuman logger Paul Bunyan first appeared in American folklore. Since then, he's been called America's greatest legendary figure, a Herculean lumberjack with the nickname of Mr. Minnesota (though Michigan and Maine also lay claim to him), and the mythical giant who created Minnesota's 10,000 lakes when his huge footprints filled with water as he explored the state. His countless exploits include starting the Mississippi River (by emptying a pan of dishwater), creating the Great Lakes, bringing Swedes to Minnesota, and forming the Grand Canyon.
According to lore, Paul Bunyan was born during the winter of blue snow with the assistance of five storks working as a tag team to carry him as a newborn to his parents. By the time he was one week old, he was wearing his father's clothes and eating at the table. When he went to school, he was provided with a great white pine for a pencil; when he wrote numbers on his limestone slate, his figures were so tall the teachers couldn't read them. Frustrated with school, he decided to go into logging.
His inseparable trusty companion in his logging work was a giant blue ox eight feet high and 10 feet long named Babe, who was so strong he could drag a whole section of land to the loggers and pull kinks out of crooked logging roads. There were other characters in the mythical lore, like Hels Helson, Johnny Inkslinger, Snow Snakes, Sourdough Sam, and Shot Gunderson, to name a few.
So, how did these whimsical stories start?
As the story goes, it was the lumberjacks in the late 1880s in both U.S. and Canada who would tell tall tales in the bunkhouses, each one trying to come up with the best ones. And as these lumbermen travelled seasonally to different lumber camps, their storytelling spread the mythical Paul Bunyan yarns.
The first known print reference of a Paul Bunyan tale appeared on August 4, 1904, in the Duluth News Tribune in an unattributed short column which read,
"His pet joke and the one with which the green horn at the camp is sure to be tried, consists of a series of imaginative tales about the year Paul Bunyan lumbered in North Dakota. The great Paul is represented as getting out countless millions of timber in the year of the 'blue snow.' The men's shanty in his camp covered a half section, and the mess camp was a stupendous affair. The range on which an army of cookees prepared the beans and 'red horse' was so long that when the cook wanted to grease it up for the purpose of baking the wheat cakes in the morning, they strapped two large hams to his feet and started him running up and down a half mile of black glistening stove top."
Two years later (1906) in the Oscoda Press, Michigan journalist James MacGillivray published a story about Paul Bunyan from folktales he'd heard from lumberjacks; his stories were reprinted four years later (1910) in The Detroit News.
But Bunyan's status as a national icon—the hero of lumberjack mythology—really took off after 1914 when the Minnesota-based Red River Lumber Company used reworked and embellished stories about Paul Bunyan on commercial pamphlets in their advertising campaign developed by William Laughead. The pamphlets were followed by Tales about Paul Bunyan, Vol. II and unabridged volume, The Marvelous Exploits of Paul Bunyan.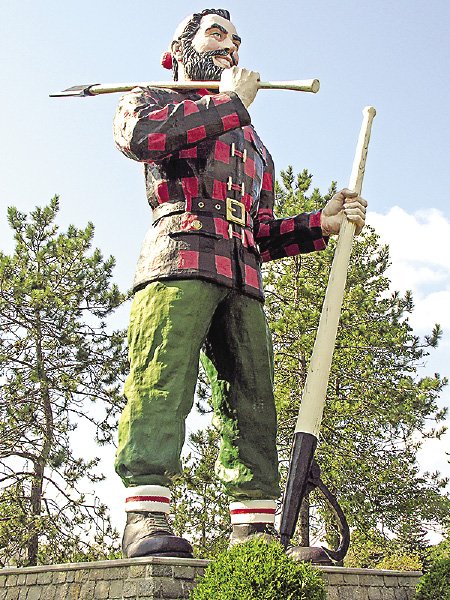 Was there ever a real Paul Bunyan?
Well, maybe. Some historians have theorized that there was true-life French-Canadian logger from Quebec named Fabian "Saginaw Joe" Fournier that was a model for the fictional Bunyan. The six-foot-tall Fournier, who moved to Michigan to be a lumberjack after the American Civil War, was a rough and tough rabble-rouser who was killed in a fight in 1875. Some say his profile merged with a French-Canadian soldier named "Bon Jean," which eventually became the American "Bunyan."
Then again, maybe not. According to Wisconsin author Michael Edmonds, (Out of the Northwoods: The Many Lives of Paul Bunyan, 2009), there was no real Paul Bunyan or a model for Paul. "There certainly were heroic lumberjacks, but Bunyan was more the embodiment of loggers' collective fears and wish fulfilment."
Nonetheless, nine U.S. cities (three in Minnesota; three in Wisconsin; three in Michigan and one in Maine) declare themselves the "birthplace" of Paul Bunyan, including Bemidji, Minn. In 1937, Bemidji built a Paul Bunyan statue 18-feet-tall beside the shores of Lake Bemidji (it took 737 hours to build). Two years later, a 10-foot statue of Babe the Blue Ox was built alongside Bunyan. Recognized as "cultural resources worthy of preservation," in 1988 the National Park Service placed the two statues on the National Register of Historic Places. They are also listed on the National Geographic Top 10 U.S. Roadside Attractions.
While there are Paul Bunyan and Babe statues in cities across the U.S.—even one in Canada (Squamish, British Columbia)—there's only one of Bunyan's sweetheart Lucette Diana Kensack and that 17-foot-tall statue is in Hackensack, Minnesota.
The legendary Paul Bunyan continues to be honoured in various ways, through annual festivals, special days and—who knew?—there's even a National Paul Bunyan Day each year in the U.S. on June 28.