Winter often comes early to northwestern Ontario. Some years, the ice is already making itself known in early November. If the nights get deep cold, and the snow doesn't come, that ice can become hard and clear very quickly. On some of the more shallow lakes in the region, it can be safe for "on foot" ice fishing pretty early.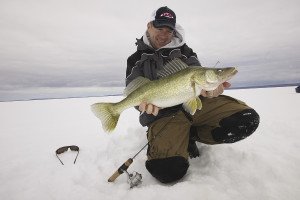 The earliest I recall being able to ice fish during the winter season took place about two decades ago on Whitefish Lake, a very popular walleye and perch fishing destination, located about 60 miles northwest of Thunder Bay, near the village of Nolalu. The date was Nov. 10, and as you can well imagine, my fishing partners and I were very careful as we ventured onto the ice. We felt a bit more confident about going out due to the presence of several parties already on the ice. However, we wore floater jackets, carried ice picks in our pockets and took very careful steps as we walked out.
Whitefish is a shallow, clear water lake, with lots of weeds in it. Since there was not a lick of snow on the ice, we could look down and see green cabbage weed beds underfoot. It was like walking on a glass-bottom boat. We didn't venture far off shore and decided to punch some holes with a hand auger. There was no need for a power auger, as the ice was between 4 and 5 inches thick. It was a bit surreal watching the auger twist through the ice as we were making the holes. We set up a few set lines and also jigged with a leadhead and minnow. As the evening sun started to dip, the fish began to bite. I set the hook and could see the walleye flash below my feet. We ended up with a nice catch, but decided not to stay for the night bite, which can be good. The ice was freaky enough during the day.
It's hard to say why the first ice walleye fishing is so good, but it generally is. I've yet to see a good winter walleye fishing lake that is not at its absolute best for the first two or three weeks after the ice forms. There are any number of reasons why this may be. Everyone who fishes walleye has a theory. My personal opinion is that wild winds and ever colder water in the fall makes the walleye's world very turbulent. This is especially true in shallow lakes. When the ice forms, the waves are gone, the water clarity improves and the walleye are able to feed just about anywhere in the lake without issue. This may be why shallow, clear lakes like Whitefish are especially good at first ice.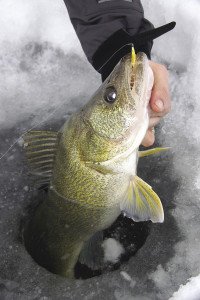 Catching first ice walleyes is not brain surgery. A medium to large minnow hung on a set line just off the lake bottom is likely the best all-around choice. Use a jig head or #6 treble hook and split shot to anchor the bait. I like to use a jigging rod on a balance for this, as your rod tip will often telegraph the approach of a big predator thanks to the nervous minnow's movements. A tip-up or other device will also get the job done. Jigging with a leadhead and minnow is another good option. Just give the jig a slow, steady movement with the occasional high lift. First ice fish are the most aggressive winter walleye you will ever experience. Bites will be hard.
Nearly any lake with walleyes in it has first ice potential. The afore mentioned Whitefish Lake is a great bet, as it's both large and shallow. This means just about any section of the lake has the potential to cough up fish. Lac des Mille Lacs, located north of Thunder Bay, near the village of Upsala, is another solid choice. This dark water lake freezes up a little later than Whitefish, but has great fish and tons of water to explore. Obvious spots like main lake points, islands and rock shorelines will usually hold fish. First ice anglers can access Lac at Sawmill Bay, Maki Bay or Pine Point, to name a few spots. Other lakes in the northwest that have decent first ice bites include Northern Lights, Plummes, Wolf, Dog and Wabigoon. Lake of the Woods and Rainy Lake also have great walleye fishing, but good ice thickness can come a little later.
First ice fishing for walleyes is a great way to kick off the northern winter outdoors. The bonus is that wonderful tasting fish you catch. Crispy walleye fillets can make an otherwise chilly night a whole lot of all right.