Northwestern Ontario has a problem with its moose. There are fewer of them all the time, and the decline is noticeable to hunters and non-hunters alike. Not all parts of the northwest are seeing the decline. In fact, moose in some of the more northern Wildlife Management Units are hanging in there. Yet, in the southern and western portions of the northwest region, moose are in trouble.
It wasn't always this way.
As a young man growing up in Thunder Bay, moose were a common sight whenever you travelled the highways and back roads around the region. In the 1970s, Sleeping Giant Provincial Park, on the Sibley Peninsula, was packed with moose. Our family used to travel to Joe Boy Lake in the park and watch the moose feed. I can remember counting 14 moose at once one summer day, and being amazed as giant bulls dove under the water and came up with lily pads dangling off the antlers. However, by the mid-1980s, the moose herd in that park was on the wane, and the whitetail deer herd was growing by leaps and bounds. By the mid-1990s, moose were all but gone from Sleeping Giant Park. Perhaps it was a foreshadow of what was to come for the rest of the northwest.
Yet, it took a while for the moose decline to become obvious. It first struck me during an aerial moose count done with the Ontario Ministry of Natural Resources and Forestry (OMNRF) several years ago. I've been an observer on a few of these flights over the years, and was always struck by the number of moose there were, particularly rather close to Thunder Bay. Yet on this flight, it was quite a bit different. We flew some area around Whitefish Lake, northwest of the city, and saw a few moose and tracks, but less than there should have been. But on one section of the flight, the grim reality of what was happening to the moose population could be seen. This particular section, located near Dog Lake, had been considered good moose habitat by OMNRF with a decent moose herd. On this flight though, there were no moose, no tracks, nothing. There were deer though. A Lot of them. I think the count was 57 deer. It was a very sobering moment.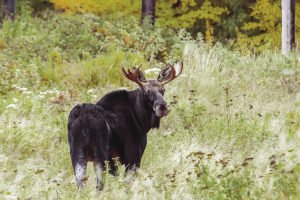 So what happened to our moose? It's the million dollar question. I've interviewed several biologists in Ontario (as well as in Minnesota and Manitoba) about the moose decline, and their basic theories seem to be much the same. Certainly the spread of whitetail deer has played a role. The deer carry brain worm, a parasite that is deadly to moose. As the bush has changed—and the climate—deer have spread into moose country. Winter ticks seem to have played some role as well. The ticks make moose lose their hair in winter and hypothermia follows. Wolves, bears and other predators? Sure, all these critters eat moose, and bear numbers have really increased in the past decade in the northwest. So what else? Well, hunting of moose—in all its variations—has played some role, for sure. Increased access to the bush via all-terrain vehicles, improved GPS and radio technology, and party hunting rules all make harvesting a moose easier. And let's face it, our friend the moose has not changed much since when our ancestors were chasing them on foot with bow and spear. On the flip side, we humans have changed quite a lot.
The OMNRF has been doing what it can to try and tackle the decline of moose. Some people feel it's too little too late, but I prefer to be an optimist. There have been some drastic moose tag cuts the past couple of years, including in my home unit of 13 around Thunder Bay. This has not only helped to ensure a lower harvest of moose, but also changes hunter expectations about both moose hunting and tags. There are other things going on that may not be so obvious, but the bottom line is this; no one in the ministry, or anywhere else, wants to see moose disappear.
I like to be hopeful the situation with moose can turn around. This summer, I checked my trail camera on a property I hunt near Thunder Bay. As I scrolled through the shots, the image of a mature bull moose appeared. It was in velvet and looked healthy. It was also my first moose sighting on that property in at least two years. Hopefully he finds a girlfriend this fall and help rebuild the herd.
Northwestern Ontario would be a much different place without moose.