For many of us, coffee is the fuel that powers our days. North shore coffee shops offer not only a way to satisfy that caffeine fix, they also offer an experience, from a social interaction to a quiet escape. The Northern Wilds area is fortunate to have many locally owned north shore coffee shops, including several that have opened this past year in Two Harbors, Lutsen and Thunder Bay. All are serving up coffee, each with their own special touches.
Cedar Coffee Company is aptly named as it is nestled in a grove of cedars in Two Harbors, attached to the Spokengear bike shop. Opened by Dan and Kirsten Cruikshank in May 2016, (Dan being one of the founders of Granite Gear), this business has local roots beyond the cedars.
"We wanted to create a special place for our friends and the community to enjoy," said owners Dan and Kirsten. They have accomplished this goal with a beautiful café that serves quality espresso drinks and a healthy, interesting café menu.
Open for breakfast and lunch, Cedar Coffee Company has a full menu of espresso and tea drinks and hot and cold entree items. For breakfast, be sure to check out their breakfast burrito and their two hash options (potato Brussels sprouts hash and apple chicken hash). At lunch, the café serves a variety of hot and cold sandwiches, soups and salads, as well as a new Korean rice bowl. Baked goods are available, including croissants with jam and raspberry lavender scones. As Cedar Coffee makes their own syrups, their espresso drinks are a special treat, as is their chai latte made with their own tea blend.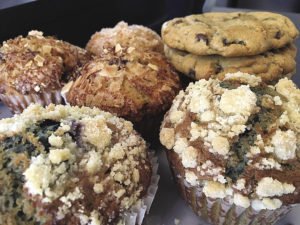 Being a locally owned small business, Cedar Coffee Company also supports other local businesses with the products they buy and sell. Their coffee beans are sourced from Duluth Coffee Company, roasted in Duluth by Eric Faust. They also sell local products like Love Creamery Ice Cream, Never Summer Sugar Bush Syrup, Jams by Jan, honey from Bar Bell Bee Ranch, and Castle Danger Beer. Locally Laid Eggs are used for their menu items.
After you enjoy your coffee in the beautiful café, pop on over to the attached bike shop, Spokengear, to browse a wide range of gear, or get a repair done on your bike. They also have some great products for sale in between the two shops, including Hydroflask bottles (a personal favorite), locally produced Epicurean cutting boards, and coffee brewing equipment for the home coffee brewer.
Cedar Coffee Company is located at 1130 11th Street, Two Harbors, just north of Shopko and Super One. For more information and to view their menu, visit cedarcoffeecompany.com.
In Lutsen, a well-loved local coffee business has put down physical roots with a new café. Fika Coffee opened its doors last June after years in the wholesale coffee business. Fika, a Swedish word meaning coffee break, is at the heart of Fika Coffee. Owner Josh Lindstrom aims to create the opportunity for "a moment of quiet indulgence in an otherwise hectic day, a time to gather with good friends for great conversation, a sweet treat and a hot cup of coffee."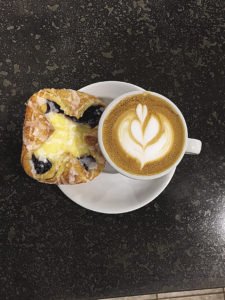 At Fika Coffee, their menu is simple and straightforward. The ingredients, especially the coffee, are the stars. A popular item to try is the maple latte, made with whole milk (unless requested otherwise) as it allows for a nice blend with the sweetness of the maple. Fika also uses straight chocolate—Ritual Chocolate, which is bean to bar—in their mochas and hot chocolates, creating a very creamy, rich drink. Elvin's Bakery from Grand Marais provides Fika with fresh baked goods each day and they also serve Love Creamery Ice Cream from Duluth.
"I would like to see Fika become people's first and last cup of coffee when they come to visit Cook County," said Lindstrom.
When you stop in the shop, be sure to pick up some whole bean coffee for excellent brewing at home. Fika Coffee beans are sourced through several importers, including from farmers in Guatemala where Josh has travelled and roasted on site.
Fika Coffee is located in the Clearview Building on Highway 61 in Lutsen. For business hours and more information, visit: facebook.com/fikacoffeeroasters.
A new north shore coffee shop recently opened north of the border in Thunder Bay: Up Shot Coffeehouse. Located in downtown Fort William on Thunder Bay's south side, owners Crystal Co and Aundrea Rajamaki transformed an empty, dusty space into a family-friendly, welcoming coffee shop to live out their long-time dream.
Up Shot opened last October and has been welcoming customers from near and far. Featuring locally roasted coffee by Wolfhead Coffee, Up Shot also has a well-rounded menu, including homemade soups, salads and sandwiches. The TAB sandwich is one of their most popular items, with turkey, avocado, bacon, alfafa sprouts, Havarti cheese, and a sriracha mayonnaise. Baked goods are from Rustic Sugar Bakery, including favorites like lemon raspberry scones and banana nut bread. For drinks, their Up Shot Blend coffee is a customer favorite, as is their rotating feature latte, which is a non-menu drink available each week for customers to try. Apple cider is also available from local Mountain Stream Orchard, which grows, harvests and processes the apples.
While all are welcome at Up Shot, owners Co and Rajamaki have made a special effort to make families feel extra welcomed. They have added a baby room for parents with a rocking chair and a changing table outfitted with supplies. As a new mom, I greatly appreciate when businesses make it easier for families with young ones to frequent their establishments.
Up Shot Coffeehouse is located at 111 ½ May Street South in Thunder Bay. For more information
including their daily soups list, visit: facebook.com/upshotcoffeehouse.
This winter, enjoy a hot cup of coffee at one of these stellar new north shore coffee shops and you might find a new favorite brew.
By Maren Webb