In days gone by, many small towns across the country had a village general store, a shop that carried a variety of things that people needed to live their day-to-day lives. In Schroeder, one business is becoming just that sort of one-stop-shop: Temperance Traders. A longstanding business in Cook County, Temperance Traders has undergone recent changes under the new ownership of Patrick and Christina Reeves. A couple whose vision is grounded in a desire to strengthen the local community, the Reeves have spent the last 10 years running Superior Properties in Lutsen. It was through owning that business that they became familiar with a problem that most Cook County residents know all too well: a lack of workforce housing.
"We always wanted to be able to do something with housing—to create housing that people could live in and could afford," Patrick said.
In 2020, the opportunity to do just that arrived. Temperance Traders was for sale. A property with over 20 acres, a retail building, and four cabins, it was just the sort of place that could make the Reeves' vision of creating workforce housing a reality. They purchased the property in May of that year and got to work transforming the cabins, which had previously been rented on a short-term basis, into long-term rentals for their employees.
"We started working on the cabins right away and had people renting as early as August," Reeves said. "And we still have the original four renters—no one's moved out since."
But along with the property came the retail business, Temperance Liquor. The previous owners wanted to see the liquor store survive into the future, so the entrepreneurial Reeves got to work on that side of the business too, reopening the liquor store in the fall of 2020. But the property had a lot of potential, and the Reeves knew there was more that could be done with it.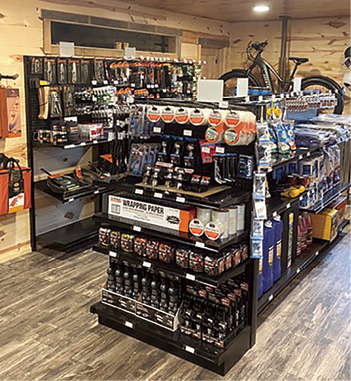 "It took us a while to figure out what the right next step would be," Patrick said. "We decided for more retail, and one of our employees was already running a thrift store out of the other half of the building on her own. It was something she was really good at and it was starting to take off, but it was just her. So we decided to roll the shop into the mix so it could be open all of the time, which gave her a full-time job to develop, manage, and put more resources into that."
That was the start of Temperance Traders becoming what it is today: a one-stop shop where people can find everything from local beer to secondhand goods to house paint. After adding onto the building, the Reeves added a camp store in May, a hardware store in July, a U-Haul store and rental, and an eBike rental called North Shore eBike. (The plan is also to add a UPS store to the business too.) Not only does the store benefit visitors to the area looking for some outdoor adventure, but it's also a boon for nearby residents who otherwise have to travel to Grand Marais or Silver Bay for necessities.
"For the hardware store, we order a lot of our inventory through the Cook County Home Center," Patrick said. "I shop with them a lot as a contractor, and they were getting customers driving all the way to town from Silver Bay to get stuff. The extreme West End of Cook County needed something more."
While Temperance Traders has many different facets to the business, what unites all the different angles is the Reeves' passion to serve the community, both by providing services that are in need and also by strengthening the local workforce. While the lack of local workforce housing makes it harder for people to take job opportunities, a lack of stable, year-round jobs also makes it harder for workers to secure housing and put down roots in the area.
"Like with Superior Properties, our focus at Temperance Traders is on providing year-round employment," Patrick said. "We don't want to close and lay people off in the winter or do anything seasonal. We try to create stable, good-paying jobs that allow people to live here and stay here, because we want people to be able to rely on us and hopefully add value to the whole area."
Altogether, Patrick said that he and Christina are grateful for the fact that they're both carrying something forward and starting something new with Temperance Traders.
"We've gotten a lot of positive feedback and we're really excited to see what the future holds," Patrick said.