Thunder Bay—True or False: Most people only use 10 percent of their brain.
The above factoid is just one example of trivia offered at Nerd Nite, an interactive lecture and game series that invites professors and professionals to share their knowledge with the public—over a beer. Yes, beer. And that's not the only anomaly of the unconventional learning experience. For example, the classroom is a bar, and the audience is encouraged to heckle the lecturer or to go on stage and add their two bits (or bitcoins) on the given topic.
The idea started in Boston in the early 2000s and caught on with brainy beer drinkers around the world, including over 100 sites across the U. S. and Canada. And now, Science North in Thunder Bay has jumped on the Nerd Nite bandwagon. The event is a great vehicle for community outreach and fulfills a mandate for Science North to be the science centre of the north. Emily Kerton is a senior scientist at Science North Thunder Bay by day; but on Nerd Nite, she is the nerd boss, host of the event. Kerton said that the evening offers informal science learning to an adult audience. "It's like Ted Talks, with beer!"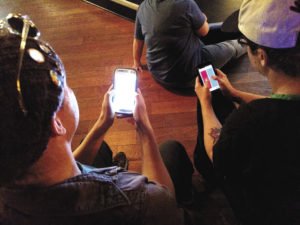 An evening usually includes lectures on two topics, which could be on anything from carnivorous plants, to gaming, to the chemistry of coffee. Following the talks is an interactive trivia game. David Bates is a staff scientist at Science North Thunder Bay. He is also the trivia master who compiles the questions used on a free game-based learning platform. Anyone in the audience can log onto the platform with their cell phones for a lobe-lifting brain workout and maybe even win some prizes. The answer, by the way, to the true or false question: false. Bates explained that people use 100 percent of their brain, but as the brain uses different areas for different reasons only about 10 percent of the brain is used at a time.
Kerton and Bates direct the controlled chaos every two months and the next event will be held in Nov. at the Red Lion Smokehouse in Thunder Bay. Check the Facebook page—Nerd Nite Thunder Bay—for details on upcoming topics and times, and to see pictures of past events.
"Be there AND be square."—Kathy Toivonen