We have some natural wonders right here in Northern Wilds, including some that are less well-known or have some mystery to them. Natural wonder has been defined as "a natural site or natural monument that was not created or significantly altered by humans." (Maria Boland, Mother Nature Network, March 10, 2010). Here's a snapshot look at some of them in our area.
"Now you see it, now you don't" is a good description of a natural rock oddity on Lake Superior's Pie Island, named The Peeping Squaw, which you can only see from the water as you pass the island. We were sailing to Sleeping Giant with Sail Superior when Captain Greg Heroux pointed out where we should focus our gaze on the island. For only a short distance, a rock protrusion suddenly jutted out on the vertical face of the middle of Pie Island Mountain, appeared to peek out and then just as quickly disappeared. Quite a spectacle. According to First Nations lore, it is a woman that is peeking out from behind the rock, looking to see if her husband Nanabijou is returning home.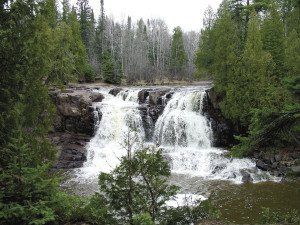 Imagine walking in a landscape of huge room-size boulders. Well, you can do so just north of Ignace and not far from Sandbar Lake Provincial Park at the Blueberry Boulder Field. That's where you'll find enormous granite boulders dropped by retreating glaciers about 10,000 years ago. Discovered in 2004, the Blueberry Field is drawing particular interest of sports enthusiasts of 'bouldering', a style of rock climbing to the top of boulders. Some boulderers have described the Ignace boulder field as the 'best bouldering in Canada between the Niagara Glen and the Rockies.' Ignace is 153 miles (246.3 km) west of Thunder Bay on the Trans-Canada Highway.
Most lists of natural wonders include waterfalls and we've got some outstanding ones around here. Like the stunning Kakabeka Falls, a top tourist attraction and a short drive west of Thunder Bay is the Kaministiquia River. Nicknamed the "Niagara of the North," the river thunders down 131 feet (40 m) into a gorge before heading out to Lake Superior. In northern Minnesota, there's the series of beautiful waterfalls at Gooseberry Falls State Park (northeast of Two Harbors), as Gooseberry River rushes through a rocky gorge to Lake Superior. Plus High Falls—Minnesota's highest falls—is located on the Pigeon River in the Grand Portage State Park and a half-mile trail and boardwalk takes you to the falls from the visitors centre, located just before the US-Canada border.
Another Minnesota waterfall, a short distance from the US-Canada border, offers a conundrum. In Judge C. R. Magney State Park, the Brule River splits in half to form two waterfalls—the eastern and western—on its way to Lake Superior. The eastern waterfall flows down a two-step stone embankment, falling into a pool at the bottom before continuing on its way down river to Lake Superior. However, the western waterfall is steeped in mystery. The water falls into a huge, gaping pothole, known as the Devil's Kettle, and then simply disappears. Bizarre, right? To date, no one has been able to solve the enigma of where the water goes.
The Northern Wilds version of Canyon Country starts about an hour's drive from Thunder Bay on Highway 11/17 to Ouimet Canyon, a large gorge created over one million years ago. A kilometre-long loop trail on a boardwalk, bridge and gravel path bring visitors to two rim-edge lookout platforms for spectacular views of the steep-walled canyon that stretches for several miles.
More canyon country is found 40 km (24.8 mi) north of the junction of Highway 11 and 17 (just over the Nipigon Bridge if you are travelling east). The dramatic canyon cliffs are known as Pijitawabik Palisades. The towering pillars of flat-topped cliffs were formed approximately 1.2 million years ago, sculpted by water erosion and ice. A few miles before the Palisades, look for the Gorge Creek road sign and watch in the distance to see the Gorge Creek Falls, an overfalls plummeting down a canyon wall
If you are a rock collector, you've probably already discovered the wonderful agate beaches dotting Minnesota's North Shore. Agates became Minnesota's official state gemstone in 1969. Lake Superior agate was formed during volcanic eruptions about a billion years ago and were distributed during the glacial activity about 10,000 years ago. Who needs diamonds when we have billion-year-old agates in Northern Wilds?
And agate beaches are now recognized as 'natural wonders'. The agate beach on Agate Island (one of the offshore islands of St. Ignace Island) was named one of the world's best natural beaches in 2013 by Travel & Escape network, listing it as one of seven must-see natural wonder beaches. The island and its shores are covered with agates. There are also some of the ancient Pukaskwa Pits, rock-lined depressions dug into cobblestone by ancient people.
There's many more "natural wonders" in our region, some steeped in folklore, some known only to locals. It is fair to say the Northern Wilds country itself is a "natural wonder."