It was never my intention to be a part time guide. In fact, a couple early experiences with guiding actually scared me away from it for two decades.
In the early 1990s, I'd just begun my writing career and scored a couple nice features in some major outdoor magazines. One of them was on trophy brook trout, and it caught the eye of an angler in Montreal. He tracked me down by phone and we talked. He wanted me to guide he and his wife to a trophy brook trout on a fly. The understanding was he would practice catch and release. He was a fly fisherman, but a poor one. He could not cast, despite his very expensive Orvis gear. So one afternoon, as giant brookies boiled around us, I tried to teach him to fly cast. I laid out a loop and a football sized brookie ate the fly. The fish was played in and I quickly unhooked it.
"I want to keep it," he said. My look must have said it all. "I want to bring that fish home and mount it." I was both shocked and disappointed. I had a dilemma. Was I going to let some guy kill a 6- pound brookie I had caught? I turned over the net and dropped the fish in the river. Needless to say, he wasn't too happy with me. There was not much talking after that and no tip. He also stole my lake map from the boat and denied it. It was a bad scene. So outside of a dozen or so charity deals, that was my last guiding experience for 20 odd years.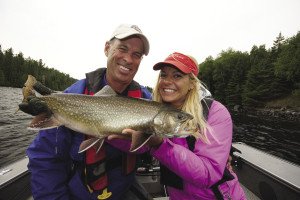 The funny thing is, during those two decades, I fished with easily a hundred or more guides all across Canada and the United States. In nearly every case, they improved my experience on the water. This was especially important when I fished unfamiliar waters. Sure, there were a few guides who were clearly just running the boat from spot to spot. But several really helped my angling game. One guide in Nova Scotia helped correct a persistent problem with my own fly casting. Another, on the other coast in British Columbia, helped this writer land a 38-pound chinook salmon in very heavy seas. All memorable experiences.
So four years ago, after a certain lodge owner in Red Rock, Ontario, kept asking me about guiding, I broke down. The agreement was to try a couple days of it, with the understanding that if it didn't work, neither of us had any further obligation. It was a blind date. My first trip was with an older couple from southern Ontario. They were both great company and amazingly appreciative of the whole experience. They were awestruck by the beauty of the Nipigon River, thrilled to see eagles and bears, and totally pumped to catch a fish. Any fish. I'm not sure who had a better time. I did about a dozen trips that summer and enjoyed them all. Watching people so excited to catch fish—even small ones—rekindled something in me. And I got paid.
Make no mistake, guiding is not for everyone. It is work. It is a service. You are responsible for your guests well-being and safety. You are responsible for your own gear, and must keep it running and in good order. You will be a tour guide, nature expert, listener of stories and—occasionally—psychologist and counselor. All the while, you are trying to help your guest catch a fish. Most have basic to minimal fishing experience, despite what they may claim. Fly anglers are the worst in this regard (sorry). That's ok, but as the guide you need to spot the weaknesses and know how to fix them. You will also be fishing in even the worst of conditions. There are very few rain days in the guiding business. Conditions in northern Ontario are often less than perfect. Wind, cold, rain and even snow are a possibility. Yet people who have booked a trip 6 months in advance are not likely to pull out of it.
I've had a few challenging clients during the past couple of years. One gentleman was about 90 years old and had a variety of physical ailments. He was as tough as they come, but had trouble casting. Of course, he wanted to fly fish. We got it done. Somehow. Another guest had incredibly high expectations, and expected to catch monster fish on every cast. He didn't and started to question how I had all these pictures of big fish when he wasn't getting them. That was a long day.
Mostly, guiding has been a great time and something I hope to do for a while yet. And these days, whenever I'm with a guide, I do my very best to stay out of their way and let them do their job. They are, after all, professionals.