Autumn is the sweetest season for folks who enjoy the company of a well-trained bird dog. The ruffed grouse, called the "King of Gamebirds," is common throughout the Northern Wilds. The forests also harbor the diminutive and long-billed woodcock, with some nesting here and others passing through during the migration. Finding either species in dense cover is a task best accomplished with the assistance of a trained hunting dog.
Just what that dog may be is up to the hunter. Those who primarily hunt for the upland birds described above often prefer pointing breeds, which locate birds and then go into a pointing stance to keep the bird hunkered on the ground until a hunter can walk up, flush it and then shoot it on the wing. Hunters who love pointers will say this is the epitome of bird hunting.
Other hunters, who may also head into marshes in pursuit of ducks and geese, prefer dogs that are willing and able to retrieve downed birds on the ground or in water. Retrievers can be trained to perform remarkable feats where they rely on hand or whistle signals from the hunter to locate distant downed birds. They also find and flush upland birds such as grouse and pheasants. Folks who hunt with retrievers will tell you this is the epitome of bird hunting.
While their methods differ, both groups of hunters are correct. The bottom line is that the company of a dog so enhances bird hunting that many hunters can't imagine going afield without one.
"I get as much satisfaction from watching the dog work as I do from pulling the trigger," says Davis Viehbeck of Thunder Bay.
Viehbeck currently has two hunting companions: Tig, a female British Labrador retriever and Birch, a male English setter. He started with Tig at a point in life when he had more time to rise before dawn in order to hunt waterfowl. He was introduced to English setters during a grouse hunt with friends a couple of years ago and became intrigued with pointing breeds. Along came Birch and a subsequent discovery that daytime grouse hunts are much better suited to a man with a young family.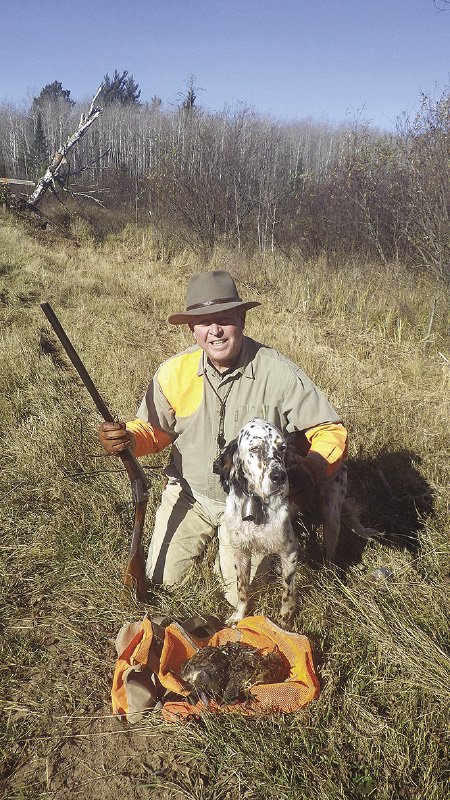 Both dogs, he points out, are members of the family. They live in the house and play with the kids. During the off-season, both hunter and dogs get plenty of outdoor workouts to keep them in shape. Viehbeck also devotes time to training and has learned specific methods for training a pointer with the help of the breeder from whom he acquired Birch.
"It's a learning game," he says. "I have to slow down my movement in the bush and let the dog work the cover. A setter hunts more slowly than a Lab."
Another hunter with a soft spot for English setters is Mike Bartz of Grand Marais. He grew up around springer spaniels. Later, he took up waterfowl hunting and became a fan of Labs. Next came a Drahthaar, or German wire-haired pointer, and he learned the German training system. Now a fan of grouse and woodcock hunting, he's had English setters for 12 years, including his current companion, Bean.
"Getting a point and then walking up and flushing the bird is pretty magical," Bartz says.
Hunting with a dog offers another benefit. All gamebirds, including the colorful ring-necked pheasant, are remarkably well camouflaged. It can be difficult for a hunter to find a downed bird. Hunting dogs use their powerful scenting capabilities to find dead or injured birds. Most breeds will retrieve the bird to the hunter.
Since Bartz has owned varied breeds for different hunting purposes, he's learned perhaps more than the average hunter about dog training. He's attended training clinics and, when he had a Drahthaar, trained in a group. He's concluded that no one training method is better than any other. All methods are enjoyable, too.
"Training is a lot of fun," Bartz says. "It extends your season. I really enjoy getting out in spring to work the dog."
In the Northern Wilds, the bird hunting season lasts for just a few autumn weeks before the arrival of snow and cold effectively brings it to a close. It's a time treasured by hunters, but one could argue that it is difficult to justify the year-round care and expense of housing and training a hunting dog for such a short period of time. There must be more to it. Viehbeck and Bartz say they can't imagine hunting without a bird dog. But what they really mean is they can't imagine life without one.