It must have been a surreal scene: an ice-crusted schooner loaded down with thousands of Christmas trees defying the gales of November to deliver her load to waterfront markets on Lake Michigan. In a span of about 50 years—between 1868 and the beginning of World War I in 1914—an estimated 60 ''tree'' vessels made the risky late-season journey from northern Michigan and Wisconsin.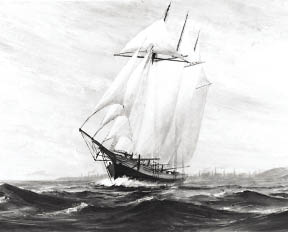 One such ship, the three-masted, 123-foot schooner Rouse Simmons, captained by veteran mariner Herman E. Schuenemann, became mythologized as the legendary Christmas Tree Ship. Blue-eyed Schuenemann with his bushy moustache, ruddy complexion, round cheeks and big smile had been nicknamed "Captain Santa." His ship, which was decorated with holiday lights, was nicknamed the Christmas Tree Ship.
The practice of schooners delivering trees to Lake Michigan ports began in 1868 when the scow-schooner Lady Ellen became the first ship to carry evergreens from Alpena, Wisc. (Schuenemann's hometown, now known as Algoma) to Chicago. At the time, the era of sail-powered ships was peaking, with over 1,800 such vessels on Lake Michigan alone, their principal cargo in regular season being lumber.
Captain Schuenemann had been sailing the end-of-season Christmas run for almost 30 years, commanding tree ships like George L. Wrenn, Bertha Barnes and Mary Collins before becoming part-owner of the aging Rouse Simmons in 1910. His older brother August had also been a Great Lakes mariner, and like Herman, sailed tree schooners. August Schuenemann died in a deadly storm on November 9-10, 1898, when his two-masted S. Thal, loaded with Christmas trees, foundered on Lake Michigan on her way to Chicago.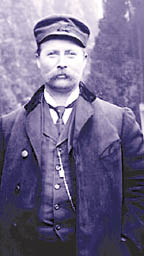 Fourteen years later, on Nov. 22, 1912, with 47-year old Captain Schuenemann in command and part-owner Captain Charles Nelson in accompaniment, the 205-ton Rouse Simmons sailed out of Thompson's Pier near Manistique, Mich. just as a winter storm was starting to brew.
In her cargo hold and piled on her deck were 3,000-5,000 evergreens (some say more). She was headed for Chicago River's Clark Street docks, where Schuenemann's wife Barbara and his three daughters would join him to sell the trees from the ship's deck. They would also sell their handmade Christmas wreaths, garlands and decorations.
As the Rouse Simmons left the tiny Thompson harbor, the schooner Butcher Boy with its master Captain Gustave Hansen was just arriving at the pier. Later, Capt. Hansen told reporters that when he saw the Rouse Simmons heading out with the storm already blowing, he had said to the others, "Capt. Schuenemann must be in a terrible hurry to get those trees to market. I wouldn't go out in this storm… Those boys will be lucky if they don't go to the bottom."
The next day, the storm wreaked havoc on Lake Michigan, taking down four ships and their crews. The lost ships: South Shore, Three Sisters, Two Brothers and Rouse Simmons. The last time the Christmas tree schooner was spotted, she was heading south flying a distress signal (flag at half-mast) about five miles off of Kewaunee. However, since there was no wreckage, bodies or cargo found—and ships were known to be late arriving in port after a storm—it was about 10 days before it was acknowledged the ship had indeed sank in the storm.
The loss of the Rouse Simmons was big news in Chicago, with headlines like ''Christmas Ship Lost'' and "Santa Claus Ship and 13 Men Lost in Lake." Besides the two captains, there had been 9-10 sailors on board and perhaps a dozen lumberjacks. Since no official records were kept, the exact number who perished remains unknown.
Keeping the family's Christmas business tradition alive, Schuenemann's daughters continued selling Christmas trees and decorations on the docks, transporting the trees to Chicago by train. They stopped after their mother's death in 1934.
In October 1971, the the Rouse Simmons itself was found in the waters off of Two Rivers, Wisc. Artifacts from the Rouse Simmons are now housed in a museum in Two Rivers and at the Milwaukee Yacht Club. In the town of Algoma, a marker at Christmas Tree Ship Point honours the fleet of tree schooners and their crews.
Since 2000, the U.S. Coast Guard has been recreating the last journey of the Rouse Simmons from northern Michigan to Chicago. Celebrating the 10th tree-run last year, the USCG Cutter Mackinaw with a large banner on its side proclaiming it "Chicago's Christmas Ship'' arrived with 1,542 Christmas trees from the Northern Wilds of Michigan to be donated to needy families.
This story was originally published in the Dec.-Jan. 2011 issue of Northern Wilds Magazine.