If you live in northwestern Ontario and like to angle in open water, you have to accept the season is short. For six months of the year—and often longer—the lakes and streams are encased in ice. It's "tough boating" as the old joke goes. For some of us, fall is a favorite time of the year to fish, if for no other reason than you are mostly by yourself. Almost everyone hangs up the rod after Labor Day. The launch traffic jams are largely gone. Streams are quiet and empty. If you don't like crowds on the water, autumn is your time.
However, an even better reason to love late season open water angling is for the big fish that can be caught. All fish, from perch to steelhead to muskies, strap on the feed bag as the water temperatures drop. This is partially in preparation for winter, but it is also caused by the overall reduction in available foods. For larger predatory fish, the arrival of herring and whitefish on spawning areas can create a very rare opportunity to tangle with a giant.
One of my favourite things to do in the fall is target smallmouth bass and walleye. Smallmouth bass begin to move away from the shore and set up on mid-lake humps and steep drop offs. As it turns out, walleye do the same thing, although they will typically be a bit deeper than bass. I've had simply amazing mixed bag fishing in late season for both bass and walleye on the same spots. You can definitely catch both these fish species on artificial baits, in particular jigging spoons like the 1/2-ounce Hopkins Smoothie or Swedish Pimple. Drop a spoon to the bottom then jerk the line up hard. Follow the spoon back down with your rod tip and watch for your line to go limp. If it curls on the surface, that's a strike. Set the hook. Some fish you will get on the upstroke.
Day in and day out, however, you will catch the largest fall walleye and bass on live bait. Generally that will be either a sucker minnow or large chub of 4 to 6 inches. You read that right. The trickiest part of fishing bait this large is using a hook that is wide enough to be exposed for the fish. Either a large jig head, or a simple slip sinker rig with a large single Octopus hook is best. The bait is hooked through the lips and then drifted or trolled along bottom. When a walleye or bass takes a bait this large, you need to give it some time to work the minnow around until it has it head first. Counting to five steamboats before you set the hook is about right, although you will invariably miss a few. Expect to see some of the largest bass and walleye of the season.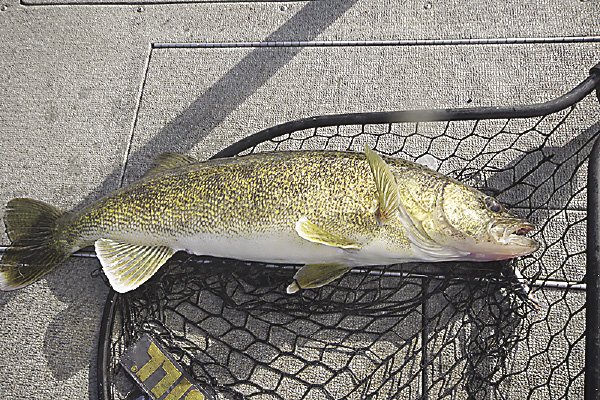 If you like to chase salmonids, fall steelhead are probably the most fun to pursue. These Lake Superior rainbow trout will enter the rivers in September and stick around until the snow flies. Unlike spring steelhead, the fall fish are only in to feed, so they don't normally need a lot of enticement to get a strike. For fly anglers, a bead or egg pattern fly will work well, a fall steelhead binge feed on the eggs being scattered by salmon. If you want to use lures, a Mepps #3 Aglia Spinner, or 3/8 ounce Krocodile or Little Cleo spoon will also do the job. Most fall steelhead hang out in larger pools or riffles. Another option, especially if water levels are low in the rivers, is to cast river mouths. Steelhead will often stage at a mouth waiting for a rain to draw them in. Fan cast the area where the water flows in to Superior and expect the strikes to
be savage.
If truly monstrous fish are your game, you can always try fall muskie. Ontario's largest predator is at its most aggressive just before the ice comes on the lakes. It is a trolling game, and is often done in cold and inclement weather. The rewards, however, can be huge.
Late last October, I joined my buddy Ben Beattie on Lac Seul for a three-day troll-a-thon. My goal was to break a long elusive goal of landing a 50-inch plus fish. I'd spent 30 years trying and had failed. Luckily for me, Beattie is both a fabulous fishing guide and something of a giant muskie magnet. He knows to focus on current areas and narrows in the fall and sticks with his program. On the first day, I hooked a fish right away, a nice 39-inch specimen. Any muskie is a good one! A little while later, as we trolled along a long reef, my rod bucked hard and another fish was on. I could tell right away it was a good one, but only when the fish appeared near the surface did I see its true size. The 10-inch white Jake crankbait in its mouth looked like a toothpick. As Beattie readied the net, I gingerly played the alligator-sized muskie to the boat. When the fish swam alongside the boat, Beattie deftly scooped it up. As we admired the 51.5-inch fish, it was a moment of celebration for both of us.
The last fish of the open water season can often be the most memorable.