Every year, thousands of people travel to the North Shore, drawn to the magnificence that is Lake Superior. They are awestruck by an inland sea with its ocean-going freighters, open horizons and pounding surf. Somewhere in their highway journey they may stop and get out to walk along a gravel beach and touch the water, marveling icy-cold water, even in midsummer. A few may cast a line from shore or try swimming in a sheltered area such as Grand Marais Harbor.
All of the above is very satisfying for most land-locked visiting Midwesterners, but it is one thing to be near the lake and quite another to be out on the lake. Fortunately, you don't need to own a boat to get on the water. A variety of options, from excursions to gear rental are available. Prices are generally affordable. If you balk at the cost, consider this: It is far less expensive to pay for an on-the-water adventure than to purchase and maintain a craft suited to Lake Superior.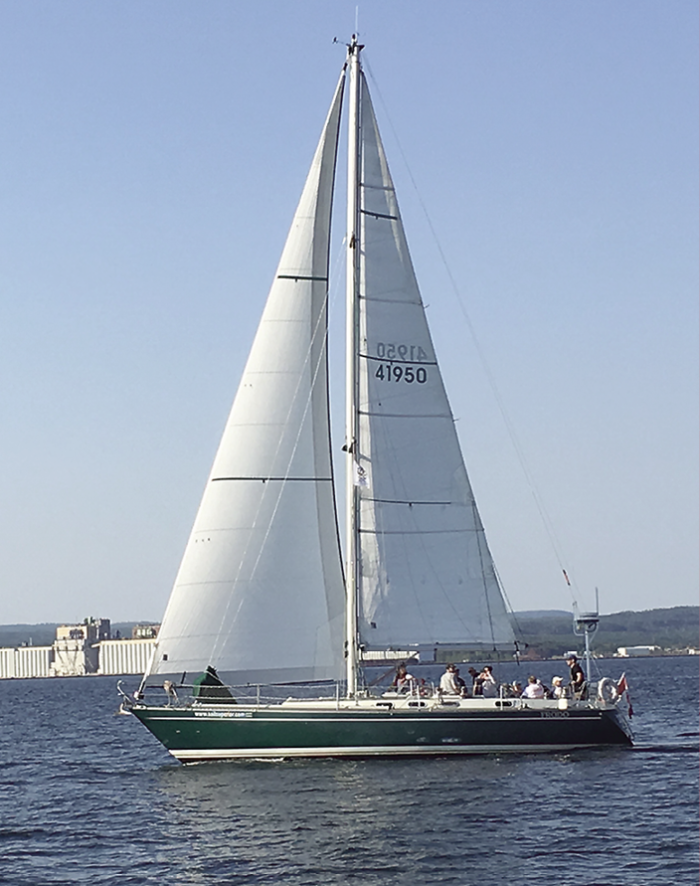 Lake Superior Sailing
In Grand Marais, folks head out on the harbor aboard the Hjordis, a traditionally rigged steel schooner, for a two-hour sail. The tour doesn't have a set route, but allows people to view Grand Marais and the vicinity from the water. Folks are welcome to ask questions about sailing and Lake Superior. While walk-ups can often get on a tour, booking online is recommended. northhouse.org
A variety of tours are available in Thunder Bay with Sail Superior. Captain Greg Heroux has two sailboats, Frodo and Journeyer, as well as a motor-powered high-speed Zodiac, Superior Rocket. You can take a 90-minute sailing tour of the harbor, a wine-and-cheese sail or a longer sail (half- to full-day) to more distant islands and lighthouses. You can charter three- to five-day sailing excursions, too. The longer trips require a minimum number of passengers. The Superior Rocket Zodiac can handle groups up to 12 and allows you to see a lot in less time, because it travels at up to 80 kilometers per hour. You may get on a harbor tour as a walk-up, but booking ahead is recommended. sailsuperior.com
Lake Superior Charter Fishing/Tours
Going out for a few hours with a charter fishing boat is a common way to experience Lake Superior and get the makings for a fresh fish dinner to boot. Lake Superior charters are available from every marina and can be easily researched online. It's a good idea to book in advance, because charter fishing is a popular activity. The captain provides the boat, which typically can take four to six persons, provides all the tackle and even cleans the fish. It is up to you to bring your fishing license, appropriate clothing, snacks and beverages. Native lake trout are the most common catch, but you may land Chinook, coho or pink salmon, as well as steelhead.
If fishing doesn't interest you, but you would still like to go for a boat ride, some charter captains can accommodate you. One is Randy Swanstrom of Reel Swede Charters in Grand Marais. Swanstrom's trips generally run 45 minutes. He also does special trips where his guests may view their home or cabin from the water, take a cocktail cruise or just enjoy an outing with friends. reelswedecharters.com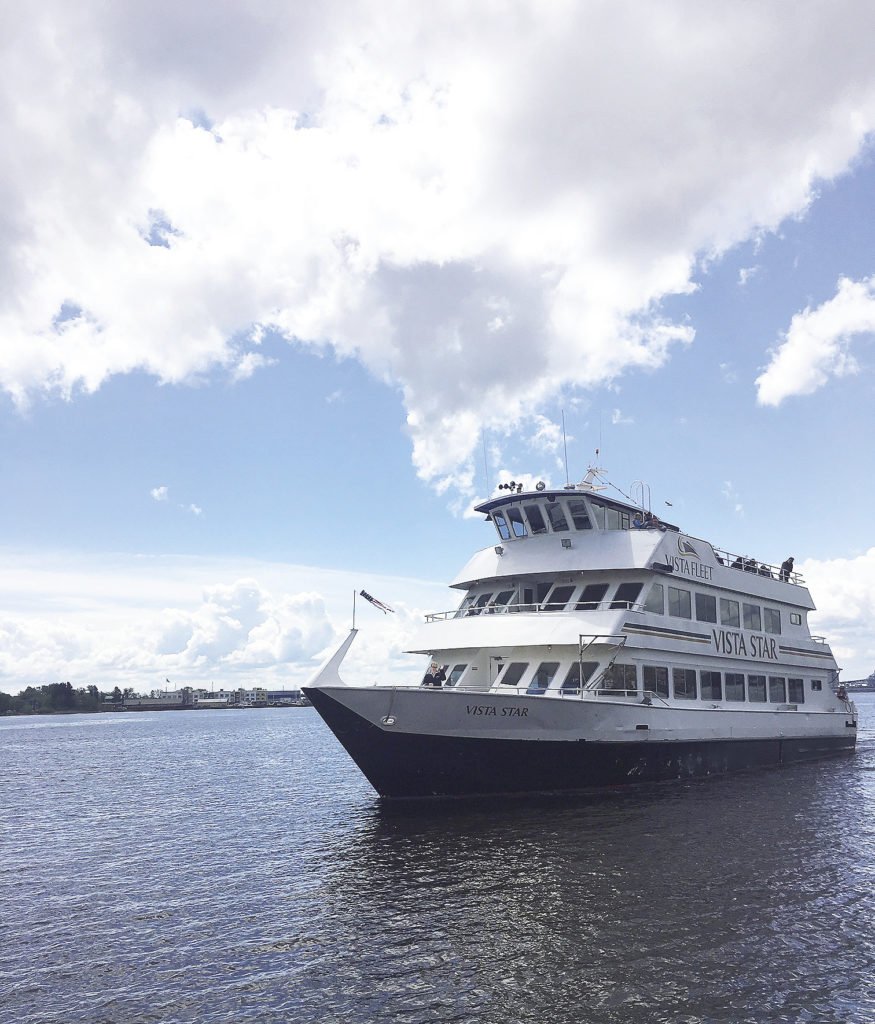 Lake Superior Excursions
One of the easiest ways to get out on the lake, weather permitting, is on an excursion with Duluth's venerable Vista Fleet, which has been in business over 60 years. Two boats, the Vista Star and Vista Queen, will offer daily excursions up to Oct. 20, when they cease operation for the season. Most tours include a trip beneath Duluth's famous Aerial Lift Bridge and out on Lake Superior. Marketing director Katy Rochele says even on days when the big lake doesn't cooperate, an excursion offers plenty to see in the Duluth-Superior Harbor. The busy port receives vessels from all over the world. Excursions allow people to get close to the big ships and observe maritime activities. A range of dining, fall color and other cruises are available. It is best to inquire ahead about availability, but walk-ups can usually be accommodated. vistafleet.com
Boat to Isle Royale
If you seek an offshore adventure, head out to Isle Royale National Park with Grand Portage Isle Royale Transportation Lines. The company offers day trips aboard the Sea Hunter III that include a four-hour visit to the island at Windigo where you can hike and have a picnic, shop for souvenirs or take part in planned park activities. A second boat, the Voyager II, does a two-day circumnavigation of the island, staying overnight at Rock Harbor and stopping at several docks to pick up and drop passengers, who are often hikers or kayakers. A national park permit is required to visit the island. isleroyaleboats.com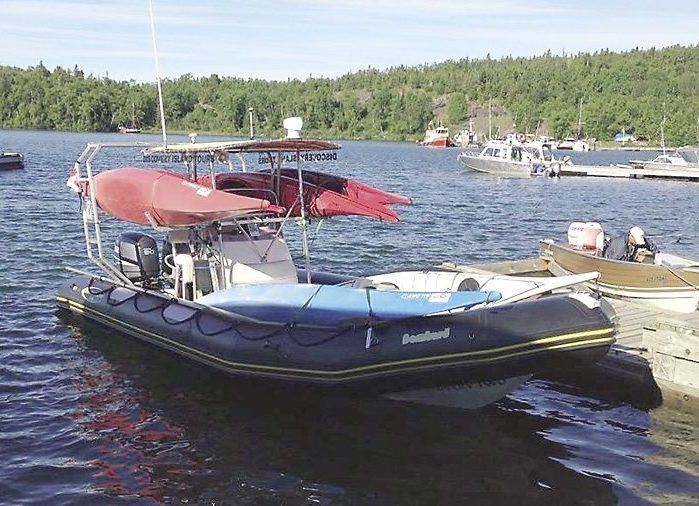 Lake Superior Shuttle Service
The islands off Rossport and Terrace Bay, Ont. are remote and stunningly scenic. You can get on the water there with Paul Turpin of Discovery Charters. Using a motor-powered Zodia, he does 1 ½-2-hour tours of the Rossport Islands and longer tours to the more distant Slate Islands, which are inhabited by woodland caribou. He also takes people to the Battle Island Lighthouse near Rossport, where you can disembark to make the 20-minute walk to the historic structure. Kayakers wishing to explore the outer islands use Turpin to shuttle gear and kayaks. He can carry up to six kayaks. Seek adventure? Turpin can accommodate. He once took an 85-year-old woman on a tour in November so she could experience 15-foot waves—and check it off her bucket list. discoverycharters.ca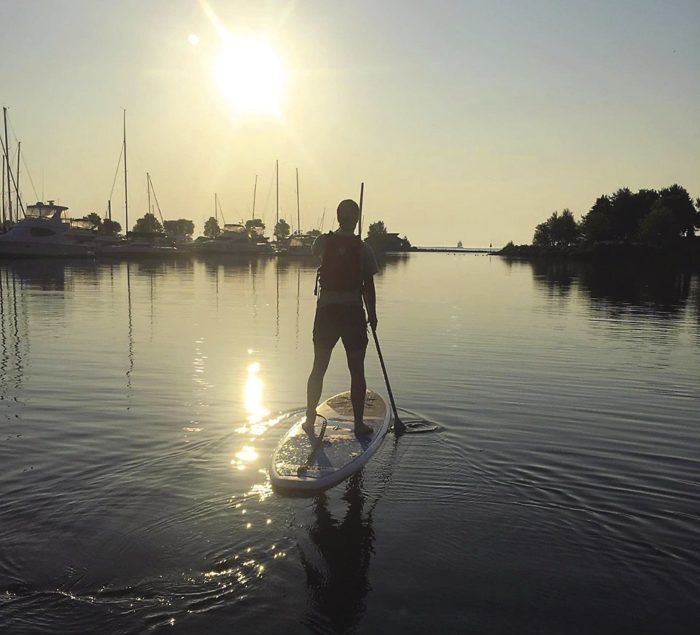 Stand Up Paddleboards on Lake Superior
When it comes to using a stand-up paddleboard (SUP) on Lake Superior, timing and location are everything. Paul Pepe of Get Out Gear Rentals in Thunder Bay says the lake is calm on most mornings and some evenings. He tries to get out for morning paddles three to four times per week. While many folks who rent SUPs from Get Out Gear Rentals go to inland lakes, they can go on Lake Superior provided they sign a waiver. Unlike the open Minnesota shoreline, Thunder Bay has a protected harbor. SUP rentals include a life jacket as well as a waterproof case for your cell phone that clips to the board. SUP clinics are available. thehavenhostel.ca/rentals
Lake Superior Sea Kayaking
The best way to be initiated to sea kayaking is with a guided tour. Your outfitter will ensure that you have the appropriate gear, including a wet suit and life jacket, was well as a trained and certified guide. At Sawtooth Outfitters in Tofte, you can choose between half- and full-day tours. The Sea Cave Tour embarks from Black Beach in Silver Bay and goes to nearby sea caves. The Gem Tour leaves from Tofte Park and goes to Temperance River State Park. On half-day trips you bring your own snacks, water and dry bags. Sandwiches are provided on full-day trips. Tours can take a maximum of 10 people. Depending on the tour, a minimum of two to six persons are required. sawtoothoutfitters.com
Stone Harbor in Grand Marais offers half-day tours there and full-day tours in Canada, where there are protected bays and offshore islands. Anyone participating in a Canadian tour must have a passport. The tours are open to beginners. Guides are trained and assessed by the American Canoe Association and are proficient at open water rescue. Stone Harbor does not take children 13 and under on Lake Superior. stoneharborws.com