As a young man growing up on a farm near Cloquet, Minn., John "Buzz" Buczynski was known around town as "Mr. Woods."
"There was a partridge behind every bush, brook trout in every ditch, and agates in every pit," Buczynski said. "My neighbor and I spent near 50 percent of our waking time hunting, fishing, exploring and picking. All of those memories in my head and on film will eventually find their way onto a Lake Superior slab of some sort."
The "slab" to which the 78-year-old Buczynski refers to is the guiding template for his artwork. Using gunpowder and pieces of wood that have been aged to perfection on the bottom of Lake Superior, Buczynski has engineered an artistic style that's as unique and complex as his personality. First, the gunpowder. It's a medium that calls for an explanation, as "art" is not often the first thing most people think of when they hear the word "gunpowder." Yet, that's exactly what it does for Buczynski.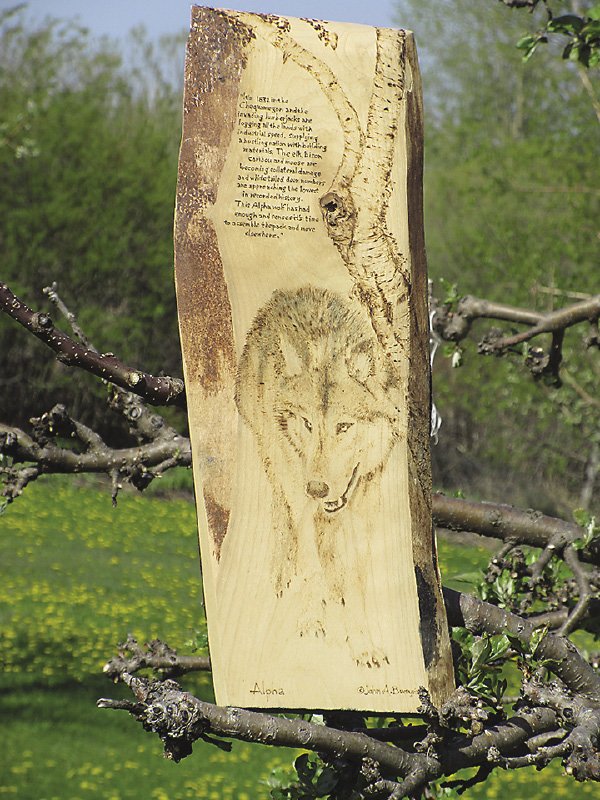 "Working with tiny amounts of smokeless powders is no more perilous than reloading shotgun or rifle shells at home or say, working with acetylene torches creating works in metal," he said. "There are rules and safety measures along with common sense to rely on while fulfilling any passion. I've been burning since 1972 and haven't lost my eyebrows or moustache yet."
And while gunpowder makes for good storytelling in describing his art, the process really starts with the wood from the bottom of Lake Superior. Buczynski uses two types of wood that's been collected from the bottom of the Big Lake. The first are massive logs found lying on the bottom of Lake Superior that lumberjacks cut last century.
"Each log had been company stamped and information kept in 'log' books, so to speak, so it could be determined who owned the log and where it came from," Buczynski said.
The second type of wood he uses from Lake Superior are wasted cuts of lumber, boards and tree trunks that somehow ended up in the lake as flotsam.
"I take great pleasure in recycling these woods and keeping their underwater histories alive for a while," Buczynski said.
After selecting a cut of wood for a project, the next step is sanding the piece to a desired surface texture. Some of the wood might be a piece of curly maple that is 4-foot. wide, meaning there's an amount of labor involved with every step of the creative process. Often times the wood Buczynski works with are pinkish in color, depending on how deep Lake Superior has leached the sugars away from the outer cambium layers, he explained. Following the sanding, whatever animal, landscape setting or image Buczynski wants to appear on the wood is penciled in. This process is done with the artist paying close attention to the shape of the slab and respecting the grain swirls of the wood. Once the wood is sanded and the image is penciled in, it's time to pull out the gunpowder.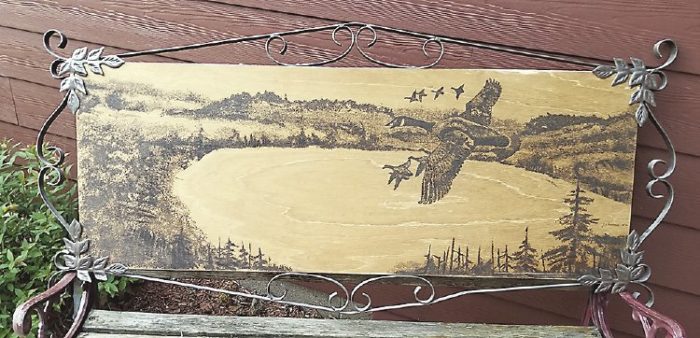 In most instances, Buczynski will scatter tiny granules of DuPont IMR 4320 smokeless rifle powder in a ¼ teaspoon amount to fill the tiny area desired, moving slowly and carefully in small amounts. Buczynski uses this particular type of powder because the character is short granulation, easy metering and has a medium burn rate. The easiest way to visualize the distribution of the gunpowder is to think of it as a frame or line put down by a Sharpie. Only in this case, you set that line on fire. To add color to his work, Buczynski uses opaque watercolors or acrylics. Some pieces, however, are simply shaped and colored by the gun powder.
As the wood Buczynski uses for his artwork is beautiful in its natural form, he purposefully does not use borders or trim to seal in his creations.
"Boards without borders," he explained. "The deckled, erratic edges cuddle my pyrography magically and sometimes even whisper subject matter to me."
For those looking to obtain some of Buczynski's artwork, there are a few options. He frequently has work for sale at the Art on the Planet gallery in his adopted town of Superior. He also travels to regional art shows in the Upper Midwest throughout the year.
After decades of exploring different mediums to channel his creative energy, Buczynski said he is grateful for ending up where he did and working with a completely original method of marking art.
"In retrospect, art has been good to me my whole life, and I respected all those mentors that helped along the way," he said. "Now I just follow their ingrained guidelines. I can't imagine a better place of growth to be in."