The North Shore has a wealth of creative talent with artists working in all different media, and jewelry is no exception. Several jewelers along the North Shore are dedicated to providing people with well-crafted pieces that reflect the unique beauty of the North. Here are a few such jewelers who are making a living making jewelry on the North Shore. Each has a unique style and story, but with one common thread: a sense of place and a deep love for Lake Superior.
Steve Hahn:
Traditional Jewelry with Northern Inspiration
Steve Hahn is the owner of Jeweler of the North Shore, a jewelry shop and gallery in Lutsen. Hahn grew up with a love for the North Shore, and remembers taking family trips up the shore in a camper loaded with his father's art supplies. As a child he was also fascinated with his brother's work as a jeweler. Hahn began to work at his brother's shop in Fargo as an apprentice, and later became a full-time jeweler himself.
"I worked for Royal Jewelers in Fargo, which is a high-end jeweler. We had diamonds as big as 10 carats, and a huge repair center where I did over 3,000 repairs a year," Hahn said.
During their years in Fargo, Hahn and his wife, Cathy, felt a continued love for the North Shore. They made it their mission to move to the area, which they did in 2015. Upon moving to Lutsen, Hahn still worked for Royal Jewelers, and traveled between Lutsen and Fargo until May 2019, when Jeweler of the North Shore became his full-time focus.
"I set up virtually the same shop here that I had in Fargo and I do any kind of work there is," said Hahn. "As a traditional jeweler, I specialize in materials like gold and diamonds, but I'm also passionate about Lake Superior. My work is reflective of my love for the area."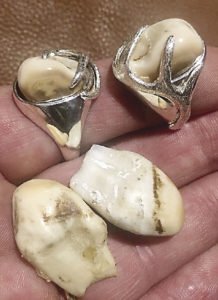 Hahn uses a combination of modern technology and traditional techniques during his jewelry-making process. He will often start by drawing a picture of his idea, and then choose a base metal to cut or fabricate into his piece. Using a laser lets Hahn work without heating the metal, though he also cuts things by hand with bending and hammering: a true blend of old-school technique and modern quality.
While he makes a lot of his own designs, Hahn also does commissioned work and has a passion for unique designs and turning customers' ideas into reality. Some of his projects have included custom engagement rings, turning necklaces into bracelets, and fashioning family pieces into new creations.
"I fill my cases with things I make, but if you want something different then let me know," said Hahn. "I love sitting down with someone, talking to them about their vision, and making it happen."
For more information on Steven Hahn and Jeweler of the North Shore, visit: jewelerofthenorthshore.com.
Brad E. Nelson:
Creativity and Diversity
For Brad E. Nelson, the joy of making jewelry comes from the chance to be innovative and explore new ideas. Nelson is the owner of B. E. Nelson Design Silversmith, a studio on Scenic Highway 61 near Two Harbors. For over 30 years he has owned his own jewelry-making business and he continues to try new styles while also staying grounded in his roots.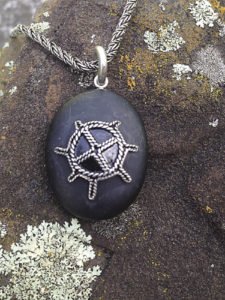 For a long time, Nelson has had an interest in his Scandinavian heritage and Viking art. He has traveled to Scandinavia and even built a Norwegian stabbur house, where he now has his studio and shop. More recently, he became aware of the renewed interest in the Sami people: a group of people who traditionally lived in northern Norway, Sweden, Finland and Russia. They have their own culture, art and traditional dress, and are a culture that has often been repressed by the dominant cultures in the regions they inhabit.
"Through the Scandinavian festivals, a group of people with Sami heritage began to emerge," said Nelson. "Though I don't have Sami heritage, it caught my attention and I became very interested in learning more about their culture. I was welcomed into the group and a lot of my work reflects my interest in that culture."
Some of Nelson's work has included tin thread, a Sami art form that involves weaving pewter thread into intricate designs, usually on a leather backing. He puts his own twist on it by making jewelry with silver thread set against black stone, the stone resembling the traditional leather backing.
"Part of being an artist is putting your own spin on things," said Nelson. "It's learning how to be inspired by others while also having a fresh take. Especially when you're working with themes from other cultures, you want the inspiration to be recognizable without resorting to stereotypes or cliché imagery."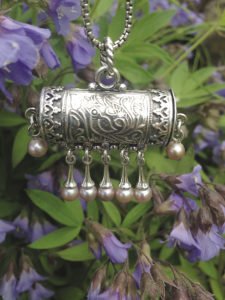 Nelson said that the longer he works the more freedom he feels to experiment, and the more he values creativity and artistry over focusing on the materials themselves. Recently he has begun making tube-shaped silver pendants, a style of jewelry from the Middle East. The pendants are typically hollow and often have verses from the Quran placed inside of them. Nelson has been making some of the pendants with Native American and Scandinavian flares.
"One of the things I love about the States is the huge amount of diversity," said Nelson. "We have such a rich fabric of cultures here. I think we should celebrate everyone, and art is a wonderful way to do that."
To learn more about Nelson's work, visit the B. E. Nelson Design Silversmith Facebook page, or call (218) 824-4188.
Ron Piercy:
Gemstones and Geology
In Grand Marais, Ron Piercy is the owner of Yellow Bird Fine Art, a gallery he started in 2016. Before moving to Grand Marais, Piercy worked as a sculptor, and after arriving on the North Shore began making jewelry.
Piercy's work is centered on gemstones and he has a selection of over 1,000 stones, including local stones like thomsonite, agate and greenstone.
"My jewelry tends to have a pretty simple design and I really try to highlight the stone," Piercy said. "I have a lot of fun looking at the rocks that I have and then deciding what I can make."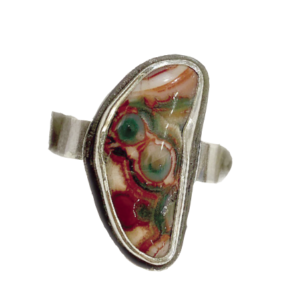 His focus on local stones appeals to those with a love for the North Shore and its geology, and Piercy enjoys talking with visitors in his store about the geology of the area. He finds many of the stones himself, or has locals pick them up on the shore. Recently he has made some pieces from black basalt, the volcanic rock which forms the bedrock of the whole North Shore. While basalt may not be particularly flashy or traditionally used in jewelry, people with a love for the area appreciate the symbolism in wearing a piece of the North Shore's foundation.
Yellow Bird Fine Art is a destination for those interested in learning more about the jewelry-making process as Piercy's working studio is right in the building. Visitors can stop in and observe the process, ask questions, and learn more about making jewelry with local stones.
"It's really neat for people to stop in and see the process," said Piercy. "Interacting with people and connecting with visitors who share interests is one of my favorite things about what I do."
More about Piercy's work can be found at: yellowbirdfineart.com. In the winter, Yellow Bird is open Fridays and Saturdays 11 a.m.-4 p.m.
Stephan Hoglund:
A Leader in Lake Superior Jewelry
Stephan Hoglund of Grand Marais has had a presence as a jeweler on the North Shore for almost 40 years. He has become well-known throughout the region for his work and was one of the first artists to focus on Lake Superior stones.
Hoglund arrived in Grand Marais in the mid-1970s. It was there that he started discovering local stones like thomsonite, Isle Royale greenstone and Lake Superior agate. Over the years he spent many hours beachcombing and amassed a large collection of regional stones. Hoglund set up his first shop in Grand Marais where Dockside Fish Market currently stands, and he started building a business and a clientele centered around Lake Superior stones at a time when few artists focused on regional stones.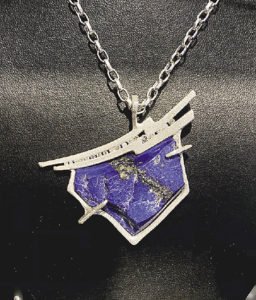 "One of the things I like to do is leave the surface of the stones natural," said Hoglund. "There's a lot of beauty in the natural surface, and polishing stones doesn't necessarily make them better."
In 1999 Hoglund was awarded the McKnight Fellowship for jewelers, and went to Sweden and Norway to study pre-Christian stonework.
"During this time my work started looking very old and historic," said Hoglund. "What I saw in the ancient stonework was art, spirituality and religion all rolled into one. Art expresses reverence, including a reverence for the unknown."
Hoglund's work conveys a deep respect and love for his heritage and his surroundings on the North Shore, and his reputation as a leader in Lake Superior stone jewelry speaks to both his passion and dedication to his work. Having spent many years working as a North Shore artist, Hoglund's work is beginning to come full-circle. He recently spent several months working with and mentoring a young Duluth silversmith, Yarrow Mead.
"Yarrow Mead is a young woman who is very grounded in the North Shore and working with local materials," said Hoglund. "I'm really looking forward to seeing where her work takes her."
As for Hoglund, he plans to continue to spend time in Grand Marais, as well as at his studio in New Mexico. He recently received a commission for a sculpture piece, and plans to continue with jewelry and jewelry art. As he put it, "Real artists never stop."
Stephan Hoglund's work can be found in the Betsy Bowen Gallery in Grand Marais. To learn more, visit: stephanhoglund.com.
Several gift shops along the North Shore showcase work from local jewelers, including 47 Degrees in Knife River; Northwoods Pioneer Gallery in Castle Danger; the Beaver Bay Agate Shop in Beaver Bay; Thomsonite Beach Inn in Grand Marais; and Joy & Co. in Grand Marais.