My angling friends and I sometimes joke that ice fishing would be a lot more fun if you didn't have to do it in the winter. We generally spin this pithy comment while unloading gear in temperatures so cold it freezes your eyelashes together. Needless to say, frosty weather is a large part of ice fishing. No cold equals no ice. No ice means no ice fishing. It's a catch-22. So if you enjoy winter fishing on frozen water, the odds are you will bump into some chilly air more often than not. Having proper ice fishing gear can make a huge difference.
Most of my childhood ice fishing memories include either being cold, or trying to get warm. My family did quite a bit of ice fishing when we were kids, although my California-born mother usually had some good reason to skip these winter outings. Smart woman. There was no snowmobile in our family so all ice fishing was done by accessing lakes on foot. Staying warm while walking into the lakes was normally not too difficult. Deep snow took care of that. However, once at the destination, all that sweat would start to freeze. The liners of our snowmobile boots would absorb water, and when the walking stopped, the freezing started. Cold feet! This is why a giant fire along the lake shore was generally among the first things done on arrival. That fire was a life saver, and we all huddled around it for most of the day. When we weren't staying warm around the flames, we were gathering wood to keep it stoked. This generally meant that ice fishing holes might not have been tended quite as well as they could have been. As often as not, the lines would be frozen into the hole, requiring some careful spudding. From time to time, there would be small fish hanging on the line. Other times, the line would be broken. Just part of the reality of that old-style cold weather fishing.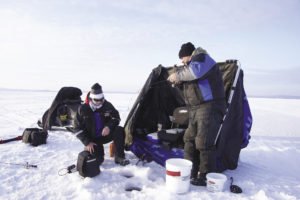 Fast forward a few decades. Ice fishing is more popular than ever. However, there have been major leaps and bounds in new ice fishing gear to help keep you warm. That doesn't mean you won't get cold on the ice. But overall, the comforts available are way ahead of what most of us grew up with.
One example of this is boot liners. You use to not have a lot of options when it came to the liners you could use in your boots, but that has all changed. Many winter liners now have perspiration wicking materials, or include other heat holding elements. One of the most amazing additions to my boots has been battery operated insoles. Normally, I hate just about anything battery operated. Yet, the Thermacell brand battery powered insoles are pretty amazing. You simply charge two reusable batteries that slip into the insoles. The insoles then go into your boots. The insoles don't get too hot. What they do is keep your feet at a temperature that does not allow for freezing or cooling. If you are sitting or standing with your feet on ice for long periods, they really help overall comfort. They even have a controller to regulate the heat. I get four to six hours out of them, which is usually about a day's worth of ice fishing for me.
The clothing made for ice fishing is far better today than it was just a decade or so ago. Back in the day, a snowmobile suit was state of the art and some of these things were both stiff and not particularly warm. That scenario has really changed. Today, I've got a couple different specialty ice fishing suits—one is called the Sno-Suit—that are not only super warm, but feature large, deep pockets for putting gloves or knit caps in, and an extra-large insulated hood that protects your face from winter winds. These suits also have reinforced knees for when you are doing some heavy lifting around an ice fishing hole.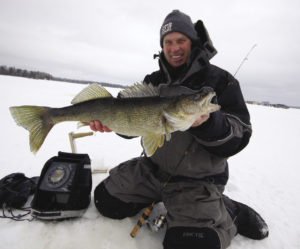 Finally, one of the true revelations the past few years is how handy a heater can be on ice. There are many different types of portable heaters, the majority are fueled with propane cylinders. These things do emit CO2 so you need to use them in a situation where there is some good ventilation. I like to use pop up ice fishing shelters and keep a window or two open. However, you can also use a heater outside as long as it's not too windy. The heaters take the chill off cold hands and feet. Inside a tent, the heater will allow you to fish without gloves or even a cap. They can be a little tough to start if they get frozen up with snow, so if you transport them on a snowmachine make sure the heater is well covered up. I've even used a propane heater to warm up a pepperette for mid-day snack.
So yes, with the proper ice fishing gear you can be warmer and more comfortable this year. Does that mean you will never be cold? Uh, no. It's winter. But it's nice to know the time spent being comfortable will be longer.
By Gord Ellis