So, where is 'home?' Pliny the Elder (AD 23-79) wrote "Home is where my heart is" while a more modern phrase is "Home is where I hang my hat." Well, for lighthouse keepers and their families, home could be the same lighthouse for almost a lifetime, while others moved around. Here's a brief glimpse of a few early keepers on Lake Superior.
In 1878, 31-year-old bachelor John H. Malone took over as lighthouse keeper at Isle Royale Lighthouse, (NW Lake Superior, Michigan) and called it home for the next 32 years. He married 19-year-old Julia Shea two years later (1880) and together they had 12 children over the next 15 years, all born at their island home (one died at birth). The Malone family and their pets spent the navigational season, usually early May to end of November, at the lighthouse, returning to Duluth for the winter.
The Malones successfully grew vegetables in a small garden and had a potato patch on the nearby Wright Island. Their diet included fish, ducks, rabbits, prairie chickens and seagull eggs gathered from nesting sites. In May 1886, Malone collected more than 1,000 eggs and the following year, 1,478 eggs. The children were home-schooled, played musical instruments and everyone looked out for each other's safety. One story tells about the eldest son John "Al" diving into Lake Superior to save his sister Alice and a friend from drowning.
The family life of Robert Singleton, the second acting keeper on Passage Island Lighthouse (NW Lake Superior, Michigan), had highs and lows. Born in 1820 in Lancaster, England, he was in his late 20s when he arrived to the Lake Superior area, married Marguerite Webanbonok from Fort William First Nation in 1849, worked in the copper mines on Isle Royale, and lived at Todd Harbor where four of their five children were born. In the 1850s, Singleton may have been an unofficial lighthouse keeper on Rock Harbor Light.
The Singletons moved away from Isle Royale sometime after 1859. After their fifth child Elizabeth was born in 1861 at Prince Arthur's Landing (today's Thunder Bay), his wife passed away, leaving Singleton to raise their five children. A few years later, he married again and had another child. Sadly, his second wife Ann died at age 29 in 1872.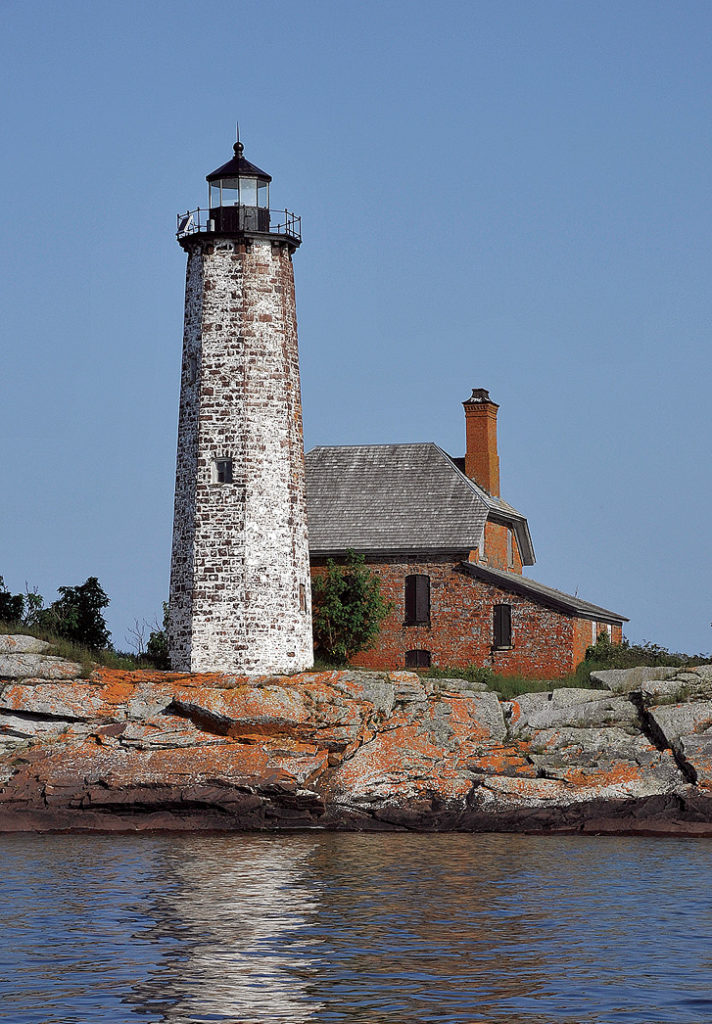 Four years later (1876), Singleton married Mary Bouchier, had more children and in 1881, they moved to Victoria Island Lighthouse (west Lake Superior, Ontario) where he was appointed its first keeper. A year later, the Singleton family was on the move again, this time to Passage Island Lighthouse where Singleton was appointed keeper in September 1882.
Alas for 63-year-old Singleton, it all ended in May 1883 when he went to buy supplies in Port Arthur. A local newspaper headline says it all, "Terrible Accident: The Oldest Pioneer of the North Shore Run Over by a Train and Killed." His sudden death stranded his family at the lighthouse until rescued later in the month.
Over at Porphyry Island Light (west Lake Superior, Ontario), Scottish-born Andrew Dick has become a legendary figure in lighthouse history. For 30 years, from 1880 to retirement in 1910, he lived year-round with his family at the lighthouse in western Lake Superior, about 24 miles east of Thunder Bay and 7 miles north of the U.S.-Canada border. He and his wife Wasseabincoke (aka Caroline) from Pays Plat had 10 children. When his wife died in 1884 (four months after giving birth to their tenth child), Dick and the children—ages four months to 19 years—continued living on the island.
Dick kept a daily journal where he recorded some of the meals the family enjoyed: vegetables from his large vegetable garden (including tomatoes, beans and beets), smoked meat, rabbit, caribou steak, eggs, pot barley soup, stuffed caribou heart, boiled caribou tongue, stewed chicken and dumplings, apple pie and tea.
One poignant dairy entry was on June 24, 1901. He wrote that his daughter Agnes had died at 7 o'clock that evening, noting her mother had died the same date and same month. The next day he wrote, "We got to work early this morning and dug a grave then brought the scow over to the house and took the remains to the Boat House and put them in the grave." After retiring in 1910 at age 78, he moved to Port Arthur.
For the Newman family, calling a lighthouse their home began at No. 10 Lighthouse (aka Shaganash). A few years later in 1937, Arthur John Newman took charge of Lamb Island Lighthouse (NW Lake Superior, Ontario) accompanied by his British-born wife Mabel Emma Jenn and their four children. The family spent each navigational season living on Lamb Island until November 1951 when Arthur died at the lighthouse.
Even with all the difficulties of raising, educating and entertaining children on a remote island, it was a positive time for Mabel who wrote in 1946, "We are one happy family, I'm glad to say. This work means we can all work together and never be apart. We like to watch the storms on the lake, but at the same time we never forget to ask God's blessing on the sailors."