As regular readers can attest, I'm a fan of herbs in cooking. Last year, I wrote a column about herbs and spices. Very often, though, herbs are considered garnishes or a nicety for a meal. Thankfully, some cultures and cooks have long recognized the delicious role fresh and dried herbs can play. In this herbs and plants edition of Northern Wilds, the North Shore Dish is spotlighting herbs in Italian cooking and how you can become a little more herb savvy in your own kitchen.
Kim Pizzolato and Ashlyn Ransome both have Italian roots and it comes through in their Thunder Bay business, The Pasta Shoppe. When asked how they developed their recipes, they referenced a combination of family secrets, childhood favorites, and "because Nona said so," as in that's how it should be done. But, set aside that mental picture of a sweet Italian grandmother when you picture The Pasta Shoppe. This business takes authentic family traditions and adds a modern twist, using local produce, fresh herbs, and other inspirations to create simple and flavorful meals to enjoy at home.
The Pasta Shoppe specializes in small batch, handcrafted fresh pasta and sauces, for take away, local delivery, make at home, and for eating in the shop. The pasta is made on-site, including tagliatelle, spaghetti, rigatoni, fusilli, and a market-fresh option that is a rotating flavor cut daily. They also rotate a featured sauce each week, in addition to being able to choose from marinara, Bolognese, meatballs and sauce, mushroom ragu, Alfredo, and rose. Mix and match for your favorite combination—the hand-rolled meatballs and sauce is a customer favorite. Hand-rolled gnocchi is available the last Friday of each month.
Herbs are a staple in many of the sauces and pastas at The Pasta Shoppe. Fresh basil and parsley shine in the Bolognese, marinara, and meatball sauce, while fresh sage takes the stage in the mushroom ragu. They recognize that fresh herbs are key to getting the right flavors in their sauces, just like Nona's. When fresh herbs are in season in Northwestern Ontario, even more appear in the menu options, with pestos and even in the fresh pastas.
"Fresh herbs are excellent for providing an all-natural colour and a subtle pop of flavour in fresh pasta dough," said Pizzolato.
Handmade fresh pasta is not typically a weeknight endeavor, unless you stop by The Pasta Shoppe first. With both hot pasta bowls for take-out and fresh pasta and sauce kits for assembly at home, The Pasta Shoppe is focused on helping families enjoy handmade pasta at home around the family dinner table.
"We help them enjoy fresh pasta with their families more frequently, and hopefully encourage meals together," said Pizzolato and Ransome.
The fresh pasta and sauce kits include everything you need to prepare dinner at home, for two to three people, with fresh pasta, sauce, and Parmesan cheese. Also available is pasta by weight, sauce by half or full litre, and hand-rolled meatballs by the half or full dozen. Pick up what suits your needs or what your family will enjoy. Just remember when cooking fresh pasta, the true test is taste, not time, to get the noodles just right.
In the age of busy schedules, smartphones, and rare family dinners, Pizzolato and Ransome recognized that it is difficult to create the family dinners of their childhoods. "They were hand-made with love and filled with tradition, but we didn't realize that until we started learning what was required to prepare such meals." They've stepped in to help bring those traditions back by making it affordable and convenient to enjoy a family meal. As an added convenience, The Pasta Shoppe does a seasonal pop up at the Thunder Bay Country Market.
The Pasta Shoppe (117 S. May Street, Thunder Bay) is open Tuesday, 11 a.m.-4 p.m. and Wednesday through Friday, 11 a.m.-6 p.m. Order ahead online (thepastashoppe.ca), call (807-286-6335), or stop in.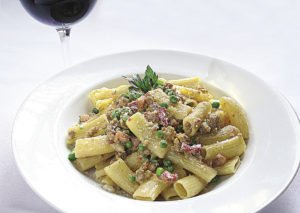 Italian and fine dining also go hand-in-hand, which is apparent for any diner that has enjoyed a meal at Bellisio's in Canal Park, Duluth. The restaurant was started as a classic Italian restaurant by Michael (Mick) Paulucci to honor the heritage of his father, Jeno Paulucci, who shared a passion for great food and wine. Today, that passion and heritage continues at Bellisio's, with a menu featuring fresh flavors and authentic classics.
Bellisio's is named for a town in Italy, Bellisio Solfare, which is where the Paulucci family lived before emigrating to the United States, to the Iron Range of Minnesota. Still today, there is a mural on the wall in Bellisio's dining room of the family home. These connections to the homeland are reflected in the menu, featuring Italian favorites like classic fettuccine Alfredo, which features imported Parmigiano-Reggiano cheese and fettuccine, and Pappardelle alla Norcina, with crumbled Italian sausage, pancetta, cream and sweet peas. Today, executive chef Gary Baregi, ACA, and senior sous chef Chad Blomquist balance the history with innovation for a memorable dining experience.
Herbs are featured in many dishes, but some of the lighter options are where they really shine. The chicken minestrone soup features fresh herbs and seasonal vegetables, their version of the classic Italian soup. The Tuscan salad includes Italian parsley, fresh basil and herb roasted croutons. If you are looking for a dinner entree, the longtime crowd favorite fennel roasted rack of pork is a center-cut pork loin slowly roasted with fennel, garlic, and other fresh herbs.
"Whether it is aromatic basil or rosemary, classic oregano, or a number of other herbs that can subtly take an item from average to outstanding," said LeeAnn Smith, general manager of Bellisio's. For those that enjoy wine with their meal, Mondays are half-price bottles of wine.
Bellisio's (405 Lake Avenue South, Duluth) is open Monday through Thursday for dinner 5-9 p.m., and Friday through Sunday from 11:30 a.m.-10 p.m. (9 p.m. on Sundays). Reservations are recommended. Call (218) 727-4921 or visit: bellisios.com for an OpenTable online reservation.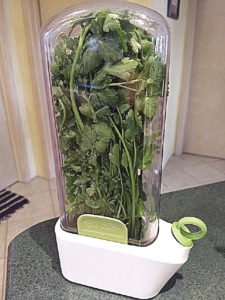 When cooking at home, fresh herbs are a simple way to up your cooking game in a healthful way. In addition to adding flavor, herbs also add nutrition. Polyphenols, plant compounds that have potent antioxidant and anti-inflammatory benefits, are prevalent in herbs. If the potential health benefit doesn't help you swallow the often high supermarket price tag, herbs are very affordable if you grow your own. Even in the Northern Wilds, a year-round window garden is possible, if you have a sunny southern facing window. I have had especially good success with sweet basil, Thai basil and parsley. Rosemary I have failed at with dry indoor air, so rely on dried or store bought.
For very perishable herbs like cilantro and parsley, set them in a jar of water, cover with a paper towel, and then cover with a plastic bag to place in the fridge. Swap out the towel and freshen the water every day or two. Depending on how fresh the herbs were when you started, they can last one or two weeks. If you love a kitchen gadget, the Prepara Herb Savor does a great job with the same idea but does take up less space in the fridge. This spring, I hope you enjoy delicious meals, at home or out, with a flavor punch from fresh herbs.