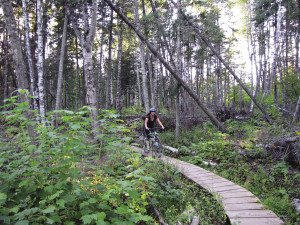 My first impression of single-track biking at Pincushion Mountain, was that I would have been better off on foot.
I strapped on my helmet in the parking lot and took off behind a seasoned trail rider and a couple of newbies, like myself. The trail winds downward from the beginning and I put my brakes to work. Soon my legs burned from holding my butt off the bike seat enough to absorb all the trail's bumps, without jarring my body too much. Some turns were a full 180-degree bermed turn. I nearly pitched off my bike braking too hard at the start of a boardwalk.
A rider approached me from behind and I stopped to let him pass. I could see he was in the groove. His body moved with the bike and trail from side-to-side, gracefully following the curves and absorbing the rocks beneath him, like a Nascar racer on a race track. I felt like I was on the same track driving a clunker, though it wasn't my bike that was the problem, it was me.
My friends waited on the other side of a ravine, where the trail dipped down to a creek and ran up the other side. That looked like a concussion waiting to happen, so I stepped off my bike and walked across.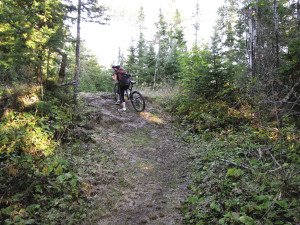 From here, we were on the Fluvial trail—the main single-track trail at Pincushion, from which the other trails spur. I was just getting into the "flow," as bikers say, when we turned onto the Canadian Shield loop, aptly named for the granite boulders and slabs over which we would travel.
It became apparent to me that we must have gotten off on a hiking trail. Who could bike this? I tried to take in the views of Superior from the top of the shield before getting off my bike again to hike across the boulder field below.
After the Canadian Shield, we were back on the Fluvial again, which comparatively, felt easy. Unfortunately, we still had to make the big climb back to the parking lot. One of the other newbies was struggling as much as me, more so, because his chain kept coming off his bike. The other two took the more difficult set of trails back to the cars, including the aptly named, "Till-ta-whirl" which, on the map, looked like a series of switchbacks on a mountain side.
If You Build It, They Will Ride
Single-track mountain biking has been exploding in popularity and new trails are opening every year along Minnesota's North Shore to accommodate the riders who seek the flow.
Grand Marais rider, Adam Harju, built Cook County's first single-track trail system at Pincushion five years ago, an opportunity that led him to start his own bike trail building company called Dirt Candy Designs. Now Harju and his wife, Mica, build trails full time and have completed trails from Grand Marais down into Wisconsin, including the trails at Britton Peak near Tofte and trails by Duluth.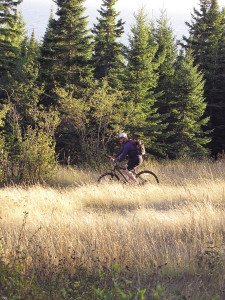 "It's not fast," Harju said. "Two-hundred feet of trail a day is a good day."
To do the work, the Harjus use a mini-excavator, a tracked dirt hauler and a packer, as well as all kinds of hand tools.
And then you have to ride—you know, test your work.
Harju's advice to beginning single-track riders, is that "you have to get used to the fact that you're not moving as fast—don't let that be a discouraging point."
"There's trails that I ride where I'm off my bike and walking," he said. "Be okay with being off the bike."
Harju enjoys single-track because every geographical region has its own character—no two trails are the same.
"If you're traveling, it can get you into some cool locations, because you cover so much ground," he said.
Harju explained some of the lingo used on the bike trail.
"'Flowy,' is a word you hear. Everybody wants 'flow,'" he said. Also "techy and bony" are words used to describe the trail. "Pincushion is a bony place to ride."
At Pincushion, Harju likes the "Till-ta-whirl" trail the best. He says, it has uncharacteristic dirt for the North Shore, and there is a "big, huge climb coming out."
"We have topography and we don't want to hide it," he said. "People are coming here because of that."
Ready to Race
October 16-18 is the Sawtooth Mountain Challenge race weekend at Pincushion Mountain. This year, the races will take place on Saturday and there are pre- and post-race rides and festivities. Citizen, sport and expert classes will cover 8, 14 and 21 miles of trail, respectively. The sport and expert races will mostly be on single-track trails, while the shorter citizen class will mostly ride the ski trail with a little single-track trail. There will also be a shorter kid's race before the others take off.
Voyageur Brewing Company in Grand Marais will host the race awards and after party.
The idea of racing on the narrow trails is a bit terrifying to me, the rookie rider, but after a second and more-successful go at the trails, I think I am up for the challenge. Harju says that racers are generally really good about pulling over to let folks pass if need be.
So, count me in. I'm ready to feel the flow.
Find the Flow
Grand Marais
Pincushion Mountain
Single-track miles: 10+
Tofte
Britton Peak
Single-track miles: 5.5
Duluth
Duluth is developing more miles of single-track every year. See www.coggs.com for trail descriptions.
Thunder Bay
Shuniah Mines is the place to ride, but it's temporarily closed for mine reclamation. Centennial Park is another good place go.