GRAND MARAIS—The final 2-mile stretch of the Devil Track River winds through a canyon deep enough to be called the Grand Canyon of the North Shore. While many of the North Shore rivers plunge over falls and through granite crevasses, the geography of the Devil Track canyon tells a different story.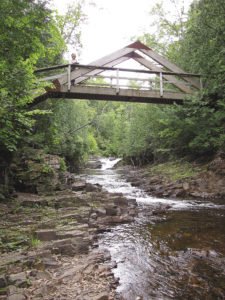 The 2.4-mile hike starts from a small parking lot on County Road 58. If you are driving from Grand Marais, it's just a few miles from town, and a quarter mile past the bridge over the Devil Track River. Follow 58 about a mile, keeping left at a fork in the road. A Superior Hiking Trail sign guides you into the lot.
At first, you are hiking along Woods Creek, but soon enough you pop out atop the rim of the gorge, already well above the Devil Track River. The trail winds through red pine plantations that are thick enough to keep the understory shaded year-round. Occasionally, you are along the gorge rim itself, several hundred feet above the river. Over time, the river has cut deeper into sandstone and red shale, which is softer and more yielding to forces of erosion than granite.
When you begin a steep descent down stairs, you are close to the destination; an impressive A-frame bridge over a narrow part of the canyon. If you have energy left, you can continue another mile to the Pincushion Mountain overlook, which gives an impressive view of the surrounding landscape and an expansive vista of Lake Superior.