Duluth—It was a beautiful Friday night at Park Point in Duluth. Members of the Duluth Rowing Club (DRC) and their supporters met on July 15 to dedicate the brand new Joseph M. Krmpotich Boathouse. Joseph Krmpotich joined the DRC in 1967. He passed away in 2011. A generous gift from his estate to the DRC is what made the new boathouse possible.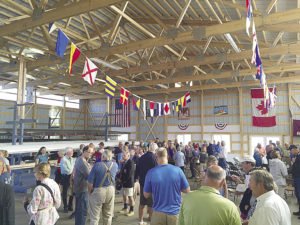 The ceremony began with a ribbon cutting by members of the Krmpotich family. Bill Hodapp, DRC member, was the master of ceremonies. He noted that it was almost exactly 130 years earlier that the DRC was founded on July 10, 1886. The old boathouse entered its 111th season of service after originally starting as a dance hall. The shiny interior of the new boathouse, festooned with flags and banners, welcomed the crowd and several guest speakers.
Duluth City Council President Zack Filipovich read a proclamation on behalf of Mayor Emily Larson declaring July 15 "Duluth Rowing Club Day" in Duluth.
Next, Dave Krmpotich (Joe's brother and a 1988 Olympic Silver Medalist in rowing) spoke. "Joe was a catalyst," he said. "He always wanted to do extra work to get a little faster."
Mark Krmpotich (Joe's oldest brother) said, "I hope this building will last 100 years."
Michael Cochran spoke next. He is the author of Invincible: History of the Duluth Boat Club which includes the story of the Duluth-based "Invincible Four" who went undefeated in 22 national and international races. Cochran rowed with Joe Krmpotich. The crowd laughed as he told the story of how they used to play poker until enough guys showed up to fill a boat so they could row.
"I owe Joe an apology," he said. "He said he wanted to build a boathouse and I was skeptical. He'd be damn proud."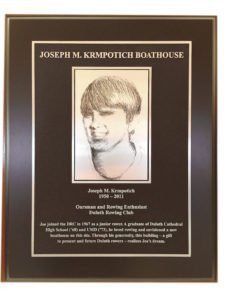 Last, Bonnie Fuller-Kask, DRC head coach, spoke proudly of the traditions and the future of the club. She noted there were 125 juniors in their rowing program, enough to fill nine "eights" in the 58th annual Duluth Rowing Club Regatta the following day. She spoke of the teamwork, integrity, and spirit of helpfulness in her young rowers. "Because of this boathouse, the Duluth Rowing Club is on a solid footing for another 130 years," she said.
The new boathouse is Phase I of a larger project. Phase II involves the demolition of the old boathouse in the fall. Phase III is the construction of a new clubhouse, which will house bathrooms, locker rooms, storage for some of the smaller boats, and an area for boat repairs. Fundraising efforts continue to bring the whole DRC project to completion. For details on how to contribute, visit the DRC website at www.duluthrowing.org or check out their Facebook page.