Jonathan Rova is a cross-country skier who lives in Duluth and is a member of the board of directors of the Duluth Cross-Country Ski Club. He traveled to Sweden in February to participate in a unique celebration of their famous Vasaloppet XC ski marathon. This year marks the 100th anniversary of the first Vasaloppet held in 1922. The annual race is 90k (55+ miles) long and attracts over 15,000 skiers, making it the biggest XC ski race in the world.
In 1922, there were only 139 skiers. To commemorate 100 years, the ski race held an event called the Jubileumsvasan ("Jubilee Vasa"). The organizers call it a "living museum." Skiers used the same kind of skis, boots, and poles that skiers used in 1922. They wore clothing from that era. They skied the original course and even the people at the feed stations were encouraged to wear dress from the period. More than 500 people applied to ski and Rova was the only American picked to be one of the 139 reenactors.
Rova has skied in two editions of the modern Vasaloppet. How did he hear about the Jubileumsvasan? "I'm a dork," Rova said. "You participate in these things and you start to love them. When I say, I'm a dork, I keep up on the skiing websites in Scandinavia. I saw that the Vasaloppet was doing this for their 100th anniversary…For me it was a combination of skiing, making my own skis…a confluence of all kinds of things that, if I got in, would be like a dream."
Rova made his own skis, which wasn't required, but something he wanted to do. "I've always been interested in the history of skiing. We had volumes of those in my library. And my grandpa, who was a carpenter, gave my dad his ski building tools which are a bunch of planes that he made specifically to make skis with." Rova's grandfather lived in Ely. At one point, his family found two pairs of skis that he built stored underneath a family cabin. He used his grandfather's tools to make two pairs of skis, one pair from birch and another from aspen.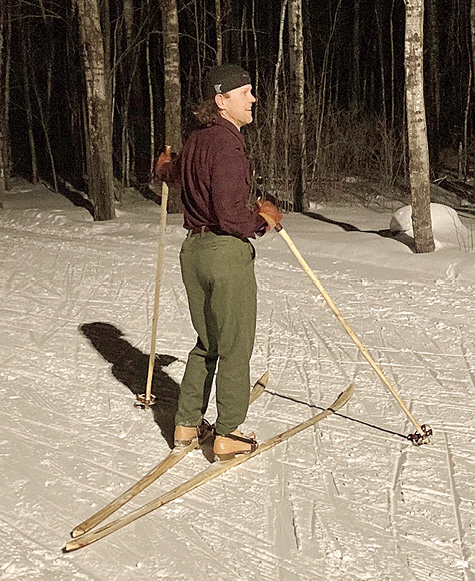 If that wasn't enough, he built ski poles using balsam fir from Christmas trees that he dried for a year. He used leather bindings from Frost River on the skis and ordered "beaked" ski boots from Finland made from reindeer hide. The unique pointed toe works to keep the boot in place in the leather bindings. Rova's family has deep Finnish and Swedish roots. That shows in the gear that he chose to make and use.
Just before leaving for Sweden, Rova showed some concern about skiing with heavy, old-fashioned gear. "I know I'm going to suffer. I'm going to have blisters," Rova said. "But there'll be other people there doing it and we'll be having fun." He put the event into a larger context. "Meeting these people and having a fun event with them is what I'm looking forward to most…Because why would you ski 90k on old skis, right? I just wouldn't. So, you get to do something that's unique and I'm looking forward to just being a part of that."
Rova flew to Sweden and gathered at the start line with 138 other intrepid skiers on Saturday, February 12. He chose the aspen skis, but in some foreshadowing, Rova said, "Aspen is much lighter, but my worry is there; the aspen breaks a little easier." After several hours of skiing, before the halfway point, Rova posted on Instagram that he heard a 'crack.' One of his skis split beyond repair, ending his race. Rova wrote, "I'm sure someone broke their ski in 1922 so I'll be that guy."
Rova's good humor is proof that the race was only part of a larger experience for him. "I'm a process-oriented guy…The process of making the skis and gathering all the wool clothes…Going there and doing it is kind of the cherry on top. I love the spot and the area there and it's an honor to be part of their big event."
Rova shared some philosophy before he knew his ski would break: "It's one thing I learned as a Lutheran pastor, suffering in whatever form is best done with people. This is voluntary suffering I'm going to do, and not true suffering, but the spirit of doing it together is what life is about."