If you're looking for something unique to try on a first date this winter, ice fishing probably isn't the place to start.
After all, consider the scene: two people walking 500 yards through the blowing wind across a frozen lake near the Minnesota/Canadian border. They crunch through snow and eventually drop their gear and drill a hole in the ice. They set up a flimsy ice house that is essentially a wind breaker and sit inside. Then they sit. For hours…and hours.
However, and perhaps oddly enough, this scene would be the image many men and women in the Northern Wilds would describe as a day well spent. I am among those ranks.
Ice fishing has always been more of a hobby for me than a "sport." Some days I catch fish, others I don't. But I always enjoy ice fishing, particularly in northern Minnesota and in Ontario. The diversity of fish an angler can target and remoteness of the region's lakes only make ice fishing here all the more enjoyable.
And if you're looking to pick up a new hobby this winter, ice fishing would be my top recommendation. After all, it's affordable. It's readily accessible. And, quite frankly, it's ridiculously fun.
For gear, start with the basics. Warm clothing is, of course, a necessity when you're spending the day on a frozen lake, so bundle up. Waterproof and insulated boots are essential. Long underwear is a must and coveralls or ski pants on top of that base layer. Needless to say, a winter jacket, hat and gloves should be worn as well.
So now you're on the ice. Up next, you need to get through the ice. There are several methods to cut a hole in the ice for fishing. I prefer the manual ice drill, commonly known as an auger. A manual auger is great because it can be used in the Boundary Waters Canoe Area Wilderness (BWCAW) and Quetico Provincial Park where a gas or electric auger can't. Many ice anglers in Minnesota and Ontario have both manual and motorized augers, but if you're just starting out, stick with the manual. Besides, it's a great workout cutting holes through the ice using just your strength to make it happen.
If the ice is still relatively thin, as it might be in early January, December or even late November, an ice chisel can also be an efficient tool. And taking it a step further, I know a guy in Montana who cuts through the ice using a chain saw, but that always seemed unnecessarily savage to me.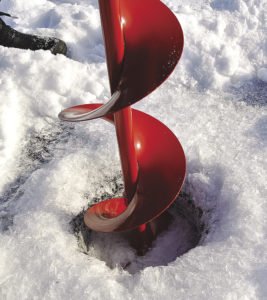 After you've cut a hole in the ice, use an ice scoop or skimmer to clear the loose slush and ice. And now comes time for your first serious investment as an ice angler. Will you buy an ice fishing portable shelter or not? There are many, many benefits to owning a shelter. They can hold heat, provide shelter from snow and wind and just make the experience more enjoyable on the ice. However, it is an investment. A decent pop-up portable shelter can be purchased for a couple hundred dollars or more. And if you don't want to purchase one, it's time to embrace winter, as you will be at the mercy of whatever the wind blows your way.
Regardless of if you're going to fish inside an ice house or exposed to the elements, you'll need a device to catch fish. There are two primary ways to catch fish through the ice: using a small ice rod or by using a tip-up. An ice rod is essentially a miniature fishing rod. Most are between 24-28 inches long and equipped with a spinning reel. Meanwhile, a tip-up is a device that suspends live or frozen bait at a set depth through a hole in the ice. Rather than have to manually work the instrument as you do when jigging from a rod, the tip-up sends a flag in the air when there is a bite without the angler having to be in contact with this piece of gear. Other than on designated trout lakes, Minnesota anglers can have two lines in the water while ice fishing. As a result, many use both a tip-up and an ice rod simultaneously.
Of course, when it comes to ice fishing gear the list could go on and on, but let's avoid all that today. Don't worry about using electronics and sonar to find fish if you're just getting started. That's where the serious investments come into play. Start with the basics. Drill a few holes. Drop a few lines. See what happens.
And though ice fishing can be done whenever there is enough safe ice to do so, it's key to know what species can be caught at what time of the year. For example, there is no ice fishing for lake trout in Minnesota waters until Dec. 31. And even then, the season only opens for lakes entirely within the BWCAW. The key to following the ice fishing rules and seasons in Minnesota and Ontario is to get your hands on a regulations book, or do the research online.
There are also a number of ice fishing themed events or contests held each winter in the region. Each March, the Trout Derby takes place on Gunflint Lake, drawing both Canadian and Minnesota anglers to the border-lake competition. Check the monthly calendar of this magazine throughout the winter to find other similar fishing events.
On the surface it might seem strange to encourage people to get outside and stand on a frozen lake when the temperature is below zero. But once you catch that first lake trout through the ice on a beautiful day in the depths of winter, you'll know exactly what I mean when I say "ice fishing is a great way to spend a day in the Northern Wilds."