Every method of travel through the North Shore's boreal forest provides a unique perspective of the environment's natural sights and sounds. Though mountain biking, hiking, trail running and snowmobiling get the majority of the recreational notoriety, seeing the woods from the back of a horse can be an enjoyable adventure for beginner and advanced riders.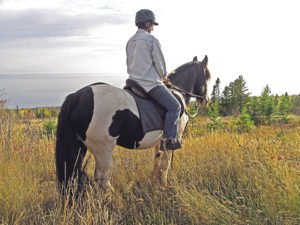 As the only resort north of Duluth with a stable, the Gunflint Lodge and Outfitters on the Gunflint Trail truly is in a class of its own when it comes to riding on the shore. Having an operational stable for at least 20 years, the lodge offers four rides a day with up to eight visitors at a time, from May to October.
Mandy Huskey, the head wrangler and manager of the stables, has been involved with horses since she was eight years old. Her degree in equine administration landed her at the lodge about 15 years ago.
"I like how small our rides are. With two wranglers accompanying every ride, it's a very personal, naturalist experience," said Huskey. "We utilize the cross country ski trail. It's easier for the horses when they have a consistent route."
Though travelers typically don't make a trip up the Gunflint Trail specifically to ride horses, experiencing a trail ride while vacationing here can be a welcome addition to their northwoods getaway. With the rocks and hills along the trails, they are a walk-only facility, which is perfect for beginner riders and families.
"We are geared towards people adding something to their vacation, as opposed to having more of a dude ranch atmosphere. These are usually families that don't have the opportunity to ride back in their normal lives," explained Mindy Fredrikson, co-owner of the resort and stables. "It gives them a different experience back in the woods and offers a different perspective."
The horses themselves travel back and forth between Pine River for the winter months and the Gunflint Trail for the summer months. Huskey works hard to ensure the horses have the most positive experience at the lodge while she has them.
"The horses get scheduled days off with their best friend. They are so well taken care of; people are often surprised at how old they are. We have three horses that have been coming back for 20 years, and our oldest horse is 33," she said.
The living arrangement isn't too shabby either.
"We like to say that these horses have the best view in the state of Minnesota," said Fredrikson with a laugh. "They are very spoiled."
Because riding a horse requires full concentration, taking photos with a cell phone or camera is not allowed during the ride. With the increased use of technology in recent years, watching visitors spend quality time together on the rides can be the most enjoyable part of all.
"It is a heartwarming opportunity to spend time in the woods with the families. I get to see kids interacting with one another and putting down their cell phones to really be with one another," said Huskey.
The North Coast Fjords and Stables, about 10 miles from downtown Grand Marais, offers boarding, stabling and guided trail riding for travelers hoping to see the North Shore trails by horseback. Owner Mary Ofjord considered quite a few breeds of horses before deciding to add a fleet of Norwegian Fjord horses to the farm. This breed, which is well-suited to the weather conditions of northern Minnesota, is one of the oldest purest breeds of horse. Vedas, one of the horses on her farm, was evaluated in 2002 and found to be in the top 4 percent of the Fjords ever evaluated.
Lovers of Tennessee Walking horses can trail ride, board and and learn to ride at the Tenkula Farm just outside of Thunder Bay. Tennessee Walkers are well-known for their unique gait; called a "running walk," it is inherited and cannot be taught to horses that don't possess it naturally. Two other prominent gaits are the "flat-foot walk" and the "canter." Walkers became very popular with the plantation owners of the American South for inspecting their large fields, as well as country doctors expected to travel long distances.
And at the Tenkula Farm, guests can learn more about the breed on their hour-long or overnight trail ride and camping trip at Fallingsnow Lake. Lessons are also available by the half hour or full hour.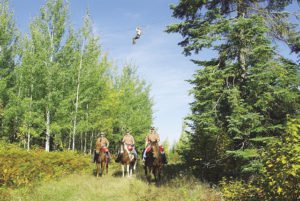 Both beginner riders and seasoned amateurs will find riding lessons, training services and boarding at the Aspen Ridge Stables in Duluth. Owner Anne Aspoas has been working with individuals and their horses since 1980.
The lessons offered at the Aspen Ridge Stables include individual lessons, group lessons, and pony lessons for the youngest riders. The trainers work in English, western, dressage, and cross country with jump and stadium jumping.
Another riding, boarding and teaching facility near Duluth is the West Amity Stables. Located adjacent to the Amity Creek trail system, the space includes both indoor and outdoor arenas, as well as a cross country jump course. The outdoor arena has sand footing for riding in the spring, summer, and fall, as well as lights for night riding. The indoor space has rubber/washed sand footing with a viewing area and mirrors.
The stables host numerous jump clinics for all levels of riders, with obstacles like banks, point jumps, corner jumps and single logs. Riders can continue to practice their skills on the course in the winter.
West Amity main trainer Deb LaFleur specializes in starting horses, rehabilitation, western basics, jumping basics and dressage. She offers full time or half time training that can focus on just the horse or the horse and rider.
An informal group of diverse riders that call themselves the Sawtooth Mountain Saddle Club rides together at various locations throughout Cook County. A current project includes research for the Cook County Comprehensive Trail Plan, a plan formulated with the goal of effective trail and land use for a variety of purposes throughout the county.
Val Littfin, the administrator of the group's Facebook page, considers horses to be her main hobby. She currently owns three gypsy horses and rides at the Gunflint Horse Park in Grand Marais, on county roads, forest roads, and on the North Shore State Trail. She is very serious about her training; traveling annually to learn new techniques.
As with many aspects of living in the Northland, tracking down the proper resources can be a bit tricky. Through this group, the riders can pool together to bring in horse professionals like farriers, equine dentists, equine veterinarians, an equine chiropractor and an equine acupuncturist.
Independent riders often hop on trails like the C.J. Ramstad/North Shore State Trail that runs through St. Louis, Lake and Cook counties from Duluth to Grand Marais. Horseback riding is allowed on the trail with a pass purchased through the DNR. The proceeds from the sale of the horse pass help improve DNR horse facilities.
Jay Cooke State Park, southwest of Duluth, also allows horseback riding on designated trails throughout the park.
Though not quite to the level of the wild wild west, North Shore residents and visitors still find opportunities to see this varied landscape by horseback.