Local Artists on Sharing Their Work Through the North Shore's Cooperatives and Galleries
Creating art is often a deeply personal journey; art can be used to express some of the most poignant moments of life and to share one's unique perspective of the world. But just because art is personal doesn't mean it has to be lonely. For many artists, getting involved in a local art collective, cooperative, or gallery is not only an avenue for getting exposure but also a chance to connect with other artists and even form lifelong friendships. Two local artists shared their experiences of sharing their work this way and how it has shaped and benefitted their creative paths.
On Highway 61 in Castle Danger is Northwoods Pioneer Gallery & Gifts, an art cooperative celebrating their 50th anniversary this year. Formerly known as Pioneer Crafts Co-op, the cooperative used to be located near the Silver Creek Cliff but moved to its current location in 1999 after the construction of the tunnel. It has members of all ages—a sign in the shop says their oldest member is 95—and continues to bring handmade gifts and unique art to the North Shore 50 years on.
One member who has been with Northwoods Pioneer Gallery & Gifts for almost all of those 50 years is Barbara Hollinday. Hollinday's involvement started in 1972: a friend of her mother was a member of the co-op, and upon learning that Hollinday made quilts and Barbie doll clothes, suggested she join. Hollinday did just that and she's been a member ever since.
"I love being a part of Pioneer," Hollinday said. "It's low-pressure and you don't have to have huge quantities of inventory to sell. It's an amazing opportunity to connect with like-minded people."
At Northwoods Pioneer Gallery & Gifts, members are required to work at the shop five days a year, which gives members the opportunity to learn how the shop works and connect with each other and with shoppers. Hollinday noted how things at the shop have changed over the years, from starting at their original location next to Silver Creek Cliff and writing out all sales tickets by hand to moving to the new building and upgrading to new technologies like a computer system, a system she said was a learning curve for some members but a great example of how being involved helps members develop new skills.
One of the best parts about being involved in the co-op is getting to meet the shoppers who stop by; Hollinday said that some shoppers have been visiting the co-op for years as part of their annual vacation tradition, while others are new to the North Shore and have never visited the gallery before. In addition to the store, Northwoods Pioneer Gallery & Gifts also holds monthly outdoor craft sales in the summer months, which members get to participate in and which brings new visitors to the store.
Over the years, Hollinday has served on the cooperative's board of directors and has made lasting connections with other members, connections which have influenced her own craft. While she started out with sewing, she now does weaving and painting, something she credits to the artists she's met through the co-op.
"I like to be busy with my hands and Pioneer gives me the opportunity to try new things," Hollinday said. "There are so many talented people involved, which is the reason I got into decorative painting. As I got involved, I met painters and rosemalers who were so giving of their time and eager to help me learn."
For artists just starting out, Hollinday said that getting involved in a cooperative is one of the best ways to get started. Not only do they help you connect with other creators, but cooperatives have advantages over attending craft sales; you typically need less inventory, and there isn't as much work involved as one would have when traveling to attend craft sales.
"We're always looking for new members," she said. "It can be intimidating when you're new—you're putting yourself out there and potentially opening yourself up to criticism. But people are willing to help you grow as an artist and get better at your craft, and learning from others helps you get better."
Up the shore, another gallery has decades of history in bringing together artists: Sivertson Gallery in Grand Marais. Started in 1980 by Jan and Howard Sivertson, Sivertson Gallery has a long history of collaborating with artists whose work exemplifies "Art of the North." One of these artists is printmaker Rick Allen. Allen and his wife and business partner Marian Lansky are owners of the Kenspeckle Letterpress in Duluth, and it was working with Jan that helped Allen share his work more widely with others.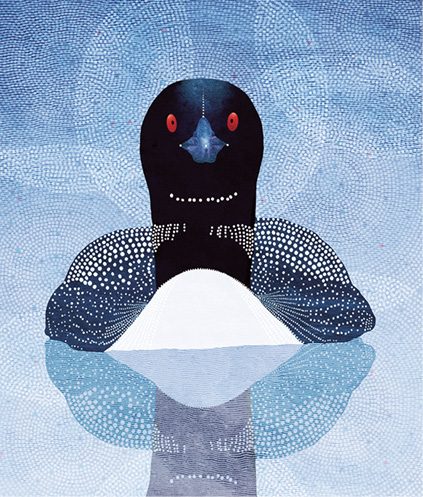 "Rick first met Jan Sivertson back in the 1970s, but it wasn't until 2004 that Janelle Miller, who then worked at Sivertson Gallery's Duluth store, suggested that he try submitting some work on consignment," Lansky said. "Rick's work began to sell, and the Grand Marais store started carrying him as well."
Lansky said that Jan's friendship and promotion of Rick's work have been invaluable to them. Their experience has been one of cooperation and respect, and that they've helped not only by having Allen's work in the store, but also by promoting his art throughout the year through newsletters and social media.
"Sivertson Gallery does a fantastic job for us," she said. "Speaking for ourselves, they have always bent over backwards to listen, to honor our preferences, and to respect our creativity. They are professional and committed to their artists. In general, every time we have a new print available, Sivertson will carry it on a trial basis to see if it sells."
As for the community aspect, Lanksy said that they have participated in fireside chats, event openings, book signings and demonstrations with Sivertson Gallery, and that prior to the pandemic the gallery used to host many community events.
Lansky's favorite part about being involved with Sivertson Gallery?
"Relationships and good will," she said. "The staff at Sivertson is fantastic and we always feel that we're in good hands. We're quite devoted to working with Jan. She is incredibly generous and has created a world-class gallery. She's totally professional but also a close friend. We have both a business and a personal relationship at this point and we cherish both."