Thunder Bay—Have you ever noticed the six-foot killer whale on Thunder Bay's Memorial Avenue? And nearby, the blue heron, standing bear, pelican and giant mushroom, plus a life-size ninja warrior and mountain man? The statue-like carvings are some of the latest of more than 1,700 chainsaw sculptures that Thunder Bay's Lee Fedorchuk has crafted in the past 23 years. At his North of Superior Carving shop on Memorial Avenue across from Intercity Mall, latest finished sculptures are on display outside alongside where he uses his chainsaw to make new ones.
Fedorchuk, who works outside on-site, even in the winter, said, "I get a lot of business from the drive-by traffic. I'm usually working on about 20 carvings at the same time."
Creating chainsaw sculptures is a relatively new form of art, with the oldest chainsaw sculptures being recorded in the 1950s. It combines modern technology of the chainsaw with the ancient art of woodcarving. It is pretty amazing what a chainsaw can create from blocks of wood.
Winnipeg-born Fedorchuk, who came with his family to Thunder Bay in 1975, became interested in chainsaw sculpturing back in 1991 after seeing at a local gas station carvings of a bear and an eagle by a world champion from Two Harbors.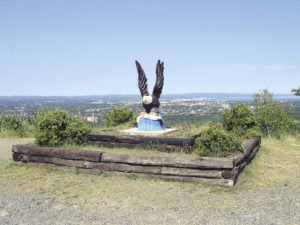 "My interest was so strong that I bought both carvings. I immediately acquired large blocks of pine and started carving."
He had experience using a chainsaw, but no formal training in carving.
"I'm totally self-taught," said Fedorchuk.
His first chainsaw sculpturing show was at Red Rock in 1992; soon he was appearing at events like the Canadian Lakehead Exhibition, trade shows, powwows, and fishing tournaments.
What's been his most popular carving?
"Bears are number one, followed by eagles," said Fedorchuk.
His chainsaw sculptures are large and range from life-size carvings of people (like chiefs with headdress, mountain men, cowboys, Paul Bunyan, voyageurs) to wildlife, sea animals, fish and birds.
"People put the carvings in their backyards, dens, businesses, houses and camps. Carved on green wood and sealed, the carvings can be placed outside or inside," said Fedorchuk. "I get lots of repeat customers."
Fedorchuk's chainsaw sculptures have also become valuable public art pieces around the region. About 20 years ago he carved the dramatic bald eagle sculpture for the Fort William First Nation, and it still greets visitors on Mount McKay lookout. And recently, he finished two sculptures for a spring installation in downtown Nipigon: a five-foot, four-inch great blue heron and six-foot carving of an eagle perched on a branch.
Fedorchuk can be contacted via his North of Superior Carvings Facebook page, by texting him at (807) 632-2646, or dropping in to see him on-site. Lee does custom orders as well as sales from already finished carvings.—Elle Andra-Warner