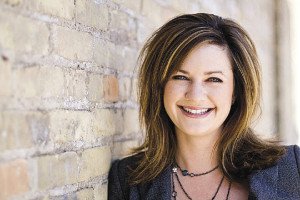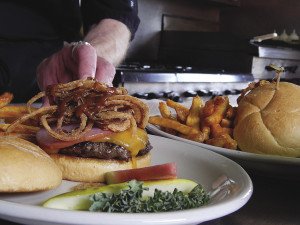 People are particular about burgers. Nothing starts a raging discourse amongst friends like someone declaring that (insert restaurant here) has the best burger. Everyone's got an opinion, and when the "best burger" attributes are thrown around, things get intense: people will heatedly hash out which restaurant uses the best bun, delivers the best beef to topping ratio, or serves the juiciest, most flavorful patty.
For restaurants, being in the burger business is tough. Competition is fierce. It takes a lot of hard work to develop, or track down, a palate-pleasing patty and from there, create a distinct menu item – one that's sure to knock the socks off of any customer with a beef craving.
"We only use 80/20 fresh ground," said Dan Morsette, the chef at the Four Seasons Supper Club in Finland, as he shares his hard-and-fast rules for crafting the perfect patty. "I use a Montreal steak seasoning blend. Then, we flame grill for the finishing touch. It gives that nice brown caramelization on the outside. As the fat drips into the fire, the smoke comes up and gives it flavor."
Morsette has years of experience preparing exceptional burgers for restaurants on the North Shore, and he currently gets plenty of practice; Four Seasons seats 75 to 100 people at a time on busy Friday nights. You can bet burgers are one of the most-wanted items on the menu.
"I had the Four Seasons Burger and I thought it was out-of-this-world amazing," said 12-year-old Tennessee Fossen, from Finland, about his favorite flame-grilled burger, which is topped with bacon, cheese, lettuce, tomato, onion and served on a toasted Kaiser roll. "I love how it comes with the seasoned fries and it fills you up a lot," he said.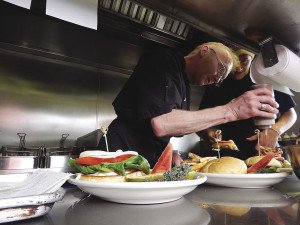 I found Fossen enjoying lunch with his family on a Sunday afternoon, and the burgers were a big hit around the table. "The cheese, the Canadian bacon, it all goes together," said 16-year-old Jon Trost, about his Al Capone Burger. That flame-grilled patty is topped with Canadian bacon, cheddar cheese, onion straws and a whiskey steak sauce.
The Four Seasons Supper Club has a long history in Finland, and has had plenty of time to fine-tune recipes. Wally and Bonnie Tikkanen opened the restaurant in 1975. The couple originally bought the building to use as a cabin getaway, but decided to get a return on their investment by opening a business.
"We started from scratch. First we started with a bar… and people wanted food, so I made Sloppy Joe's, then we went to hamburgers," said Bonnie. Over the years, slowly but surely and with the help of family, the Four Seasons Supper Club was formed.
When Four Seasons started serving food, Bonnie had no professional cooking experience, but she had cooked at home since she was 12-years-old. "My parents both worked and I had to have meals started and ready for when they got home," said Bonnie. She made up recipes as she went, using customers' feedback to tweak the recipes.
Since the 1970s, the Tikkanen's sold and bought back the business a couple of times. In 2012, Wally passed away, and now Bonnie is selling the business. She currently spends 60 hours per week working in the front of the house to keep customers happy.
That's where Dan Morsette comes in. Morsette is responsible for kitchen operations and from his impeccably-clean space, he offers some advice on what to avoid when preparing patties. "Using too lean of meat for one. You need the fat. And, probably overcooking it… Some people they play with it too much. They flip it, and flip it, and flip it," said Morsette.
Four Seasons burgers go on the grill, get one set of marks, then they're turned to create a cross-hatch. When the patty is just less than halfway done, the burger gets flipped. "You don't want to cook it to death unless they ask for it," Morsette said.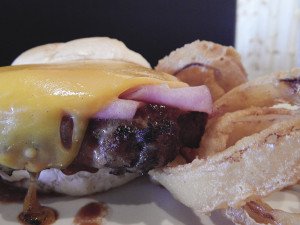 Further down the shore, Joe Boo is serving up beloved burgers at Carmody 61 in Two Harbors. The chef played a key part in opening the restaurant in 2012 and since then, Carmody 61 has become a local hotspot, and a destination for tired travelers in need of a straightforward sandwich or inventive burger.
"People want to sit down and take a break from driving, have a quick sandwich or burger and get on their way," said Boo. "People want to move." On busy summer nights, Carmody serves about 120 people during its dinner rush, and about 80 of the meals that fly out of the kitchen are, as expected, burgers.
When Carmody 61 was getting ready to open, Boo hunted for the perfect patty. Working in the Upper Lakes Foods test kitchen with its patient staff, Boo sampled burger after burger before carefully selecting the restaurant's current patty, which he said is perfect.
"I've never worked anywhere where I have been told, every day, this is the best burger they've ever had," said Boo. "I do, almost daily, hear that."
Carmody 61 burgers are served seasoned, flame broiled, and assembled in unexpected combinations. Take the Adam's Beardsly Cream Cheese Burger, for example. It's topped with cream cheese and olives or jalepenos. Sounds strangely delicious, right? Then there's the Hawaiian Burger, a juicy patty topped with jerk sauce, a pineapple ring and cheddar cheese.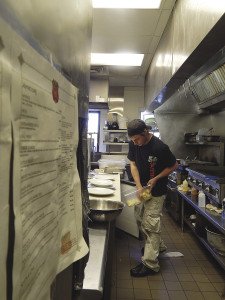 Boo said their key to success is that they flame broil burgers, which seals the flavor in. "Burgers on the flat-top just aren't the same as the charbroiled burger," said Boo. "Everyone wants a juicy burger. It makes it that much better."