NIPIGON—A poet, writer, photographer and musician, Jim McCullough has never had an interest in using his artistic talents to promote himself. Everything he creates is a celebration of Nipigon and what it has to offer. Jim's greatest source of inspiration has come from his explorations of the area. As he enthusiastically explained, there is nothing more gratifying than walking along a trail where every corner offers a new vista to marvel.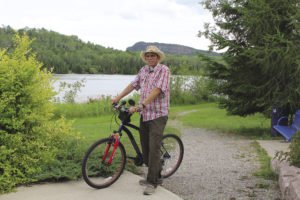 Some of the most notable spots that Jim has visited have many things in common: they aren't well-known, they are close to Nipigon, they can be enjoyed throughout the year, and they are in close proximity to a scenic body of water. He was quick to clarify that some lakes can be boring. But all the ones that have touched Jim, were set in surroundings that moved him to create passionate expressions of art.
One such place is Susie Lake. Located about 25 km from Nipigon, it can be accessed through the neighboring Elizabeth Lake or by Hwy 585. There are many reasons why this place is so special to Jim. It has majestic Norway pine trees, a massive mountain that can be seen from all angles and the Nipigon Tramway once ran alongside the lake's shore. Built in 1908, it was used to transport supplies for the construction of a new railway north of Lake Nipigon. Owned by the National Transcontinental, the tramway went from Alexander Landing on the Nipigon River, up to South Bay at Nipigon Lake's south end. There is nothing left of the 18-mile light weight tracks, but so strong is the train's former presence, Jim can envision its ghostly whistle greeting him from the past.
On the North Shore of Lake Superior, is the prized Ruby Lake. It's about eight km east of Nipigon and is situated inside a non-operating provincial park. On the right-hand side of the Trans-Canada Highway is an unmarked gravel road. Just under 4 km in length, at its conclusion is a former marble quarry and the beginning of the trail. It takes about 30 minutes to hike to the lookout where Lake Superior and the western palisades from Dog Head Mountain to Big Pup can be admired. There are also cliffs and ravines, where peregrine falcons and bald eagles were sighted. Jim has been to Ruby Lake hundreds of times, and he never tires of what he calls its exotic-like offerings.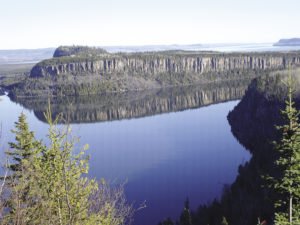 About 40 km east of Nipigon, also on the Trans-Canada Highway is the historic Caver's Hill. Originally a siding for the Canadian Pacific Railway, its steepness posed a challenge for the engineers. The trail is approximately 4 km long and goes from the highway to Nipigon Bay. Satisfying all of Jim's adventurous senses, it has a hidden waterfall, amethyst outcroppings, and granite ridges. And what makes these natural wonders even more miraculous for him, was being able to watch the trains snake along the Lake Superior shoreline. Their effortless travels a tribute to the masterful train engineers of the 1800s.
Not one to keep these treasures to himself, Jim has brought many people to these places. Never charging a fee, his reward is being able to show them why the land of Nipigon is his greatest muse. He has posted photographs of these spots and many more on www.panoramio.com. They can be found under "Jimmcmac."