The following story was written by Dennis Anderson of the Star Tribune. To view the original story, click here.
Shawn Perich and his career are on solid ground. He hunts and fishes at will, writing admirable of his exploits.
GRAND MARAIS, MINN. – A son of the North Shore, Shawn Perich was comfortable the other evening throwing a canoe over his shoulders, adjusting the craft's portage yoke and stepping onto a 100-rod portage.
Immersing himself this way in Quetico-Superior country — the state's northeastern border maze of pines, spruce, birch and water — has been a well-honed habit for the longtime outdoors writer, ever since, as a young boy, he chased brook trout here with his dad.
"That's one of my earliest memories, catching a brook trout,'' he said. "I think I was 4 years old.''
In the intervening years, Perich, who was born in Duluth, has put a lot of fish on the end of a line, not only brook trout but steelhead, lake trout and nearly everything else with fins that swims in Lake Superior or in the rock-strewn streams that spill into it.
Well known for the weekly column he has penned since 1993 for the Twin Cities-based Outdoor News, Perich also co-owns Northern Wilds, a lifestyle and entertainment magazine that is popular among readers and advertisers from Nipigon, Ontario, in the north, to Duluth in the south.
Now 55 years old and surrounded by the land and water he loves, Perich and his career are on solid ground. He hunts and fishes at will, writing admirably of his exploits. And he's a strong voice for conservation and ethical behavior afield.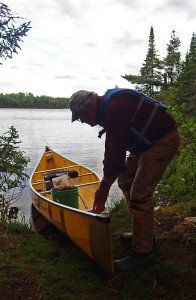 "Shawn is one of our great conservation writers, not only in Minnesota but in the country,'' said Outdoor News managing editor Rob Drieslein. "One reason I took the job I have is to be able to talk with Shawn regularly, not only about hunting and fishing but about conservation.''
Sailing along smoothly one deadline to the next, Perich's world was tempest-tossed last fall when his lifetime partner, Victoria Elberling, died of liver cancer.
Perich had been her caregiver for three years.
"It's been hard on me and hard on our 11-year-old yellow Lab,'' Perich said.
"You go through losses like these in stages. I told myself I wouldn't make any big decisions for a year.''
• • •
Always a good writer, Perich majored in English at UMD, confident his interest in outdoors writing would gain traction but unsure how or when.
"As long as I can remember, that's what I wanted to do, write about the outdoors,'' he said. "I never played sports in school because it would have taken too much time away from hunting and fishing. Those were my interests.''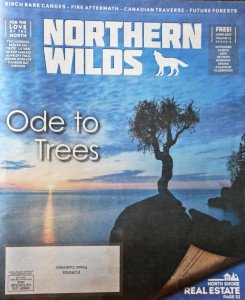 A couple of years out of college, Perich caught on with Fins and Feathers magazine in the Twin Cities. In addition to assigning and editing stories, he traveled regularly, hunting, fishing and captivating readers with tales from the field.
Then, in 1987, he joined Minnesota Sportsman magazine, headquartered in Atlanta.
"Vickie and I moved down there,'' Perich said. "But we only lasted five months. We weren't cut out for living in the South.''
Returning to Minnesota, Perich was hired in Grand Marais as editor of the weekly Cook County News-Herald. The job provided a steady income, and the locale was a springboard for the freelance outdoors writing career he enjoys today.
"I quit the paper in 1991 and went strictly freelance,'' he said. "In 1993, I started writing for Outdoor News, and in the years since, the only deadline I missed was the week Vickie died.''
Said Drieslein, his editor:
"Some outdoors writers don't spend a lot of time hunting and fishing. Shawn does. In deer season, when he might be in the woods a couple weeks straight, his deadlines are pretty flexible.''
• • •
In 2004, Perich and his business partner, Amber Pratt, founded Northern Wilds, a then-quarterly publication whose editorial charge was to reflect the North Shore's culture.
"Northern Wilds was Amber's idea, and when we started, I had more trepidation about it than she did,'' Perich said. "But between the two of us, we knew just about everyone on the North Shore, and the response, we quickly learned, was very positive.''
Now distributed monthly, the publication has evolved into a blend of North Shore lifestyle, arts and entertainment, with an outdoors emphasis. It's laden with advertisements.
Well written, well designed and well received, the free publication is available up and down the Shore, and also is mailed to paying subscribers in distant states, many of whom are seasonal visitors to the area.
Pratt and Perich also own the only print shop in Grand Marais, publishing tourism brochures and maps, in-room resort and motel guest directories, and books.
None of which helped fuel a hot walleye bite the other evening.
Nonetheless, when we paddled to shore, recrossing the 100-rod portage in the dark, a healthy collection of Minnesota's state fish swung from a stringer.
The walleyes were Perich's first of the summer season.
He's been too busy, he said, to be on the water much since Victoria's death, having to do now by himself what the two of them previously did together.
On the plus side, he's got a new yellow Lab puppy.
"That's a very positive thing, the puppy,'' he said. "My plan in September is to put the camper on my truck and with the two dogs head to Montana, just the three of us.
"I'll have no set itinerary.
"We've grown a pretty good business, Amber and I, and there are some places I want to visit.
"I'm going to live life to the fullest.
"I'm starting to look forward again.''