If you are like me, picking your first lure to start fishing with requires some thought. Sure, there are always the obvious go-to choices—fishing with a sense of confidence is important. Yet, even picking the starting lure among a small group of choices can be a struggle. This was the exact situation facing this writer last January, as I cracked open my jigging spoon box for the first time. Would it be the Swedish Pimple, a long-time winter staple and a family favourite? Or perhaps the half-ounce Hopkins Smoothie, a simple and deadly spoon that had proven itself more than a few times. Then there was the Williams Ice Jigging spoon, with those extra hooks fixed into the side.
There were more choices yet, but the Williams caught my eyes as it had red tape on its silver side. So, I clipped the 4-inch spoon on the line and dropped it into the hole. The spoon fluttered down slowly and was visible on the multi-coloured Humminbird sonar unit that was tracking its descent. When the spoon touched bottom, I reeled up a bit of line until it suspended just above bottom.
After about a half dozen lift and drops, a red mark appeared on the sonar unit near the dancing spoon. This mark was made by a fish that had been attracted to the pulse of the lure. Before I completed the next lift, the rod registered a strike and immediately there was weight on the line. It was an exciting start to the ice fishing season. The result was a 7-pound laker with the spoon firmly planted in its nose. The Williams Jigging Spoon got the win, at least that day.
The jigging spoon name covers a wide variety of lure types, but they all are worked with a vertical lift and drop presentation. Some jigging spoons are little more than chunks of metal with a hook, while others are more elaborate, with pronounced curvature, multiple hooks and even built-in rattles. The jigging spoon presentation will catch nearly every type of fish in the winter. You can use tiny spoons to catch perch and panfish; one quarter ounce spoons for small trout and whitefish; and spoons of an ounce or more for lake trout and pike. I've even caught suckers and burbot (eelpout) on jigged spoons. The fish attraction of a jigged spoon crosses all species lines.
Picking Spoons
A few of my favourite jigging spoons have already been named earlier in this piece and you can't go wrong with any of those. Yet there are other spoons that deserve to be named including the Krocodile, Crippled Herring, Northland Buckshot Rattle, the Rattle Snakie, Laker Taker and Al's Goldfish Ice Spoon, to name just a few winter favourites. Some traditional casting spoons for trout also can be jigged. The Little Cleo is one that comes to mind. The Cleo is a wide wobbling spoon and falls very erratically when jigged. Yet, brook trout and splake love the jigged Little Cleo—it is my fellow outdoor writer and friend James Smedley's favourite winter trout spoon. That knowledge alone should be enough to make the Cleo worth trying this winter.
As for spoon colour, a silver finish is the go-to in most situations. Most baitfish have silver sides and herring and smelt are bright and shiny. That said, where perch or insects are a primary forage, a brass finished spoon can be deadly. Don't be afraid to mix it up. Some colour on a spoon can also add fish appeal to a spoon. Fire tiger is a great colour for brook trout and splake. Red, fluorescent green and purple tape is a common addition to spoons.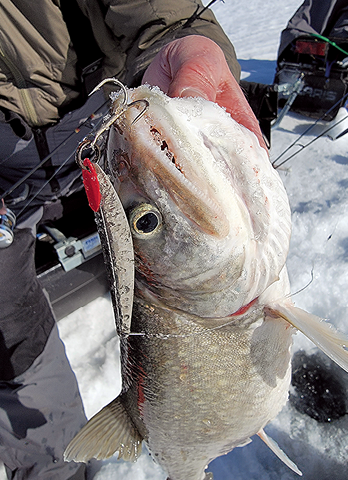 The addition of glow paint or glow tape to a spoon is one of my favourite tricks. Why glow works is something only fish know, but it can make a huge difference. I especially love a touch of glow when jigging spoons for walleye, perch, lake trout and steelhead. Glow spoons and paints often need to get a blast of light to be properly lit up. In the old days, we would use a camera flash. Today, you can use the flashlight on your phone or a small LED light.
Another good trick when using jigging spoons is to use coloured hooks. I'll often replace the stock treble hook on a spoon with a Gamakatsu or another super sharp red hook. This extra flash of colour on the spoon hook does seem to increase hook ups. There are also glow and green hooks that are worth considering. Always make sure that whatever hook you use is extra sharp. Don't be afraid to replace a bad hook.
Other Jigging Spoon Tips
Attach your jigging spoon with a simple metal clasp. This will allow you to change spoons easily and quickly. When jigging a spoon, there will be some line twist if you don't use an inline swivel. A small barrel swivel attached about 18 inches above the lure will reduce line twist to almost nothing. I prefer to jig with braided line, but it can collect ice, which can be a pain. If you use braid, consider using a fluorocarbon or monofilament leader of a similar—or slightly less—breaking strength. That will give your hookset a slight cushion thanks to the stretch of the nylon or fluoro.
Another option for jigging spoons is to sweeten the hook with bait or plastic. A minnow head or tail on the hook can add some scent and bulk. For trout, a piece of nightcrawler draped on the treble adds scent and a little extra wiggle. A plastic scented egg or small twister is an easy add if you don't want to mess with bait in the cold.
Jigging spoons should be part of any ice angler's repertoire. They are easy and effective when fishing under the ice. Plus, jigging can help keep you warm. Good luck.