Anyone who often drives in downtown Duluth will have likely seen the building with the large and colorful mural on the side. This is the American Indian Community Housing Organization (AICHO for short). Although the original group was founded on housing, the group is developing a model of what they stand for. They are a braid with three strands: housing, arts and culture, and food and sustainability. AICHO is changing the way Duluthians view the Indigenous community.
AICHO started up in 1993 as a nonprofit organization focused on housing, primarily for victims of domestic violence. In 2012, the old YWCA building was purchased by AICHO and it's now their American Indian Center.
Moira Villiard, the arts and culture coordinator for AICHO, has a personal connection to the organization. Before she officially worked at the center, Villard did some volunteer work with them, as well as other projects. She was commissioned to paint a mural alongside an old art teacher of hers.
"I just remember painting in the same space as someone reading poetry and someone playing the cello. Little kids walked down the hall asking what was happening. It was a great feeling, a sense of community on a snowy evening in December," she said.
Three years ago, right after Villiard graduated from college, she was hired at AICHO. Her job includes a lot of event organizing overall, public relations, and graphic design.
"I owe a lot of gratitude to AICHO, we've really come full circle," says Villiard.
There seems to always be something happening on the AICHO calendar. Art openings, book launches, and meetings about food sovereignty are abundant. In September, AICHO is having an Indigenous Food Expo, the first of its kind in Duluth and the region in Central Hillside Park and the Niiwin Indigenous Foods Market. The free event will include food, cooking and food processing demos, food vendors/market, cultural art activities, music, and a 3-on-3 basketball tournament.
Jonathan Thunder, an artist who has worked with AICHO before, has nothing but good things to say about the organization.
"AICHO has created a place of community and culture that is easily accessible. I've found friendships and opportunities at AICHO with neighbors who work to make our world a better place," he said.
Some projects currently in the works with AICHO include turning the old 4th Street Market into an Indigenous foods market, deli, coffee shop, and art retail space, all rolled into one.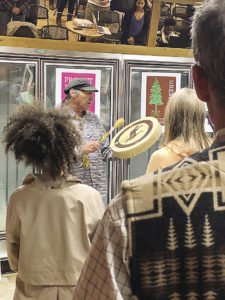 "Currently the only grocery store in the downtown Duluth neighborhood is Whole Foods. There are quite a few lower income families in this area, and Whole Foods can be a bit expensive," said Villiard.
AICHO is hoping to be another option. They hope to have a community space, the market, and maybe offer cooking classes. They're hoping to promote local farmers and vendors.
Another project AICHO is working on is expanding the domestic violence shelter. Currently there are only 13 beds and they'd like to have more. They also would like to have more space and a healing center. The initiatives for the entire organization are expanding, not just with the shelter and market. Villiard emphasized that they would like to have more Indigenous people visible and combat outdated stereotypes.
"Being really visible with our programming and having these conversations in our community are important," said Villiard. "Our issues are legitimate; colonization happened in this area and we're working on how that's represented to non-native people. There's a cognitive dissonance there. In the community it's been difficult with identity. We're more visible with contemporary imagery and media that's produced right now, which makes it a little easier, but our community and identity are hard to pinpoint because people are coming from different spaces. There's the added layer of 573 different tribes with different languages in the United States. Nobody knows that and how it makes it complicated to exist."
The organization does some very big projects that relate to issues bigger than the Duluth area as well. In 2016, they held an exhibit to show the importance of Standing Rock and water. The opening night, they had a concert benefit that raised close to $10,000 and drew 500 people.
The organization draws people from many different walks of life. "I always want to thank Rocky Makes Room for Them, my classmate who casually came up to me in science class to become involved with the group. He's a poet and graffiti artist who lives in the Twin Cities now, but was involved with the group. Ivy Vainio worked at UWS in the multicultural center when I came to work here. Now she works here with me. She does art shows here," said Villiard.
LeAnn Littlewolf, the organization's economic development director, also has a place in her heart for AICHO and the connections and community. "I love watching AICHO build this dynamic community and push beyond the normal expectations of what can be achieved using Indigenous strategies…AICHO is an access point for community members who want to effect change; AICHO is a place to bring ideas and breathe life into them with others," she said.
To learn more about AICHO, visit: aicho.org.